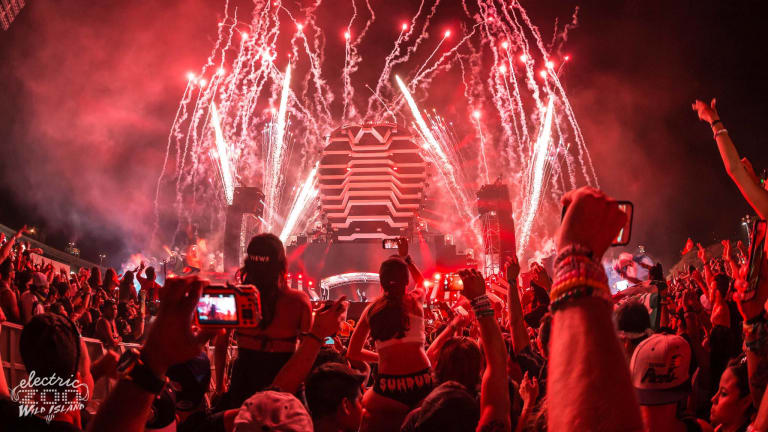 Electric Zoo Organizers Reveal Details Behind Festival: Thrills, Challenges, Artist Selection & More
"We believe there is an immense significance to being the Big Apple's premiere electronic music festival. Whether a guest is from one of the five boroughs or visiting from elsewhere, there's something very special about enjoying the final soundtrack of summer with friends, new and old, as the skyline of New York City twinkles in the background."
For the tenth time, Electric Zoo Festival returns to New York City's Randall's Island Park for a celebration of epic proportions. As always, taking place on Labor Day Weekend, the festival underscores a transition from summer to fall. One last hurrah before the autumn leaves blossom and the summer sun makes way for cool winds and overcast skies.
Considering this year is "The Big 10," festival organizers are pulling out all the stops to mark the monumental milestone. It's rare for a festival to call a venue home for 10 years straight, but Electric Zoo has returned to Randall's Island Park every year since the first party back in 2009. The festival has gotten bigger and better each year; improving stage designs, curating increasingly creative and diverse lineups, listening and responding to attendees' feedback, and overcoming unexpected hurdles like inclement weather.
This year, Electric Zoo boasts a star-studded lineup led by the likes of Marshmello, Martin Garrix, Tiesto, Kaskade, Alesso and Virtual Self. A vast array of other acts bring forth sounds ranging from deep house and techno to trance, trap and future bass. Stages are curated by impressive labels like Above & Beyond's Anjunabeats, Zeds Dead's Deadbeats, and massive imprints like Destructo's All My Friends, Anna Lunoe's HYPERHOUSE, Made Event's Sunday School, and LA's uber-cool Brownies & Lemonade.
There's a lot that goes into planning a massive festival like Electric Zoo, from booking artists and creating thematic stages to ensuring a smooth overall experience and dealing with unforeseen problems. 
We spoke with Adam Richman and Kevin Mitchell from Made Event, the company that runs Electric Zoo, on what goes into organizing the festival. They recounted the thrills and challenges they've faced over ten years of hosting Electric Zoo, sharing insights from the artist curation criteria, stage host selection process, and more.
EDM.com: What's the most exciting part of organizing Electric Zoo?
Adam & Kevin: There really is no better feeling than the festival gates opening and seeing the reaction of our 95,000 + fans to all of our crazy ideas and hours of work. We start working on Electric Zoo essentially a full year in advance, so to finally see all of our ideas and planning in action - it's pretty surreal!!
Let's flip that now. What is the most challenging aspect of putting together a huge festival like Electric Zoo?
The unknown. Despite thousands of hours of planning, and going through every single aspect of the festival with a microscope - something new and crazy always finds a way to take place. It could be the weather, it could be an artist missing their flight, it could be issues building the stage. You never know what it's going to be - but what separates the good promoters from the bad is how they respond and deal with that "unknown". We take great pleasure in being prepared for anything and always making sure we do the best thing for our fans.
What can we expect from "The Big 10" theme? How will the 10th edition of Electric Zoo be different from previous years?
We have taken our playbook from what made each of the 10 years special and are compelling it into 1 - to truly make the best Electric Zoo yet!
On that note, given it's the 10th anniversary of the festival, are there any secret performances or special surprises you guys are working on? Say as much as you can of course.
Can't give away any secrets but all I can say is you can't miss it!
The 10th anniversary means so much to us and the rest of the team - it's pretty unbelievable to have a festival that has survived 10 years at the same venue. It's really not that common, its truly special status for a festival! We're pulling out all the stops for this one! We can't wait for our fans to come celebrate with us and enjoy our 10th anniversary!
What's one of the memorable moments you've personally had organizing Electric Zoo?
Expanding the festival to Shanghai, China. Taking our brand and exporting it to a foreign country was quite the experience.
We remember being at the festival and looking at the skyline of Shanghai in the background and just going "WOW, we can't believe we brought a festival to China." Pretty insane experience!
Can you speak a little bit about how you booked artists this year?
For the 10th Anniversary of Zoo, we wanted to ensure we had a nice balance of some of the hottest newer stars, such as Illenium and Rezz, as well as some of our friends who have been along with us throughout the journey, like Tiesto, Kaskade and Dubfire.
What are the criteria for artist selection?
We are in tireless pursuit of building a well-curated line up that really connects with our fans in a meaningful way. To that end, we're always in search of artists with solid fanbases and plenty of music releases planned leading up to the festival.
Electric Zoo always presents exciting stage hosts, from Elrow and Awakenings to Deadbeats and Buygore. How do you decide on stage hosts?
We strongly believe these different stage hosts add a dimensional quality to our curation.
Also, for example with Deadbeats, we view the decision as an opportunity to help empower an artist, Zeds Dead, with whom we have cultivated a career-long relationship. To be able to help amplify their sound and profile by means of inviting their friends and label mates to join for a day's programming of a stage.
Can you expand on what goes into making these decisions?
We look at who is really doing big things at the time we are reviewing options, and also look at which potential partners might be able to help curate a stage with a lot of depth in terms of other artists who might play the stage.
Using Deadbeats as an example again, we knew our collective input in the curation would yield a stage replete with other massive acts at the top (example TroyBoi) along with some newer artists (example Chuurch) who will connect well with fans who may not know of the newer artists until the moment of discovery.
To end, what do you think makes Electric Zoo stand out as an electronic music festival?
We believe there is an immense significance to being the Big Apple's premiere electronic music festival. Whether a guest is from one of the five boroughs or visiting from elsewhere, there's something very special about enjoying the final soundtrack of summer with friends, new and old, as the skyline of New York City twinkles in the background.
For information on Electric Zoo: The Big 10, please visit: www.electriczoo.com