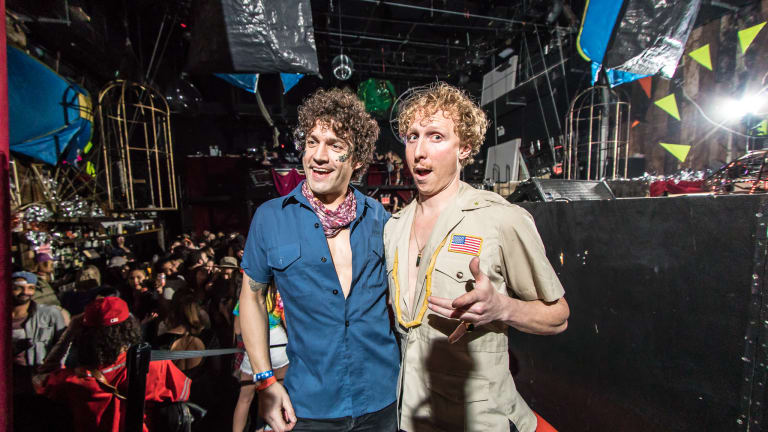 A Chat With The Founders Of NYC's Elements Music & Art Festival
As the duo get ready for the festival this Saturday, they shared the aspirations, challenges, and thrills that come with independently organizing a music festival.
Brett Herman and Timothy Monkiewicz are founders of NYC's vibrant Elements Music & Art Festival. They're no strangers to throwing dance parties. As part of their event company BangOn!NYC, they take over Brooklyn warehouses, creating new worlds within for celebrations like New Years and Halloween. Immersion is their strong suit. Their events are creatively adorned, illuminated by inventive themes and dazzling art. Of course, Elements is no different.
The festival boasts elementally themed stages, a gorgeous industrial waterfront setting, and immersive tech-inspired art. Not to mention, sets from the likes of Bassnectar, Emancipator, SNBRN and Justin Jay.
With Elements only 2 days away, Brett and Tim are busy getting ready. Though they're spending up to 14 hours a day on-site, they took time out to answer a few questions for us. The pair shared their inspiration behind bringing immersive art to the festival, explained their philosophy behind artist selection, and relished the excitement of seeing Elements come to life. 
EDM.com What exactly is your role in running Elements?
Tim: Being a founder and starting with events of 300 people, I have done every job from wiring speakers to mopping floors at 8am. As we've grown I'm trying to focus more on the music and art curation and creation, but often I still get stuck mopping floors!
What's the most exciting part of putting together an elaborate festival like Elements?
Brett: Having a dream and turning it into reality...the brainstorming sessions where we try and think of new, over-the-top features for our next events are my second favorite part. That is, second only to seeing them come to life!
Let's flip that now. What's the most challenging aspect of organizing Elements?
Tim: I find it challenging to always outdo ourselves with something unique and fresh at each new event, which has always been our company mantra. Also being an independent company, it's pretty challenging to put on huge productions without any major backing.
Brett: Making it look easy.
Elements always boast a stellar, diverse lineup, drawing artists from all across the electronic music spectrum. Can you speak a little bit about how you book artists - what's the criteria for selection?
Brett: The taste of our team is quite broad; we listen to music from nearly every genre, so we have a wide range of appreciation. An artist has to be a fantastic musician first and foremost, but we also have to pick acts that will resonate with our existing fan base and reach new fans while fitting into a lineup that makes sense with the other acts.
The festival also stands out for a distinct focus on immersive, interactive art. This year seems to continue that trend, with a deeper focus on the integration between technology and art. Quite exciting. What inspired that, and what can attendees expect?
Tim: We feel like it is our duty to bring our fans cutting edge art, especially as we are based in NYC, where we hope to start trends that spread out across the country and world. Also, when it comes to combining art with partying in general, who doesn't love looking at plinky-weird lights and trippy projections? Attendees can expect to be blown away with what some young of New York's finest artists are pulling off these days.
What do you think makes Elements stand out as an electronic music festival?
Tim: We started this company nine years ago to make people smile and provoke feelings and responses to cutting edge art and music. We still do this today, and we feel it leaves our attendees with greater memories when it comes time to leave our events.
What's one of the most memorable moments you've had running Elements?
Brett: Walking on hot coals in my underwear. I think it's the perfect metaphor for event production.