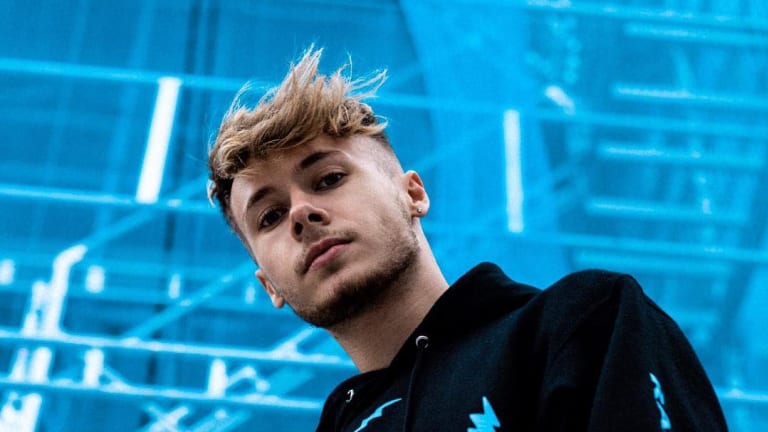 Ellis Talks Bootlegs, Setbacks, and Inspiration Alongside "Colours" Video Premiere with Spinnin' Records
London DJ/producer Ellis talked about his music and shared the exciting story of his first big milestone as a producer.
Earlier this month, London DJ/producer Ellis (who we recently featured for his exquisite "Moon Funk" release on CloudKid Records) put out the high-energy, club-smashing record "Colours" with the world-renowned label Spinnin' Records. A driving track with a catchy topline and an irresistible groove, "Colours" is perfectly suited for the festival stage, and also serves as an excellent follow-up to his recently CloudKid release. The contrast between the two songs irrefutably demonstrates the sheer versatility of Ellis' production, and also plays perfectly into his long-term goal of exploring a wide variety of sounds and styles.
According to Ellis, Colours came together very quickly a naturally, an almost chance occurrence that yielded an incredible result. He said:
"'Colours' happened very randomly. I was working on a melody that I had in my head, and when I got back from work one of my mates Sam was walking around the house singing. He's not a singer, but he's always singing, rapping, doing his thing. He started humming this melody and suddenly I was like, let's just record it! I've never used his voice before, but I thought we might as well give it a go. He wrote some lyrics on the spot, and the vocals we used on the track were literally the very first take we put down."
Stream or download Ellis' "Colours" on Spinnin' Records today.
While talking to Ellis about "Colours," we also had the chance to briefly discuss his origins and the direction of his sound moving forward. We also gleaned some insight into his approach to production, and what he considers to be the pivotal moments in his career thus far.
Ellis Origin Story - The Remixes:
It's a story we've all heard before, and one that never ceases to amaze. A massive hit record is released, an extremely talented young artist tries their hand at a bootleg remix, and shortly thereafter the song goes viral online, is discovered by the original artist, and is transformed into an official hit that launches the young artist' career to new and unexpected heights. This is exactly what happened with a 20-year-old Ellis.
Shortly after the release of Ed Sheeran's worldwide smash hit "Shape Of You," Ellis was encouraged by his friends and fans to make a remix. He said:
"Everyone was encouraging me to do a remix of it, but I was like no, it's way too slow. Then I thought to myself that I might as well challenge and see if I could be one of the first to put out a remix. I'm so glad that I did because in the space of a few months, the remix skyrocketed online. It got a couple of million views on Future House Music, and then this guy made a launchpad cover that got over 50 million views. That's when people really started to recognize my sound, and when there was suddenly interest from labels and fans."
After the wild international success of his Ed Sheeran remix, Ellis earned a newfound level of respect and interest within the electronic music industry. He started to see increased interest from record labels and quickly began to foster a passionate and loyal fanbase. As part of this process, Ellis decided to take a stab at repeating the Ed Sheeran remix strategy with the release of "365" by Zedd and Katy Perry. 
He said:
"I've always loved Zedd, and when he releases his song with Katy Perry, I approached it the same way I did with the Ed Sheeran remix. I knew that if the track took off, it would extend my reach to new fans like what happened with the Ed Sheeran remix. The original isn't really an EDM track, it was much more pop/commercial, so I gave it a funky twist and uploaded it to SoundCloud. I put the link on Twitter, and within 30 minutes Zedd messaged me saying that he loved it. I sent him the song, and when I woke up the next day, he'd sent me the stems. I spent that day remixing and tweaking it, and about a month or so later, he said they'd like to put it on the official remix pack."
Ellis - Reflections and Advice:
One issue that many musicians and creatives of all varieties often express annoyance with is the dreaded and oft-discussed concept of writer's block, and the frustration associated with a lack of inspiration. As someone who is very prolific and works across a wide variety of sounds, genres, and styles, Ellis had some great insight as to how he personally copes with writer's block. He told us:
"I literally just get away from the computer. If you're not in the zone, you can't force it. I've realized that taking a break and doing something else, even for just an hour or so, can make a huge difference. One time about a year ago I went an entire week without touching my computer, and when I say back down, I had so many new ideas.

Another strategy that works for me is to work on a lot of projects at once, and when I'm not getting any inspiration on one, I just shift to another project for a while. That's a great way for me to combat writers block."
While chatting with EDM.com, Ellis also spoke about some of the things he's struggled with on the road to building his career as an artist. Every creative has their fair share of failures and obstacles, but what is really telling is how they go about dealing with these roadblocks. Ellis shared his candid thoughts on his biggest struggle as an artist, and also offered some great advice on how to overcome a common obstacle that many creatives encounter. He said:
"There are always a lot of highs and lows, it can be really disheartening when labels decline your tracks, or when something doesn't perform as well as you hoped it would. The worst thing is when your trust gets broken by people you have worked with. Not everyone is as honest and straightforward in the scene as you might like, and overcoming these moments and creating a solid group of trustworthy people and creatives around you is definitely a challenge at times."
In an industry often recognized for an extremely cutthroat culture, being exploited or duped, even by someone you thought was a friend, is all too common. It takes someone that is both able to cope with setbacks and also capable of being resilient and steadfast in the face of adversity in order to last long in the music industry. As Ellis notes, you may not be able to control the actions of others, but you can always control the way you react, and how you let those actions impact your future endeavors. When you are deceived by someone you trust, the emotional impact can be extremely traumatic, but the only feasible option is to bounce back, avoid becoming too jaded, and to continue pursuing what you love. 
What's Next For Ellis?
At the end of our conversation with Ellis, we asked him about where he sees his music heading in the coming months and years, and which of his releases thus far is most indicative of his musical direction moving forward. His response was an unequivocal endorsement of CloudKid Records and his record "Moon Funk." He said:
"They're great guys and are extremely supportive – I really felt like there was a personal connection and they cared about the music. "Moon Funk" was very different from my other tracks, and it came a lot more naturally to me than club music does. I'm hoping to explore a lot of different sounds and styles!"

FOLLOW ELLIS:
Facebook: facebook.com/EllisOfficial
Twitter: twitter.com/ellisofficial
Instagram: instagram.com/ellisofficial
SoundCloud: soundcloud.com/ellisofficial
FOLLOW SPINNIN' RECORDS:
Facebook: facebook.com/SpinninRecords
Twitter: twitter.com/SpinninRecords
Instagram: instagram.com/SpinninRecords
SoundCloud: soundcloud.com/SpinninRecords