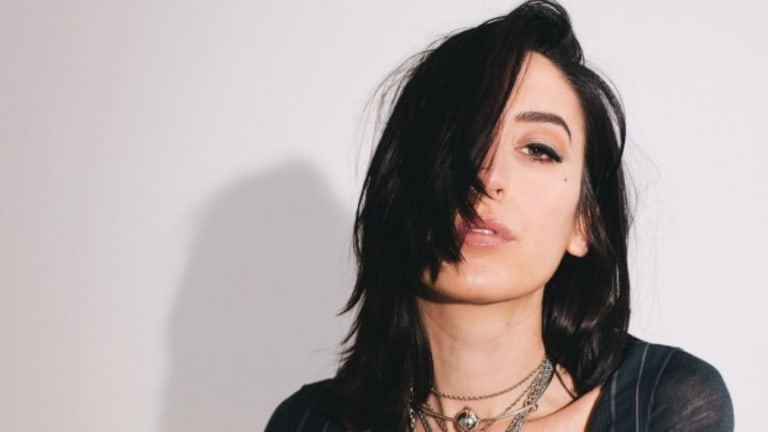 Elohim Talks Pursuing Passions Ahead of Upcoming Tour With Alison Wonderland [INTERVIEW]
We spoke with this multi-talented beatmaker, singer, and producer, Elohim, about overcoming obstacles and carving her own path.
All 'hallucinating' aside, DJ/Producer Elohim is the future of music we all want and need. This singing, key playing, beat making goddess is easily one of the top artists to look out for in 2017. Her unique presence has been transcending across the country – showing up on every major lineup around America. From Los Angeles, California, Elohim started music at a young age and continued to blossom into a distinguished artist. With her first self titled EP, eclectic collaborations with talent such as Louis the Child and Casey Veggies, her versatility has no bounds. We took a minute to chat with her about her upbringing, her experiences, and what to look forward to next!
We caught up with Elohim before she goes on tour with Aussie-star Alison Wonderland on the North American FMUOASL (Fuck Me Up on a Spiritual Level) tour.
EDM.com: We tend to have role models we look up to, what artist or person was your driving motivation to pursue your passion in music?
Elohim: The driving motivation was always my teachers and family. Of course there are a bunch of artists I have been influenced by. I sort of think we are all influenced by every sound we ever encounter in some way shape or form. There wasn't one specific artist that inspired me, however I am a fan of many interesting voices that create a world you can enter into. Radiohead has always done that for me while maintaining a uniqueness and always expanding the sound.
There are always inevitable obstacles we have pursuing our careers, what has been the biggest challenge you have faced in the music industry?
The industry can be an intimidating pool to dive into, in what ways do you think women can empower each other to start creating music for themselves?
The first step is realizing creating music for ourselves is VERY much within reach. Ask for help. I think supporting other artists and helping each other while guiding and teaching opposed to being pinned against one another is very beneficial. We can all learn from each other. We need to be nice.
Music is endless, once you start you open a world of infinity, magic and fairies.
Navigating staying true to myself while finding a way to make an impact with substance is a bit of a challenge. I want to feed listeners wholesome nourishing music... It is a challenge in a good way. I never like to do what I am told or follow some made up guidelines. I can only write and embody what I am honestly feeling. I can only be me.
What vital advice would you give to anyone trying to enter the music world?
Learn to do everything on your own. Just go and don't stop.. be the driving force behind what you do. Have a foundation so no matter what happens you are still self-sufficient and afloat. With music, I think doing it day and night is really the only way to truly learn. Countless hours of trial and error is the only way to find yourself, there are no shortcuts for greatness.
Seeing that you have so much versatility – singing, beat making etc. - did you teach yourself what you know now or did you have a mentor growing up?
I had many teachers growing up. I think with time and dedication we are our greatest teachers though. For me, spending countless hours in studios and actually making music was really how I learned what I know. I'm sitting here right now at 12am making a track and I just discovered something new. Music is endless, once you start you open a world of infinity, magic and fairies.
With the constant wave of new talent, what up and coming artists you are currently excited for?
Darnell Williams is a brilliant rapper out of Detroit. Another new artist, so new he has no music out yet is Yoshi Flower. Both of these artists genuinely move me. That is invaluable. I am emotionally and physically moved by truth. .
With the work that you have under your belt, what has been your favorite song you have created thus far and why?
Skinny Legs. That is a song I hear and almost can't fathom making again. It feels like one of those songs that is its own and untouchable. Lyrically it is very special to me. It touches on the feeling of being so uncomfortable in your skin you're losing your mind and trying to crawl out of it… but you by the end, you realize that the only reason you feel that way is because your brain is feeding you these weird fabrications of who you are. That is why I finish by saying, treat my life with love and respect… all we are is all we are.
This summer looks busy for you! What show or festival has been your favorite so far and why?
I had a really great time at Summer camp. I think when I am distracted I have the most fun because my anxiety isn't present. It was pouring rain and the stage I played got shut down earlier in the day. By 10pm it was my time to go on and it was back up and running. Everything was beautifully chaotic and muddy. The production was unique and I personally felt very connected to the music.
With the upcoming shows you have booked, what are you most excited to share?
I love performing new music and seeing beautiful faces. But I think the human connection with the fans is the true meaning behind everything.
Are there any upcoming singles or collaborations we should look forward to?
YES! I just made a mixtape I am so excited to share. I also have a song coming out soon and it is indeed a collaboration!
Catch Elohim on tour with Alison Wonderland this summer!