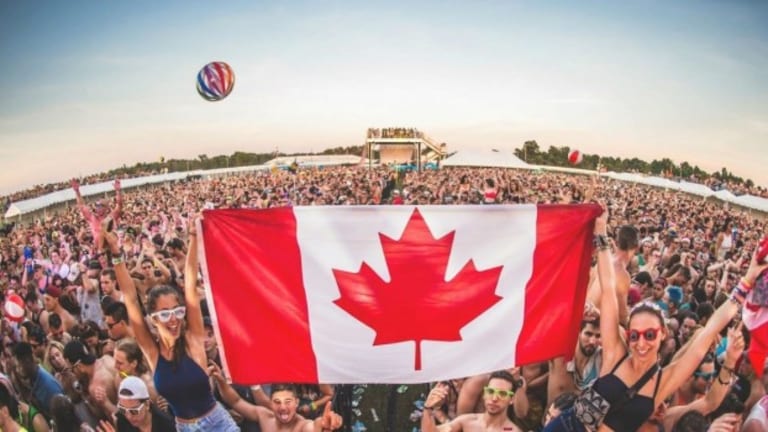 Go Behind the Scenes of Escapade Music Festival with Founder Ali Shafaee [INTERVIEW]
See what goes on behind the scenes of Escapade 2017 and what's in store for the future of Canadian electronic music festivals.
This June, both artists and fans alike will flock to Ottawa to celebrate Canada Day in style. Now one of the largest, most well-known EDM festivals in Canada, Escapade Music Festival has grown in both in size and fame since it's start in 2010. This year, the two-day festival will host various artists such as Above & Beyond, Richie Hawtin, Dada Life, Tiesto, and more over multiple stages.
We recently had the opportunity to ask Escapade founder Ali Shafaee a few questions about her involvement with the music industry, and of course about how this amazing music festival came to be.
EDM.com: How have you been involved with music in the past, and what led you to produce your own festival?
Ali Shafaee: I've been involved in the music industry for 18 years now. What started out as a club promoter then turned into concert promoter and eventually festival producer. Early on, our partners were building the scene in Ottawa by producing shows at various nightclubs. Realizing that there was a demand for bigger artists and larger production, we decided to produce our first Escapade on Canada Day 2010. The lineup featured Canadian artist DEADMAU5 and was the first large scale EDM event in Ottawa. The following year we decided to repeat the party and had Tiesto, Laidback Luke and at the time an unknown Calvin Harris perform. After selling out the Canada Day 2011 event we expanded Escapade to a multi day multi stage event which has now grown into one of the biggest Electronic festivals in Canada.
What about Ottawa attracted you to starting a festival there?
I've been in Ottawa most of my life and it is where I consider home. Our partners really felt that establishing a festival like Escapade in Ottawa was not only something that the fans in Ottawa needed but that they truly wanted. We knew from the start we would get the support from local fans and even ones that live out of town. Ottawa isn't one of the biggest cities in Canada but is rich in history and truly has a great fan base.
This year's lineup features diverse artists from all over the world including Above & Beyond, Hito, Mat Zo, Shiba San, Steve Aoki, Tiësto, Zeds Dead, and more. What was the process for creating the lineup?
Every year the festival aims to provide our attendees with a lineup that goes across the full spectrum of electronic dance music. We find it is a better experience having stages dedicated to one or two genres versus combining them all together. When putting the lineup together we usually discuss as a team what acts we think would be a good fit for the festival as well as asking our fan base on social media. While we aim to get the top acts from both lists, we are limited to artists that are in North America during that timeframe. Our goal is always to get the best artists we can based on who will be in North America during the festival time period.
I saw that the Escapade takes place during Canada's 150th birthday celebration. What else makes this year's edition of the festival so special?
In 2017 Ottawa expects to have over four million tourists visit the city. We are hosting some of the biggest national events including Redbull Crashed Ice, an NHL outdoor game, the Grey Cup, the Junos and much more. In keeping with the celebrations, Escapade will feature the most amount of Canadian artists we've ever had perform including Richie Hawtin, Zeds Dead, Snails and more. We will also have Canadiana themed activations and décor at the festival including a surprise that we can't release just yet. :)
Which artists are you most excited to have perform in Ottawa this year?
I am excited to have such a legendary names as Tiesto join us to celebrate Canada's 150th. He was one of the very first acts we booked for Escapade and we are excited to have him back!
How would you describe the message of this festival, and what fans should get out of the experience?
The Escapade experience is about hitting the pause button on life's daily challenges and bringing the Escapade family together to celebrate life, music, and friendship.
What does the future look like for Escapade?
After each year we do a Escapade survey with our fans to receive feedback on the previous edition. In listening to our fans we are able to adjust year after year and constantly aim to improve the festival. As long as we continue to improve I think the sky's the limit. In an ever growing festival market it's extremely important to keep evolving with trends in music, fashion, production which we fully intend to do over the coming years.
Make sure you get your tickets to this unique event so you can celebrate Canada Day in style!