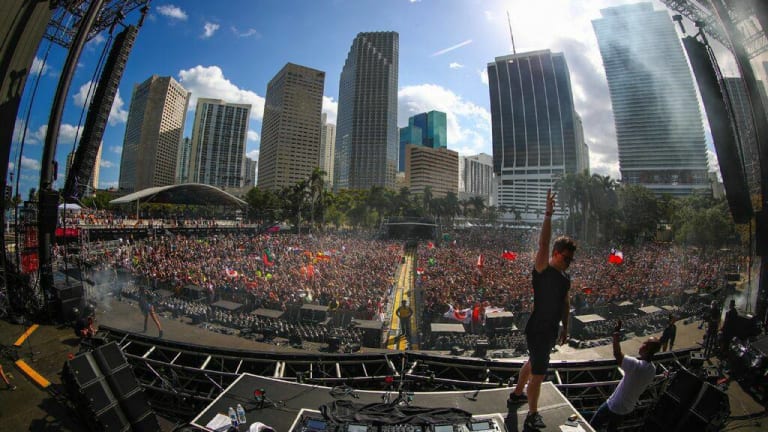 Fedde Le Grand Releases New Single & Shares Dance Music Insights [INTERVIEW]
Did you know Carl Cox is one of Fedde's biggest inspirations?
Dutch sensation Fedde Le Grand just released his second single of 2018.
"You Got Me Runnin'" opens with an uplifting melody, building up a soundscape that's beaming with charm and energy. There's a sense of euphoria to the song that really sucks the listener in. The drop builds on the upbeat atmosphere, sending the song into overdrive with buzzing energy and spirited production.
Stream below:
Fedde Le Grand has quite a year ahead. The Dutch producer plans to release a new track every couple of months, while maintaining a busy summer touring season and further developing his self-made label, Darklight Recordings.
A little over a week ago, Fedde played one of electronic music's most prominent festivals, Ultra Music Festival. Before heading to the main stage for his set, we got a chance to ask him a few questions. 
Fedde had a lot to share, as we dove into his thoughts on where electronic music is heading in the future, his first show experience and his musical inspirations, among other things. Read on to see what he had to say.
EDM.com: You've been playing Ultra for many years now, quite a feat. Ultra is seen by many as the #1 electronic music festival in the world. What do you think makes it stand out?
Fedde Le Grand: A few things. I think the time they do it is very important. For a lot of us this is the start of the real festival season. Also, what they really do well is, as an artist, you feel part of a family. We all know each other. Here we all hang out, have some laughs, have some drinks. And, even when they move it around the world, they still keep that intimate feeling.
Any artists you're excited to see perform this weekend?
What I usually do at festivals is to try and find some artists and sounds that I don't know much about. From other genres, I feel like I can learn something. So I just explore and see what I find interesting.
What was your first show experience?
My very first party was all the way in the south of the Netherlands. My mother drove me. It was a bachelor party. I still remember the guy was in a carrot suit! To be honest it wasn't the best party. But, I was over the moon to play my first show so I didn't really care!
For our readers who have never heard your music, explain your sound in a sentence.
Diversified but always house-y.
Take us through your creative process. What do you work on first and where does it go from there?
Usually from a melody. I find chords that I like and start playing around.
Who are some of your musical influences?
Partly because he took me under his wing pretty early, I'd have to say Carl Cox. He's such a pleasant person, always on the upside of things; he still enjoys what he does and knows so much. He taught me to be patient when it comes to music, that it's a race, not a marathon.
What have you been listening to lately?
To be honest, when I listen to music it can literally be anything. Rock or classical music not so much though. Other than that, on the dance side, I like some of the underground bass-y stuff which reminds me of UK garage.
On another note, dance music has been merging more and more with pop recently. What do you think of that?
As a producer, I love pop music. As a DJ, I don't really need it. In general, I think it's great. The only downside is that if something gets really commercial it loses some substance. But it's up to you to find a balance. For example, take McDonald's, which is generic. It's alright if you eat a hamburger once in awhile, but if it's your whole diet, that's not good for you!
Do you think electronic music will remain a force in the charts, as producers collaborate with pop stars and rappers ever more, or do you think it'll go back to its roots as a niche genre with a loyal but small fan base?
No one can look into the future. But, I do think hip-hop is going to take over for a while, which isn't unhealthy. Maybe the dance music scene will shrink a little. Sometimes that's necessary, no matter the genre, to go down a little bit. Then, you'll see that people find creativity and aren't afraid to do different things.

I personally think where we are right now is a lot more interesting musically than, say, a few years ago. There was a period where everything literally sounded the same but there's more diversity now. 
Thoughtful answers from Fedde!
Dance music has exploded in popularity over the years, which is a joy to some and bane to others. As Fedde said, it's hard to predict what lies in the future for electronic music, but we can only hope the dance music community remains strong and vibrant over the years.