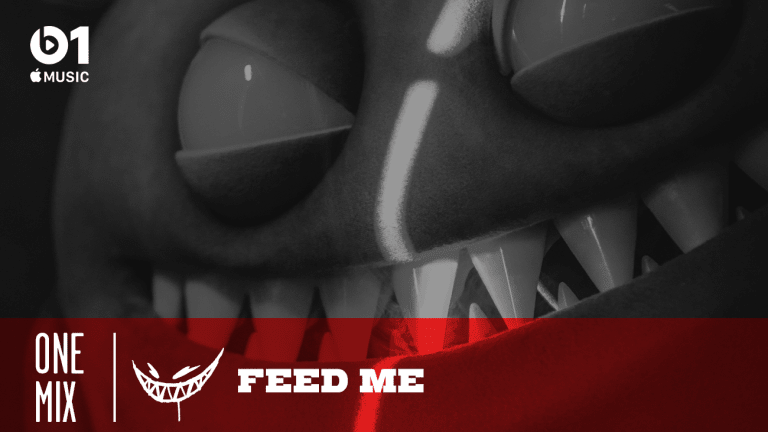 "A Stream of Consciousness with Sparks of Nostalgia" with Feed Me on Beats 1 One Mix [INTERVIEW]
The English producer had some choice words about the current state of dance music.
This weekend, electro house sensation Feed Me makes his debut on Beats 1's weekly radio show One Mix. The English producer describes the set as "a stream of consciousness with sparks of nostalgia." Expect tracks from Umek, The Prodigy and The Chemical Brothers, plus plenty of songs from Feed Me's recent album, High Street Creeps.
Tune in here, exclusively on Apple Music.
Air Date: Friday 5th April 2019 - 21:00 LA / 00:00 NY / 05:00 UK
Feed Me (real name Jon Gooch) grew up in Hertfordshire, obsessed with computers and his parents' rock vinyls. He got his start making drum and bass under his Spor alias, and it wasn't until 2008 that Gooch's devious green gremlin came to life and the Feed Me persona was born.
Gooch's self-drawn cartoon - with its stout, bulbous body, devious wide-eyed smile and sharp eyes - embodies his music, fierce and unwavering at one end, and playful, almost whimsical at the other. Take a listen to his third album, High Street Creeps, released less than two months ago, to hear for yourself.
Ahead of his One Mix, Gooch shared music insights, like his guilty pleasure record and dream B2B partner, with us. Not only that, but he had some blunt words to share about the current state of dance music.
EDM.com: First show experience?
Feed Me: Helter Skelter under age at The Sanctuary dancing a foot deep in Red Stripe cans.
First time you brought your mom to one of your shows?
...Was also the last.
The artist who inspired you to become a musician?
H.R. Giger or Jim Henson.
Go-to places for new music?
Run up to people on the tube and quickly snatch their earbuds and have a listen.
Guilty pleasure record?
Transformers: The Movie Soundtrack.
Desert-island dance record?
In Rainbows by Radiohead.
Dream B2B partner?
Francis Bacon.
Favorite BPM?
Drunk elephant.
Piece of gear you always need on the road?
Nice pens and earplugs.
All-time favorite festival?
Fujirock, Sasquatch or Shambhala.
Biggest misconception about dance music?
Not a sausage.
How often do you get out and have fun, and where do you go?
I've spent a lifetime building a world of fun things at home but there's a field near me with llamas which is nice to stop at.
City with the most underrated dance scene?
Wheathampstead goes off.
Industry prediction for the next year?
More vacuous, corporate-tinged, soulless, empty nonsense; a line of producer/DJs realising it was never the music that drove them as they wheeze uphill; more brand than person; dissolution of the nightclub; pop bleeds into EDM bleeds into fast food.
...But also some amazing new talent.
Best piece of advice for new producers?
Music's full sod off.
Dead or alive, who would be your dream collaborator?
Denis Villeneuve or Hideo Kojima.
What is one of the unique experiences you've had backstage?
Danced with Björk. Watched Gene Simmons read a novel and drink Perrier in full makeup.
A unique travel experience you've had?
Found a dead body on the train to school once.
What's your favorite throwback track?
"Papau New Gineau" by Future Sound of London.
What's one track that fans always lose their mind to?
I'd have a good jump about if I saw "Vicarious" by Tool live.
What was the first album you ever bought?
Experience by The Prodigy.
Name one remix that you think is better than the original.
Pendulum's remix of "Bacteria" by Ed Rush & Optical or "Torn" by Natalie Umbruglia.
What song do you listen to cheer yourself up?
"Placebo" or "Oasis."
Follow Feed Me
Facebook: facebook.com/youfeedme
Instagram: instagram.com/feedme/
Twitter: twitter.com/feedme
SoundCloud: soundcloud.com/feedme