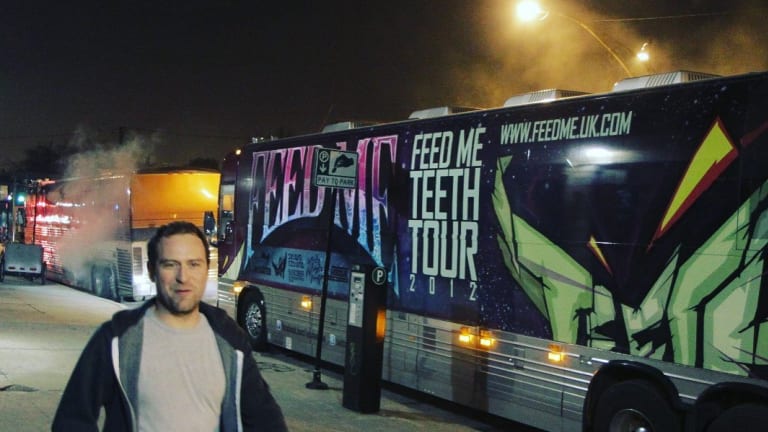 Feed Me Discusses Creativity, Design, and Living On Sofas in Rebel Radio Interview
Feed Me joined Rebel Radio to talk about his background in design, how he met deadmau5, and the struggle of couch surfing across the country.
Fresh off the 2019 release of his milestone High Street Creeps LP on deadmau5' mau5trap imprint, Feed Me (real name Jonathan Gooch) has once again found himself in the EDM spotlight. As part of his highly anticipated return, Gooch has resurrected the fan-favorite Feed Me With Teeth stage production, a nod to his career-long emphasis on multimedia design. 
Consistently raising the bar when it comes to creating immersive musical experiences, Gooch sat down with our friends at Rebel Radio to give what is perhaps his most comprehensive interview to date.
As a man of many projects (like Feed Me, Spor and Seventh Stitch), Gooch has dabbled in a wide variety of genres for over a decade. While in many ways rejecting the importance of genres in terms of rigid stylistic guidelines, Feed Me described in detail the way in which a distinct community and culture can emerge around a genre.
Speaking with Rebel Radio, Feed Me recounted the ways in which he was deeply influenced by the DIY "pirate" culture of the drum and bass community, and the extensive impact it had on his creative pursuits. Gooch also discussed his early years falling in love with pixel art and Photoshop, as well as his earliest attempts at music production, which he describes as being "chaotic, and non-repetitive." 
He offered listeners insight into the struggles of incorporating discipline into one's routine as a creative and even shared the story of how he left college to go on tour, living on sofas and surviving with nothing but an envelope of cash.
Perhaps most insightfully, Feed Me illustrated the importance of branding or "world-building," and relayed the influence it has had on his own artistic pursuits. His explanation of why he's launched multiple projects seems to go against what accepted industry advice would suggest, and yet he's implemented it was great success time and again.
Tune in to Episode 171 of Rebel Radio to listen to the full interview and hear from Feed Me himself.
FOLLOW FEED ME:
Soundcloud: soundcloud.com/feedme
Twitter: twitter.com/feedme
Facebook: facebook.com/youfeedme
Instagram: instagram.com/feedme
FOLLOW REBEL RADIO:
Website: rebelradio.net
Facebook: facebook.com/rebelradionet
Twitter: twitter.com/rebelradionet
SoundCloud: soundcloud.com/rebel_radio