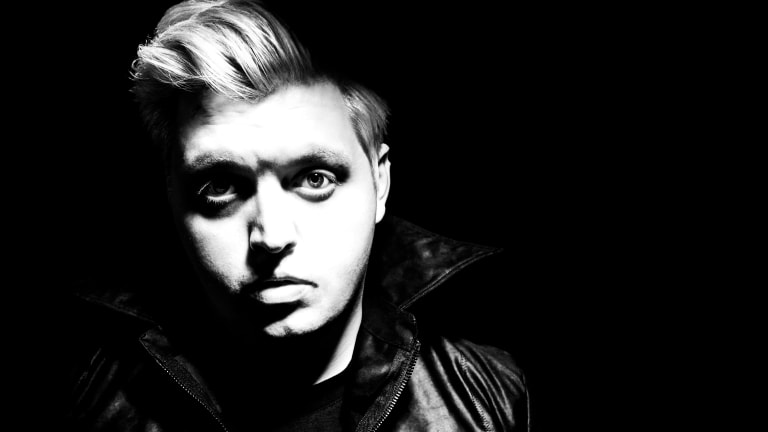 Flux Pavilion on Dubstep: "Music Talks and Bullshit Walks"
The dubstep pioneer doesn't mince words.
There are few producers in Dubstep that have quite as much staying power as Flux Pavilion.
For the past 10 years, Flux Pavilion has been one of the driving forces of dubstep's transatlantic dominance. Although dubstep found its footing in the UK in the mid-aughts, it only began catching fire in the United States during the early half of the current decade, helping to blow the cover off of the burgeoning North American dance music industry.
As the mastermind behind some of dance music's most dominant tracks including early hits like "I Can't Stop" to 2015's "Emotional," Flux Pavilion knows how to capture the crowd's attention. His most recent collab "Waved," with Foreign Beggars, OG Maco, and Black Josh, demonstrates that Flux Pavilion has evolved with the times, without ever sacrificing his signature sound.
Although many will argue that dubstep has changed since its debut, the ethos behind it remains the same. We want it heavy and we want to play it loud.
That will certainly be the case this weekend when Flux Pavilion heads to Rampage Festival in Belgium for two nights of break-neck beats on March 2nd-3rd. Billed as the world's largest Drum n Bass festival, Rampage festival takes over Antwerp's Sportpaleis dome to bring big production and even bigger bass.
We caught up with Flux Pavilion ahead of his performance at Rampage this weekend to discuss the state of Dubstep, the debate between albums and singles, and why small crowds are more intense.
EDM.com: Your track "Waved," featuring Black Josh and OG Maco was recently featured on Foreign Beggars' latest album 2 2 Karma. Talk to us a bit about how the track came to be.
Flux Pavillion: The Beggars are my favourite UK hip hop act hands down so always keen to work with them. Metro called me up one day and asked if I wanted to jump in on the project and I said yes, the rest sounded like "Waved."
You're returning to Rampage, Europe's biggest Drum & Bass and Dubstep party on March 2nd. What makes Rampage so unique and exciting? Do you notice any differences between European and North American dubstep crowds?
The places are different, so the people are different like you get in any culture. But the differences are always subtle and cultural, too many to mention really. Rampage is the pinnacle of what's been building in Belgium for years and I'm mega keen to get involved this year.
When it comes to performing, what's it like playing to a crowd of 15,000 at festivals like Rampage, in comparison to a small venue?
The main difference is the sound on stage, bigger rooms are boomier and the music sounds different, so you start to play to the sound of the crowd like it's part of the music. Smaller shows are always a lot more intense an experience.
But music talks and bullshit walks, and there was too much good music for it to die.
How do you adjust your set differently to each situation?
I don t! Try to take the approach as an artist more than a DJ, give a representation of what I do, whatever the environment.
You were at the forefront of Dubstep's early rise in electronic music, and certainly, the genre and scene have changed over the years. At some point, naysayers began to argue that "dubstep is dead," and yet it's 2018 and Dubstep is still hugely popular.
What's your argument against this notion, and why do you think they started believing it in the first place?
I think people wanted it to be over because of its wildness, something so unique and wild can't really sustain itself so it was easier for the world to look at it as a fad. But music talks and bullshit walks, and there was too much good music for it to die.
When playing live, do you feel pressured to cater to old and diehard fans, or are you confident that all fans will respect and embrace every new direction?
Never confident but that's not the point, the point is just doing it. When I'm trying something new I'm interested to see what happens, there is no good or bad, it just is what it is.
Your career has really evolved over the years, and now you wear many more hats than simply being a DJ or producer which can influence or change your creative output. Has your process, style, and the way you approach music production changed since you started your career?
Yeah, it changes all the time as the world, and my life, changes. It kind of has to really, otherwise the music would always come from the same place, which can get pretty boring for everyone 
Since you released your debut album Tesla (2015) you've only been pumping out singles.
What's your opinion on the albums vs. singles debate in the electronic music scene and the music industry as a whole? Do you think there is a superior approach out of the two?
I like albums personally, but unsure if the way people digest music calls for an album in this scene. I don't think it's a competition between the two mediums, they are both individual, but singles definitely help things move forwards, which right now is what everyone seems to want to do. I like to sit back and soak it up sometimes and that's what Tesla was.
Outside of music, what activities or hobbies do you enjoy to maintain a balanced lifestyle?
Working on that one.
I'm sure you have a lot of up-and-coming young producers in mind that have a unique sound and are all about pushing boundaries. Shout them out!
I've just been listening to Kendrick non-stop and I don't think he needs my blessing. CIRCUS RECORDS is where the new shit is.
What can we expect from Flux Pavilion in 2018?

A little bit of flux and a little bit of pavilion. Maybe half of each, can't be sure with these things.