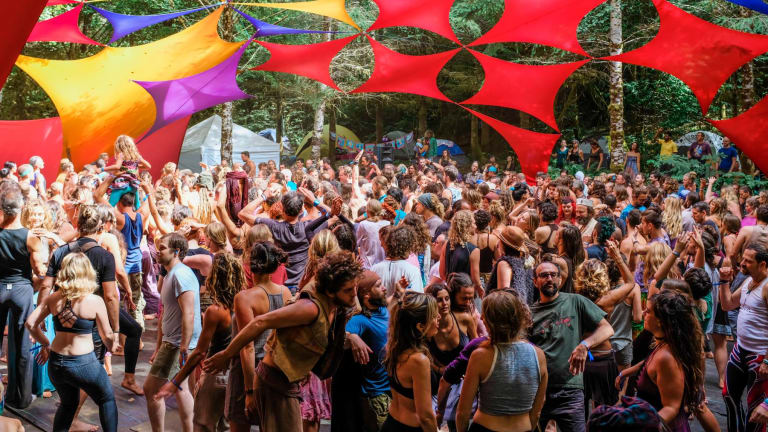 Founder of Beloved Festival Opens Up [Interview]
The founder of Beloved Festival discusses the success and challenges of operating and running a festival.
The 11th cycle of Beloved Festival is vastly approaching. Now, this is not the traditional music festival. It is actually a sacred art, music, movement, and yoga festival in Oregon. The 4-day movement takes place in Tidewater, Oregon, which is just right near the Oregon Coastline. The music is only a quarter of the journey at this gathering. For instance, there are plenty of workshops, interactive art installations, local organic cuisine, and educational programming. The founder of the festival, Elliot Rasenick, took some time to talk to us and opened up more about the true meaning behind Beloved Festival and what is in store for this year's cycle. 
What was the inspiration for the name of the festival?
"The idea of the event is that the connection we have with another person can point to the connection we have with all-that-is. 'The Beloved' as a name for the divine has been used to highlight this awesome mystical opportunity available to all of us in every moment.
 Also,I use to play this game with a whiteboard. We would take a whiteboard and put some words on the whiteboard that relate to the story we are trying to tell. Then we would all sit around and just keep writing words. I introduced the game and some of the crew was new and someone said how do we know when we find the name? I said bells will ring. The wild thing was when Beloved came through literally one of the guys in the crew was in the kitchen doing something and he broke a mason jar and Beloved was on the board and that is how the festival got its name."
How did Beloved Festival get started during the early stages of development?
"During the early stages, I was organizing two different kinds of events. I was really into sacred music and devotional music. I was also really excited about underground dance music. So, I was doing sacred events at yoga studios and churches. There was one community that attended those events. I also was throwing parties at warehouses. Beloved really evolved from these two different communities. I thought to myself, why are these two communities that want the same thing not under the same roof? What we were looking for was a static connection on the dance floor with each other and source. What we were looking for as we were chanting names in the yoga studio was a static connection with the divine with each other and source. I realized it early on that these events should be together as one. I have this funny thing. It is a piece of me and that is I am a part of the visionary realm and the world here. I really love using spreadsheets and they become a visionary tool for me. For me, building that initial budget became a big piece of seeing what the event was and that was a huge first step for me."
You have many primary objectives that you wish for people who are in attendance to achieve such as "engaging the hearts and minds of those present in the finding of The Beloved in each other; and furthering our ability to cooperate to make that appreciation tangible on earth" as being one of the few objectives you list. What would be another primary objective you want guests at the festival to achieve that has not been expressed before?
"I think I would actually like to highlight even more on the objective about being in the present. That though we have these lofty spiritual goals we don't want those to take priority away from goals about being involved in the world. Knowing that we are connected with each other means we have a responsibility to each other. I think too often people use a spiritual experience of knowing we are connected as an excuse that they don't have to work to take care of people."
Beloved is a 4-day sacred art, music, and movement festival on the Oregon Coast. Do you ever feel like providing sacred art and music within a movement festival can get overwhelming at times?
"I don't actually. I think a piece of this is connected to what we were just saying. I think to find a focus to help keep us grounded is really important in any context. For me, what sacred art does is that it shows us that we're connected. When we get overwhelmed we are losing our connection to that moment. We are losing our connection to the people around us. We are forgetting our place on this Earth. My sense is by using art and music and explicitly talking about our connection means we are less likely to lose that connection because we are more present."
What was the reasoning behind the festival taking place in the state of Oregon? 
"There are a few things. One of them is the site itself is extraordinary. We are about 30 miles inland of the ocean. When the wind is right you can still smell the ocean. We are in the middle of this forest. The site feels completely isolated. You feel like the only thing that is happening in the universe is happening right there in the forest. You feel fully safe and fully protective. For me, that is what the site needs to be. I love the feeling of a dusty morning dance floor. Some of the greatest memories of my life have been made on a dusty morning dance floor and Oregon is perfect for that because we can have that experience in August but its just wet enough that the dust doesn't get overpowering."
What would you say has been the biggest challenge you have faced when putting on Beloved Festival?
"The challenge I've had is identifying that it is important to me that we do the work to make the festival a safer space. What that means is excluding people who've hurt people. This has been really hard and challenging. The stuff that has come up by the people I've told that can't be here because multiple women have reported incidents. To have that commitment to make the festival a safer space means telling some people that they can't be there sadly. That is really hard for me and I never want to do that or exclude anyone."
What has been the most rewarding feeling ever after putting on Beloved and once the festival is over?
"One of the things that I often hear that really touches me is when people talk about Beloved as an antidote to feeling alone. That is a thing I get a lot of after the festival is finished. That people no longer feel alone after going through a cycle of Beloved. That is truly rewarding and feels powerful."
Given the recent events such as the shooting during that country concert in Las Vegas how important is security now at your festival and do you have any new full measure safety protocols that you are implementing this year that you haven't done before?
"Like I mentioned before, the nature of the site is that it's profoundly safe. In the sense that its super isolated. So no one can come onto the site until they have been through our off-site box office. That helps with initial assessments of guests. I do have a large security team that is big enough to address anything that might come up. My security team is incredible in the sense of they really do care about this festival and the people who are attending it. They are trained to keep people safe in a real way. They are taught to actually calm people down during any situation instead of making it worse or hectic which is what most other event security does. They all know how to de-escalate problems."
Do you have any favorite activities that you offer at Beloved that cannot be experienced anywhere else?
"One of the things is to be able to witness ridiculous legends in world music. We have had some of the biggest acts in the world music. They usually are playing for like 40,000-50,000 people but then they come and play on our one little stage in the forest and play for only a couple thousand is incredible. Four or five years ago, I had this unbelievable Latin band on stage and it was illuminating and then right after that was ODESZA and this was right before they blew up. So to have an experience like that is what makes Beloved special and is one of my favorite activities because you cannot recreate that anywhere else."
Do you have anything special planned for this year's installment of the festival?
"It is important to me that people at the festival not because of a particular artist is going to be there but because they really want to be a part of it. We do not announce the lineup until a majority of the festival is sold out. This is something we are continuing and going to do for this year. I am super excited about the lineup this year because it is a big one. This conversation that this festival has been having about power and privilege and oppression and how we can connect the experience on the dance floor to show that we are not separate. It is evolving more and more each year and one of the things. In the middle of the Saturday, we stop the music and have a conversation. The world is on fire right now whether you care about violence in schools, racism, climate change, or whatever. If you are paying attention and a compassionate person then you would see the world is on fire and it is scary. We don't want to ignore that we want to celebrate and have moments of rest from this. This is something that will be taking place again this year with a powerful ritual and then blast off and dance it out."
If you could give any advice who potentially wants to start a festival or works in this industry what would it be?
"I mentioned this before. Beloved began when dance music was in the underground. In that underground context, everything that was happening was telling a story that meant something to you. I have something to say and at its best event, production and festival production is storytelling. You are showing the world how you view the world and what you see and how you want the world to look like. You are expressing the vision through the festival. As dance music emerged from the underground in the states and their idea of mythic event creation got corrupted. You can see even massive corporate entities have these fake stories that they are trying to tell. I even think the people who mean well see that done and they're like oh I feel like I have something to say and they try to do events without having something authentic to say. So I guess that would be my advice. If you want to do a festival then start with what do you really want to say and really have that festival say that."
Do you have anything else to say to the Beloved Festival family?
"I want to touch base back on the single stage at Beloved. This is truly something that sets our festival apart from any other festival. I think there is something incredible about hey we are all going to be together but let's all really be together and just focus. Instead of always having that thought in the back of your head that your a missing out on another artist or act, you are more engaged and present with the single stage. 
Beloved is a story that takes guests on a one of a kind healing experience and journey. This is a time to be connected with not only nature but with the people and environment. This is not just a festival where it is only music, but a festival where being alone is absent and non-existent. Elliot Rasenick puts time, passion, and true love behind his vision and it's extraordinary. Tickets for Beloved Festival are still on sale but quickly are so visit their website now and choose the right package for you!
Connect with Beloved Festival: