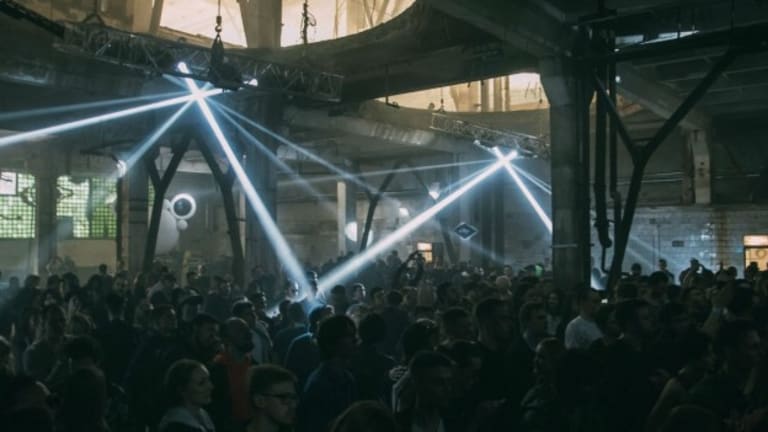 GAMMA Festival Is Bringing a Full Sensory Music Experience to Russia [INTERVIEW]
GAMMA Festival is returning to St. Petersburg July 19-22nd, 2018.
When it comes to a scene with bustling electronic music, Russia isn't the first country that comes to mind.
Despite having several globally successful exports like Nina Kraviz and Julia Govor, in Russia, dance music culture is largely a grassroots phenomenon. Which is one of the reasons why GAMMA Festival, Saint Petersburg four-day immersive music and art event, is a fascinating addition to the global music scene. Taking place July 19-22nd, 2018, GAMMA Festival will be bringing in droves of techno fans for a rare music experience that doesn't have to rely on big budget headliners.
Curated and promoted by m_division, GAMMA Festival celebrated its first year in 2016 with overwhelming success. The venue – a large industrial space held in the former Stephan Rozin brewery – is ever raver's wet dream. Offering deep and experimental techno as well as pieces commissioned by local artists, there is no doubt that GAMMA festival is pure of heart – existing to offer a cerebral escape through the power of art and music.
We spoke with co-founder Ivan Logos about GAMMA Festival and how the event seeks to connect fans to the present to experience some of the best music in one of the world's most beautiful and culturally rich cities.
What is the vision for GAMMA Festival? What type of experience do you want attendees to have?
GAMMA is the event that brings together most modern and interesting music, contemporary art and urban culture of today. The Festival continues the work of our creative community – m_division. For last 9 years, we've been creating events, experiences and emotions, giving the people an opportunity to dive into the unique world of music. Our goal is to connect people for making something more than just a party or a festival.

Why is St. Petersburg the perfect location for GAMMA Festival?
St. Petersburg has its own special freedom spirit which I haven't felt at any of the other cities of Russia. This is the city that has a complicated history and background, stunning architecture, beautiful people and its own charming atmosphere, which you can get only if you have been living here for a while.
How did you originally get approval to use the Stepan Razin Brewery? How does it contribute to the Gamma experience?
The main thing was to get an approval from the owner of the place. He was keen about the idea of festival, so he agreed to let us temporarily transform the factory's space. The Factory is no longer operational, so we were very lucky to find this place and to convince the owner that using this space for our unique festival was necessary.
Music sounds different in places like this. For instance – one of main stages is located in the room where the huge beer brewing tanks were previously housed and the holes were left there after they have been broke down. We used this space to create a huge two level stage with the upper level was used to set up an impressive laser and light installation. 
Techno music delivered gurus such as Vatican Shadow, Regis, Rrose, Terence Fixmer, Xosar and many others was the main sound on this stage for the two days of the festival. I doubt it's easy to find another dance floor like this somewhere in the world and I think that our guests would share that sentiment and the feeling of this moment's importance with us.
You listen to the music, you dance, it's just now, here, in this moment - tomorrow it will be finished and you will probably never see it again.
Music festivals have become very popular in the last several years, how does GAMMA Festival set itself apart from a typical music festival?

Our goal was not to create another regular music festival that follows the same familiar blueprint. In 2016, we decided to step forward and have made a year's main event by m_division. We love to make events in unusual locations, which would probably never be used for this kind of activity. As long as we have places like that we will do our best to create things that impress and inspire.
We have a very particular vector which we are following when it comes to music. Everything that one could hear at the festival represents, as we believe, modern music at its best. Artists are the guides to its secrets.
We are not aiming for the big names and ratings, music is the important thing for us. And people feel and respect these true motives. That's why a lot of them were coming from all the different parts of Russia, all the different parts of the world to join this celebration of the music. 
Another important part of our festival – GAMMA - is the space where experiments in contemporary art are exhibited. There is a big number of artists in Russia and some of them don't get to exhibit there works themselves in public for a range of reasons. For us, it is a personal mission to change this situation. That's why we've started a new project called "Artification" that is meant to give the opportunity to artists to show their works, not only for professional and experienced artists but also for talented beginners. The application period starts 6 months before the festival itself, organizers and curators of GAMMA art department are going through each application and choosing those from many cities and countries who will get into a short list. Later they will create and present their artworks during the festival.
Lots of young artists are getting amazing feedback, positive comments or important critiques to improve artwork before the big exhibition starts. Our goal was to make a place where professionals and beginners could communicate and interact. We believe this will influence the evolution of contemporary art in Russia.
Outside of GAMMA Festival, how would you describe Russia's current environment for deep and experimental techno?
I wouldn't say Russia has some special environment for this kind of music. We just love it and believe it's important to share it to with the masses. Experiments are meant to create unique sound, special feeling and emotions, music revelations they influence the whole music industry itself. Without the experiments, we would not have a chance to enjoy the masterpieces of classical and electronic music.
Talking about Russia – a big role in the promotion of electronic music is mostly playing conceptual events. There is almost no electronic music culture or media here and people are drowning in non-relevant information that comes from everywhere. Parties and properly arranged events with interesting live-artists could push people to pay more attention and become truly interested in these genres of music. Opinions of someone that people can trust is what makes them visit an event. We pay a lot of attention to our social media pages and official website, we communicate, we are introducing our artists to people, showing their art from all the sides. Lots of people are first introduced to these musicians at our events and keep following them and their music later.
Russia is not just St. Petersburg or Moscow, there are many other cities. People there would never be exposed to deep and experimental techno, there are very few who are. Mostly they listen to pop music that is played everywhere and is easy to get. There's not even one radio station in Russia that is broadcasting electronic music nationally, no magazines, you can count the number of decent nightclubs using fingers on one hand. You can rarely find these kinds of events outside of the two most international cities. Maybe they could gather up to 100 people in one bar and promoters would stop throwing events after not getting a proper number of people to keep them running.
We started making our first events in 2009 in Siberia, small parties grew up to massive and quality raves for 2-3 thousands of people. We were risking and investing a lot of effort into those events. At some point, you could say Omsk was a techno capital of Russia, we were booking and bringing high-ranking artists from around the globe. Now, there is not even one bar where you can hear a techno music. 
That's why I prefer to think that promotor collectives and labels are the most important engine of electronic music here in Russia. In the last 2-3 years we can see a change for the better and I hope we can create our own unique music that not only follows the most progressive world trends but creates its own very special and unique sound.
In 2018, GAMMA Festival will be taking place at the end of the World Cup which will be hosted in Russia - Do you expect a greater influx of foreign attendees in 2018 because of this?
GAMMA Festival will be taking place one week after its official closing when most of guests leave. But still we are expecting a lot of guests from other countries that would visit our festival because its popularity keeps growing and people get to know about it more and more. St. Petersburg is an amazing city. Visiting it can be perfectly combined with a festival, so you can get a full impression of its people, culture and music!

What does the future look like for GAMMA? Do you have any plans to expand outside of the festival?
In 2018, festival will become bigger in every sense. We're starting interesting educational platform, the lecturing course with speakers who directly influence the development of electronic music, art, culture and even science from all over the world. Line-up will include more wide range of music styles and genres. The art-side will be represented by impressive objects and installations that are mad in public-art, architecture, media-art, and new for us – science-art. We're inviting new artists and curators, not only from Russia. We want to keep some intrigue, but we can surely say that GAMMA 2018 will become the main contemporary art, music and urban culture event of the year.
Follow GAMMA Festival
Website: gammafestival.ru/
Facebook: facebook.com/gammaspb