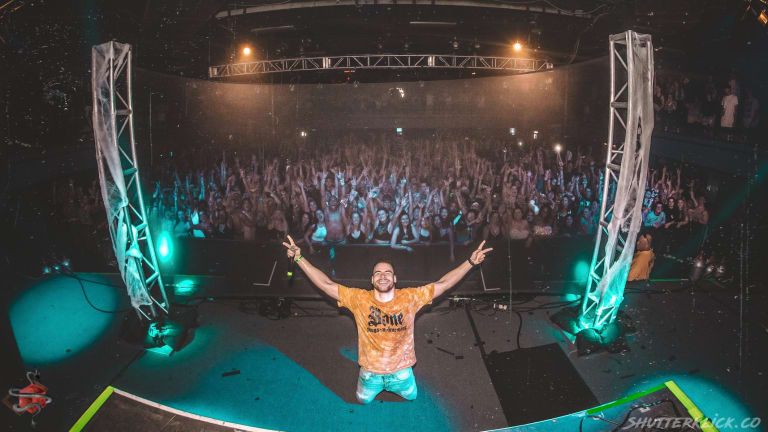 Getting Down to the Nitti Gritti [Interview]
"DJ Nitti Gritti discusses where his name originated from, what it's like touring with Ghastly, and more.
The next generation of bass music is here and it goes by the name of Nitti Gritti. Now, it is no secret that bass music has significantly risen in North America, so naturally, that means every dj is now battling it out for who can produce the heaviest bass music. When it comes to Nitti Gritti there is not competition. In 2018, Nitti Gritti kicked off the new year by going on his first headlining world tour, released an all rock EP, and has recently been touring city to city with Ghastly. There really is no stopping Nitti Gritti and in this interview, we learn what it is really like to get down to the Nitti Gritti, how it has been touring with Ghastly and his future plans for the rest of festival season. 
You started out 2018 with your first headlining world tour, where you performed across the United States, China, and Australia. Which country stuck out the most to you and why?
"Sydney, Australia. I had people just screaming my lyrics at me. I did a shoey and it was just wild. However, it really is hard to say. Australia was incredible and even China was nuts too because it was a change of pace for me. Every city and country I've toured in was unique and special. I live in Florida, so having a Florida group of people means a lot to me. I have just been enjoying everything and really happy with how supportive Florida was."
Your recent remix of 4B's "Whistle," is a heavy bass hitter and you are known for breaking and pushing boundaries with bass music. If you had to pick another genre of electronic music you would produce that isn't bass music what would it be?
"I think it would have to be either the future bass and trap sound or even go into some rock because I just dropped that rock EP. That is probably what I do aside from bass music, which is rock and indie music. I love the true band instrument sound."
Speaking of that EP. The "Judge Me EP" was just recently released. It consists of 4 original tracks by you and shifts away from the bass side. Why the sudden change and what inspired this?
"I was talking to my manager Paul about it. Those tracks are about a year and a half old. It has been finished for that long and we just sat on it because we did not know what to do with it. I put out so much different music under Nitti Gritti and everyone has been accepting of it so I was like why not hit them with a left hook with something random. It was after I did the Enrique Iglesias pop record "Move to Miami" and it showed people that I can change my sound and perfect it. So now, let me show people I can do the drums, guitar, and sing. It was the next step. I even have some Disclosure type tracks and so many other different areas of music I am exploring and that EP was me showing everyone I can do many different versions of Nitti Gritti and this is just one of them. I will continue to do so too."
How did Miami end up becoming your current home? Did it help motivate you in any way, shape, or form?
"I grew up in Pennsylvania. When I was six-years-old I moved to Haiti next to the Dominican Republic. My parents are missionaries. That is where I discovered house music. I got to connect with Caribbean styles of music and vibes along with Haitian music too. When I got back to the states, I was listening to metal and rock and then dubstep came out. I went from house music to dubstep and then realized there is this whole world of electronic versions of genres that I already knew. Metal and rock was dubstep and dancey disco turned into house. So many genres altered and that is how I grew up. It was Pennsylvania, Haiti, and then after I graduated I moved to Miami. That is how I ended up in Miami."
The Mystifying Oracle Tour w/ Ghastly & Friends has been all over the U.S. and is about to come to an end. Are there any funny or memorable memories from this tour?
"This tour has been incredible. At least 80 percent of the shows were sold out, including here in Portland. It has been a team effort with this tour. We have had so many dope artists be a part of it and its helped make it unforgettable. There were no bad vibes or bad energy with any of the artists or fans and I loved that. Portland specifically was incredible and it was my first time ever in Portland so having the show sell out made it even more special. I am thankful for it all."
It's time to get down to the Nitti Gritti. The name and motto bring to the table a catchy and fun vibe. How did you come up with this?
"I was chilling with Paige and Daniel from Bonnie X Clyde, and I was like I want something that means I like music more than I like everything else. Getting down to the Nitti Gritti means getting down to the heart of something. To me, it means getting down to the music. I love the music above everything that this scene has to offer and I wanted that to be expressed through my name and motto. Its all about the music."
You played the 12 AM slot at the Wide Awake Art Car at Electric Daisy Carnival (EDC) in Las Vegas a much different time than the previous year so what was different about it?
"I played the Art Car at EDC the year before and was one of the first time I played my "Lights" remix during the sunrise. This year, the Art Car was moving so it was hard for people to see me and so many people were trying to follow the cart. At the same time, my whole squad and management were there. So, I decided to do a groovy house set and went off and did some dope techno house and then the cart actually stopped and I started going hard with the dubstep. It was me just raging and having fun and the cart started getting flooded with people."
What festivals are you really looking forward to playing this festival season?
"I have a couple of festivals coming up. Audiotistic is one I am really looking forward to playing. I am making my return back to EDC Orlando in November. I have another festival in November I am also excited to play and its called Big Adventure and it takes place in Costa Mesa, California. So there is still lots to look forward this festival season."
It is clear as day that Nitti Gritti is quickly on the move and dominating the world one country at a time. The high level of energy that he brings on stage with him is portrayed to the crowd and it is infectious. Nitti Gritti brings back the true dj vibes but blending his bass music with true old school music favorites from The Black Eyed Peas and Daft Punk. His shows really unify strangers together and its wonderful site to see and hear. If you were lucky enough to catch him on Ghastly's tour then be thankful. Nitti Gritti has one last stop on that tour and it will be in Atlanta, Georgia at Opera Nightclub so hurry up and purchase those tickets because its time to get down to the Nitti Gritti. 
Connect with Nitti Gritti: