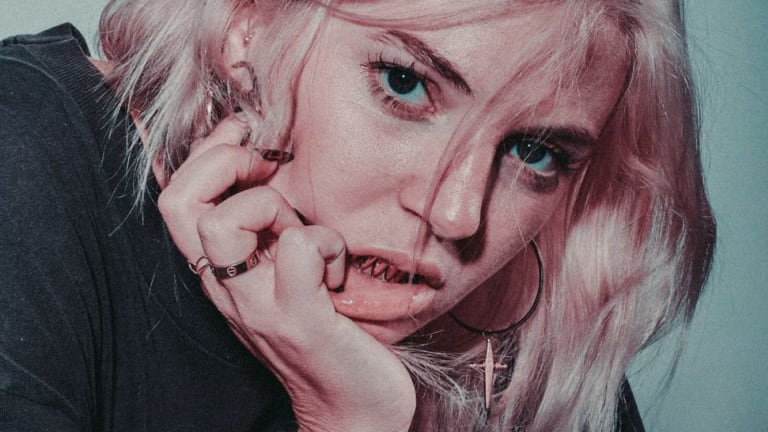 Meet GG Magree: The Aussie Artist With a Passion That Burns Bright [EDC Interview]
Unapologetically herself.
All hail GG Magree. This spark of fire shows no mercy with her music and being her truest self. The Aussie native has a personality that is infectious and shows an artistry on stage that cannot be replicated. She's joined forces with heavy hitters like Zeds Dead, NGHTMRE, and Jauz, to name a few, and just released a killer single called "Bodies". Oh, and did we mention she has her own fashion line? It's safe to say she's killing the game and is easily making her stance in the music industry. Last weekend, she had her first performance at EDC Las Vegas, melting the crowd at cosmicMeadow with high energy and headbangers. I sat down with GG in her trailer after her performance, picking the brain of an individual who screams originality more than most artists these days. She hopped on the couch next to me, wearing a vibrant red jumpsuit (that broke right before the interview LOL), and laid down her passions, values, and what's to come for the trap queen. 
EDM: First off, what was the first moment, event, or artist that inspired you to become an artist?
GG: I think like listening back to Skrillex back in the day and Zeds Dead for sure, because I feel like music is such a powerful thing and I would listen to Skrillex or Zeds Dead when I was feeling a type of way then I'd be like, "Fuck how do I make people feel that..", so then I don't know, it just kind of started happening when I was playing shows and I met Zeds Dead and they fucked with me heavily and then I start working with them. It was a very natural progression. The only way to get through to people is to just be real and be who you are. When I perform, a majority of the photos that people take my eyes are in the back of my head. I'm an absolute mess because I give 110% all the fucking time, that's just how I am. I'm not out there to be pretty, I'm not out there to be any type of way but me.
EDM: That's what a lot of people say. They can really see your artistry on stage.
GG: Yea I only ever play stuff that I absolutely love, every song I play has touched me in a way, so I think that translates really positively, because music for me is the best release of positive energy and I want everyone that comes and watches me to feel free, feeling happy, feeling fun because that's what it is. Music is that.
EDM: Through your journey in the industry, have you had any prominent obstacles with being a female. If so, what were they and how did you overcome them?
GG: I think that the thing that kinda upsets me is that people put so much pressure that I am a female, they are like, "Oh, being a female, how does that make you feel?" It's not being a female it's just being an artist, and that is the most dominant point to make. It doesn't matter, like all my homies that are guys feel exactly the same, being a girl doesn't differentiate me in any way. We are all artists and we are all out here trying to make our stand on the world. The thing that upsets me so so much is like when people say, "Oh there are no girls on this lineup." If there are no girls, if they didn't fit, don't book us. Don't make it out to be like, "Oh we have to do this for the girls," we don't. If they work, amazing. If they don't, amazing. Being a female, being a male, it doesn't matter. It's music. Its not gender based. It's nothing like that. and I think if people see that, that's beautiful, but if they don't and want to hold onto dark factors of being a male or female, that's not what I'm about. I'm about having fun, bringing positive energy, making people feel happy. 
EDM: So you're from Australia, how does the electronic scene differ there compared to the states?
GG: Australians are crazy, we are all crazy, that's like another reason I adore music so much, just because we are slightly isolated. For us to make our stance in other countries it's hard. So we force ourselves to be dominant and precise with everything that we do because it's Australia, it's like its own little bubble but if you can step outside the bubble and make your way in any other country then you're killing it. But Australia in itself, we have the best because we are isolated so we force ourselves to make different genres. Like Rufus, Flume, Alison Wonderland, we're all so different. 
EDM: It sometimes can be hard for artists to be talented at producing as well as performing. You have incredible stage presence, it's clear from your set you just finished. Is that innate energy, or is that something you had to practice?
GG: For me like, this is one thing that I say to my friends and family and everyone. "I'm sorry for what you're about to see but I'm possessed". When I perform, I am literally a different human. Every single photo of me is eyes in the back of my head like I have no idea what I'm doing. Then I look back and I'm like whoa because the way that music makes me feel. I look out in the crowd and that's the only way I'm reactive. If people are reacting I'm reacting back. I see what they see. I want them to feel what I'm playing and like I said earlier, I'll only play stuff that I like. So I'm hoping in return they will like what I play. It's such a different way to look at it because most people will only play stuff that are hits or whatever, but like I want people to be there because I love it, and that is the only thing I ever want. Music kinda found me, I didn't find it. Everything that I've done its been like "oh shit okay whoa, this is tight". It's been a really nice progression because it's something I live and breathe, so it comes super organically.
EDM: You've been crossing off many festivals off your list. What's the weirdest thing you've witnessed at a festival or show? 
GG: I once had a couple propose to my latest single, at a show. In Montreal, they came backstage, and they were like, "Oh GG, we love you blah blah blah," and he was like, "My wife has been obsessed with one of your songs, I want you to be here for this proposal." I was just like omg, this is heavy but, whoa my music makes you feel that type of way. Being an artist that like writes lyrics and that's what I do, its perfect. This is what it's about. 
EDM: You have accompanied many heavy hitters in the industry. What artist is on your wish list for future collabs?
GG: ASAP, Drake and Post Malone. And one of them is happening.
EDM: Your sets over, will you be a spectator for anyone? Who are you stoked to see here?
GG: Oh of course! I always stay! Well, I'm flying to Vancouver tomorrow because I have a show but then I'm coming back because I love watching other people. I'm coming back.
EDM: You are very versatile with the things you do. Aside from music, what's your next venture outside of the music world?
I have a line called Yeah Pussy, myself and my manager own and we're kinda branching out into working with other artists, videographers, photographers, fashion. I don't know we are gonna make that into a world where like it's not just a home for music it's for careers. And it's not female only because of the name (laughs) because you know I'm not about that. If you are loud and you are dominant you're in. Fuck with us because we will fuck with you.