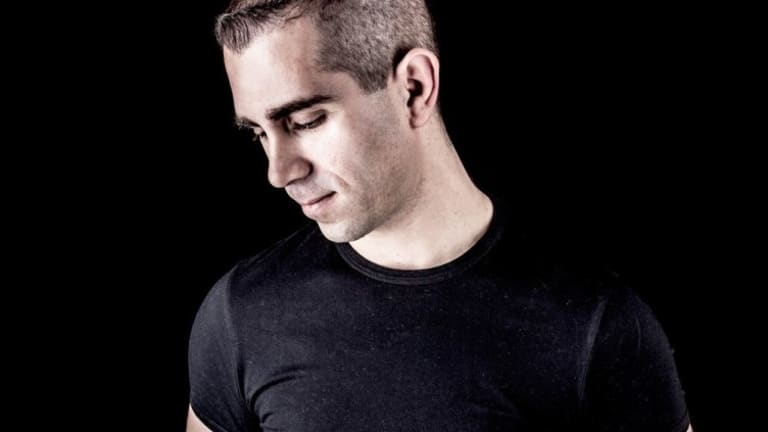 Giuseppe Ottaviani Explains Concept Behind New Album, Evolver  [Interview]
The album expands tracks created during his acclaimed Live 2.0 sets.
In February of 2016, under the Mexican electric sky, Giuseppe Ottaviani debuted a technologically-advanced live production in front of thousands of fans at EDC Mexico. The concept, which allowed Ottaviani to create new music onstage, required fan interaction from the beginning, altering the production of the track live. 
Titled Giuseppe Ottaviani Live 2.0 the set garnered him much acclaim, prompting the Italian trance producer to showcase his brainchild across the globe. From music festivals like Dreamstate and Tomorrowland to club shows at Soundbar and the Hollywood Palladium, Ottaviani has paraded Live 2.0, creating plenty of new music along the way.
As he found himself in a sea of IDs and demos, fans kept knocking on Ottaviani's door for those unreleased tracks conceived at one of his many Live 2.0 sets. To many a fan's delight, in Autumn of 2018, Ottaviani began releasing some of those records, eventually deciding to package them together in a full-length album.
Evolver is the culmination of years of audience ideas-turned demos and then demos-turned records. The effort's end result is a seventeen-track conceptual album that demonstrates Ottaviani's skill at live production. 
We caught up with the trance tastemaker on the eve of his album's release. From describing the intricacies of his Live 2.0 sets to the importance of fan connection, Ottaviani relayed the importance of his latest release, Evolver.
EDM.com: You took an unorthodox approach to this album, creating it from demos from your Live 2.0 sets. Can you explain the process of how those demos ultimately ended up as a full-length album?
Giuseppe Ottaviani: Since the launch of my Live 2.0 shows back in February 2016 I've been making lots of new ideas on the road and I've been able to play them straight away at the shows. These new demos were supposed to be for my live shows only and not for a release at all, and this is why now Evolver includes tracks that can be over 3 years old. 
The idea of making an album actually came from my fans. People were constantly asking to release those IDs that I was playing at my shows and I kept them on hold forever. Last October I decided to start releasing them, but I had something like 22 tracks to be released so I thought releasing all of them at once would probably make more sense. And so Evolver was born. I went into the studio and turned 17 demos into a full studio production and packed them together into a 78-minute CD.
For our audience who may not know, can you explain what a Giuseppe Ottaviani Live 2.0 set is?
Technology is beautiful (when it works, I'd say) and it gets better and better every day. Some time ago I designed and built a new setup called Live 2.0 which basically allows me to create brand new music while onstage and perform it straight away to the audience so that the reaction of people can influence and drive the newborn idea. 
The feedback from the crowd is in fact the most important ingredient for these type of productions. Basically, I have a bunch of studio-made presets that I can select and start playing with. I Record it, loop it and play it straight away. 
The simplicity of the album is that it is all instrumental, no vocals needed. Did you ever consider including vocals in any of these tracks?
No vocals and no collaborations. Every track was born either onstage, in a hotel room, or at a soundcheck - so the nature of these productions needs to remain intact. I didn't want to change a bit from the original demo, apart from making it sound great in the studio. For once this is just me and my music and this is why I think this album is so special.
Were there any demos from your Live 2.0 set that you enjoyed and could have finished but did not make it into the album? If so, what kept you from not including those?
Some tracks were not as good as I thought and some ended up being an amazing bootleg that I kept playing in my shows. As an example, when it came time to take out the "Queen – Flash" sample, the track didn't sound as great as it did with that sample in it. Also, there was no way to include more than 17 tracks in a CD and I didn't want to go for the three-minute edits per track. People would be very disappointed, I suppose.
The concept for the album seems like it would be flexible enough to add future demos from your Live 2.0 sets. Have you thought about more albums like this in the future?
Yes, I think this will be the new approach I'll use for my next productions. I'm not sure for another album like this, I don't like to repeat myself, but the live influence from people will definitely take a big role in my future productions. That being said, I haven't made any new Live 2.0 demos since October of last year as I really wanted to focus on what I had so far.
I like that the names of these tracks are inspired by the show or city where they were created. Are there any tracks on the album that have a special significance over others?
Not really, all the titles are the very first name I gave to the demo when I had to save it into my HD. There's no hidden message or any sophisticated meaning on those titles, they simply are the first thing that came into my mind.
Your fan interaction shines in Evolver; the album would not be here without the fans and their votes. How important is it to keep fan communication open?
I think it's really important to create a sort of community where your fans can actually have a say in your productions. This is not limiting my creativity in any way, but it creates a new way to make music for me. Your audience is usually passive and they will get the music the artist wants to make, but I think it's really cool for an artist to listen to them and get inspired so that the final result benefits everyone.
I've been live streaming from my studio most of the Evolver tracks. People loved watching it, and they've been commenting lots of different things. It's something you might not expect from an artist, but I really went through the streaming and read all the comments. I took note of a few and changed my final production accordingly. Imagine being my fan and my newest track includes a change you asked for, how would you feel about it?
As you noted, I also let them vote to decide which track they wanted to see released and the results are pretty good. Four singles released, three made it to the #1 chart and one made it #2.
What do you hope the audience takes away from Evolver?
Evolver has been an unexpected three-year-long magical journey and this is reflected in the music. I hope everyone who will buy the album can "Have A Nice Trip."
Finally, we're halfway through 2019. What can we expect from Giuseppe Ottaviani for the last half of the year?
Well, I think that after releasing 17 instrumental tracks it soon be time to unleash some brand new vocal tunes. I already have something big in my hands!
FOLLOW GIUSEPPE OTTAVIANI:
Facebook: facebook.com/giuseppeottaviani
Instagram: instagram.com/giuseppeottaviani
Twitter: twitter.com/GOttaviani
SoundCloud: soundcloud.com/giuseppeottaviani