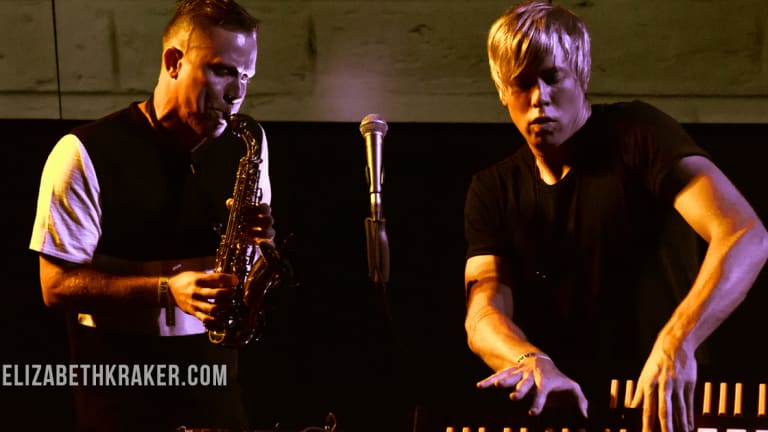 Between Their New Album and Moving to San Diego Life is Pretty Sweet for GoldFish [INTERVIEW]
GoldFish talk about their new album, Late Night People, and reveal GoldFish man's real name!
Before their special New York City show celebrating their newest album, Late Night People, we caught up with Dave and Dom of electronic duo GoldFish at Samsung 837, where we got the lowdown on their humble jazz beginnings, animated music videos and surfing adventures. 
EDM.com: The name GoldFish, how did you come up with it?
Dave: Well, we used to play in a jazz band together and I used to make fun of Dom and his legendary three second memory. That kind of led us to the name GoldFish. When we started GoldFish we were actually playing in a couple of bands, so we used a name we could remember very easily. As soon as we were looking for a name for the project I was like okay I think we have to call this project "GoldFish" because we will never forget that. And it worked out and we never forgot it. And hopefully no one else does.
I think it's pretty cool to have a goldfish as your logo and he's also the main character of your music videos.
Dave: Yes! GoldFish man!
If you were to give GoldFish man a name what would it be?
Dom: Jerry...Gavin...Gavin the goldfish. I don't know. He's always just been GoldFish man.
Dave: I think Gavin's a good one. 
So your music videos are mostly animated, what made you take the animated route?
Dave: We met Mike Scott, who's the animator, and he led us generally down that path. I think once we got going with it, we were like this is amazing. We could do anything we can think of or anything he could think of or a mishmash of everything we could all think of. And we could do it straight away and we don't have to…
Dom: Ask anyone's permission.
Dave: We kind of have to, but generally yes. You let the imagination run wild and I think that's what really attracts us to animation. It wasn't with us being in music videos and walking down the beach or at the pool with sunset shots and girls in rollerblades. I love girls in rollerblades, but we just really enjoy the animated side of things. Though, it's really hard because the lead times are massive. It takes three months to make one, sometimes longer. And they're not cheap either. But it's worth it, having a guy like Mike Scott and a couple of the other guys who we worked on the other videos with as well, Matt Torode. 
Dom: I think we're a little emotionally invested in it as well. It's not like he's just turning out music videos. He's part of the story and part of the journey of this whole thing, which we've gone on together. And he's a super talented animator and just a very creative guy. He's had a ton of success post that with Nickelodeon and a bunch of other animation studios. So it's been great for us and it's been great for him.
You just released a new music video for "Talk To Me." Since your music videos are commentary on the electronic music industry, what's the story going on in this music video?
Dom: It's kind of a continuation of some of our previous music videos. They have a chronological story going through them and, obviously, GoldFish man is the character who's in all of them.
Dave: And versus Dog. So Dog has been in the last four or five. He actually had a bit part in the first music video.
Dom: He was just this random guy in the background sawing logs. A few people on YouTube reacted to it and we kind of crowdsource a lot of ideas from the comments. 
Dave: Definitely some of the new ideas do stem from us trolling the hilarious comments that come up in the videos. It's kind of cool you could figure out what's actually popping. Dog was popping for a bit and we needed a villain. It was in "Woman's A Devil" where he really became the villain. He stole the princess away and the whole fight was to get her back. 
Dom: So they basically hate each other now. 
Dave: And then it goes back in time to "One Million Views." They go to DJ school and go up against each other in a battle with DJing versus bands and live instruments and all that kind of stuff. And then they return for an epic battle to see who would become the number one DJ because now he's become DJ Dog. 
Dom: And he's douchey and flies his private jet.
Dave: He's got a beautiful blonde quaf. He may or may not have some spray tan. And there's an election and that happens. I was describing it earlier, it's kind of like an onion. You peel back the layers and there's just more.
Dom: There's face value and then there's deeper stories within most of that stuff.
Dave: What are those things called? Russian dolls? You just open the one and then there's another one. I think the same is true with all of these music videos. The more you watch them, the more you kind of figure out what's going on. What's great about it is that we hope our music can be listened to more than once.
Dom: And discover new things. But in this new music video there's definitely references to the electronic music scene and how there's some artists that aren't necessarily making their own music and…
Dave: But you know we're not here to tell anyone anything. You need to watch it and figure it out for yourselves. 
Dom: And it's all in good fun. I mean we don't take ourselves seriously, so. And anyone who takes a video seriously probably thinks we have something to hide, but actually, it's just fun. 
Dave: With "One Million Views" the first comment on the video was from deadmau5. And there's a little character called deadcat, which I kind of want to say is a play on deadmau5, but it's not. What he said was, "Ten out of ten guys," and when that happened we were like okay we may have done something right because he's notoriously…
Dom: Yeah, he hates everything.
Dom, you play the double bass and the keyboard and Dave, the sax, what made you guys choose those instruments when you were younger?
Dom: Actually, at some point Dave and I both ended up playing the cello in our early musical careers. I started playing piano when I was six and when I was about ten, my piano teacher came to me and said, "We need cello players for the orchestra, will you play?" I was too scared to say no and somehow suddenly became a cello player. And after about a couple of years of doing that I realized that it really wasn't for me. I told my mom I think I'm going to give up this cello vibe, it's really not my vibe at all. And she said why don't you try double bass because it's kind of similar. I was like that thing's even bigger! Why would I want that?! I was about to turn thirteen and I thought, I'm never going to meet any girls, but little did I know. So it's thanks to my mom, she convinced me to change to double bass. I started going to a music school in the afternoons after school and, because no one really played that instrument, I was chucked in with all the advanced players. It was like suddenly having to sink or swim and so I kind of learned a lot really quickly. I think by about eleven I knew music was going to be what I wanted to do because I just wasn't really excited about anything else.
Dave: Studying classical music didn't really work out for me as a kid and my mom took me into this room with this guy, Duncan, and it was filled with instruments. On the wall was an old broken saxophone and I just somehow gravitated towards it and the rest was history really. Similar story actually, funny enough. Started playing saxophone at twelve or something and then went into grade eight high school, that's when we start high school in Africa, and started music. I caught up on everything I missed and then finished high school with that. At the time there was a lot of negativity in Africa, especially in the workplace, and people were saying you're not going to get a job and you're going to study and you're going to do all this kind of stuff. I was like well that's perfect. If I'm not going to have a job, I'm going to do music because I'm not going to have a job that I like. So I went to the University of Cape Town, met Dom there and yeah.
Dom: The rest was history.
Dave: And then I never had to work a day in my life. 
Dom: Been playing ever since.
You both studied jazz in college, how'd you get into electronic music and decide to make that instead of doing jazz?
Dom: Jazz music was the dance music of the time. It evolved into something more highbrow and intellectual, but it originally was the dance music. And they just blended so well together. Electronic music is minimal, driving, rhythmic and maybe more so metallic and digital and jazz is completely earthy, freeform and analog. So the two of them together are like two foods complementing each other: just kind of comes together in a good way. 
Dave: And I think house music specifically has that constant kind of fall on the floor beat and, from an improvisational point of view, that's what really opens up the platform to experiment. So we quickly figured out that it worked really well and blended with our sort of jazz elements. And we had quite a few of them that we could mix in and it kept it interesting. I think we just kind of ran with it really. Honestly, it took us awhile, but we figured it out as we were going. We didn't come up with this idea and go we're going to do this and then we did it. It was more organic than that. The very first gig we played we were sitting down. One of our friends said afterwards, "Hey why don't you try standing up? It was amazing, but why don't you try that." And then we stood up and it just kept on evolving like that. We would add new pieces of equipment and try this and that. Even today we're still doing that, which is kind of fun. We're still developing it and hopefully making it better. I think the same is true with the music and this new album, Late Night People. We've somehow managed to distill what is GoldFish and put it into an album. 
How'd you two meet and decide to work together on this whole project?
Dom: So we were at UCT, the University of Cape Town, and we were studying jazz degrees because it was either a jazz degree or classical degree. There was a whole third floor underground in the music facility with practice rooms, probably like fifty practice rooms each, with a grand piano and Dave was practicing in the one room. He heard some guy next door, which turned out to be a guy called Jason, who I had started playing with in a jazz trio with piano, bass and drums. I was playing bass and Dave had sort of wandered and said hey let's jam and after that we started a jazz band together. When we were doing that and really enjoying playing jazz, Dave and I both realized that the two of us were into electronic music as well. So we used to hang out a lot more together and listened to stuff like Fatboy Slim, Moby and Kruder & Dorfmiester.
Dave: It kind of happened on the way to this one gig we played every Saturday afternoon, which was about an hour's drive and for some reason I always picked up Dom because he was kind of on my way. We'd packed CDs and played each other songs in the car and that kind of stuff always came up. So it must've been for a year we talked about it and we talked about, "Ah we should make some music like that," but we never did anything about it. And then one day we did something about it and made one song. We actually got called for a gig because someone who interviewed us in the jazz band before somehow got wind that we were doing this project. He was having his birthday and was like I heard you guys are doing this new project and we were like what really? Come and play at my birthday, so off we went to this small club and we played this gig and that was the gig where we were sitting down. We literally took our whole studio, like an old terrible computer and all these funny keyboards and stuff. We set it all up and we sat down and we played.
So being from Cape Town and all, the real question is who is better at surfing? 
Dave: Well Dom's definitely better than me.
Dom: I'm definitely surfing more than Dave, but if Dave surfed as much as I do...Dave has a way better lift than I do though.
Dave: His pace is perfect and he could go on a split peak. He could go right and I go left.
Dom: It's more of a competition of who loves surfing more. 
Dave: I think it's more of a competition of who's got more time. Dom's definitely got more time, so he gets to surf more. Surfing is very time consuming. I've actually taken up mountain biking because you can ride out of your garage and you're starting straight away. Getting to the hills is exciting and fun and there's no shocks. Just in San Diego with rattlesnakes, which is kind of exciting as well. 
Dom: Just being outdoors really.
Dave: We were really lucky touring. We managed to surf in so many different countries and snowboard. We've snowboarded in Switzerland, in Colorado a few times and Aspen and Keystone. We've surfed in Brazil, obviously California and where else? All over. France, Portugal. You know, just having these opportunities has been pretty cool. Wherever we're going to go and when we get a chance, we try and get out there. We actually surfed a wave pool in the United Emirates a few months back.
Dom: Just outside Dubai.
Dave: It's like a two hour drive.
Dom: We booked a pool for an hour.
Dave: Just for ourselves, which was super pimping.
Dom: It was the most gangsta thing we've ever done.
Dave: Pretty much. And we sat there in this pool in the middle of the desert surfing waves.
That's how to live the life.
Dom: Yeah, honestly when we were doing it, I was like is this actually happening? It was so surreal and very cool.
In 2009 you guys broke a new record for the most nominations at the South African Music Awards and ended up winning two of them. How'd it feel to get so much recognition for your music and did you ever think you would get this far?
Dave: Well, we're still kind of shocked. We've moved to America and are now based in San Diego. It's kind of like you wake up everyday thinking wow did we actually do that? Did music actually bring us all the way here? We're a long way from home and it's pretty amazing that has actually happened. The fact that that happened in 2009 with the nominations was also crazy. I mean everyone was a bit shocked, but hopefully we're going to get a whole bunch of nominations this year or maybe next year for this album. We'll see. But we don't do it for the awards. They do help in various ways from a credibility standpoint in the industry and all that kind of stuff, but other than that we don't really care. The fact that people actually listen to our music all over the world is more than enough for us. 
Dom: Yeah, we trip out just getting messages from people. We've had people say they've gotten married and buried their loved ones to our songs. Seriously, "Get Busy Living." That's happened a couple of times. What more honor could you get than being a soundtrack to someone's life: in any way, from happy to sad moments, to whatever moment it might be. So that's the amazing thing about how you could make a song and it just goes out there and takes on a life of its own. It's pretty cool. 
Your new album, Late Night People, just came out. What track was the most fun to make and why?
Dave: I say getting Soweto Kinch's rap on Late Night People was probably just the shear unexpected…
Dom: It was like the skeleton key that unlocked everything.
Dave: There was this turning point in the creation of the album and we thought wow we may actually have something here. We went from having lots of skeletons that were just sort of slowly growing bodies.
Dom: They were like the bones of songs. And his lyrics were amazing.
Dave: It's just full on and hilarious. He's just so amazing and we were blown away. All of those things together really kind of set us off.
So what's your favorite song from the album? Do you have an emotional connection to any one?
Dave: I would have to say that "Absolute Power" is probably my favorite one mainly because it was the last one that we completed. It's also probably the one I heard the least, so that naturally makes me like it more because of that. As one of our friends commented online the other day, he said it's like trying to choose your favorite child if you have children. You love each one maybe differently, but you love them all.
Dom: I mean, Dave's right about "Absolute Power." I think by then what was kind of cool about it was that we had the rest of the album done and so with that song we actually got to have fun with it.
Dave: We didn't even know if it was going to make it onto the album. We were waiting for some vocal or something to come back because we recorded this album in six different countries and multiple time zones, so we were like let's finish this track while we're waiting. There were even some people learning to speak English as their first language, which was also challenging, but it was awesome. It's on the internet now and it's done, it's finished. When we released it, it was an amazing kind of release. Not album release, but it was an amazing emotional and physical release and it's been a long time coming. We took over three years to put this album up, which is kind of a long time. Probably too long. We moved country and there's been a lot of personal stuff that delayed us. I'm actually happy it did because I think we've come up with something better than we would've if we put it out two years ago and that's really what counts. In ten years' time we're not going to remember it was three and a half years since our last album. We're just going to remember how good this album was or not good it was.
Dom: Look, we're really proud of it and we stand by it. And so far everyone's been on the same wavelength about it as us, so that's good.
What's cool about your live performances is that you guys also play your respective instruments while the track's going. Do you always try to include that aspect in all your shows and do you think the audience connects with and enjoys your live music more that way?
Dom: The short answer is yes.
Dave: The funny thing we learned from being jazz musicians and playing improvisational style of music is that when the audience was good, we always discovered that the music was suddenly good. You try to figure it out. You feel the energy of the people and what happens is that it kind of escalates. So the people give the energy, you give back more energy in the music and that causes the people to have even more energy.
Dom: It's the positive feedback.
Dave: It just sort of goes into a feedback loop and it can really explode. I mean we used to get that going before we had songs people knew and sung along to. We were just jamming and we were probably better back then because we never had songs. It was all about the jam and really getting that energy and building it into a crescendo.
Well, GoldFish definitely brought all that energy with them at their live performance in New York City and they most likely will continue to later this month​ on Parov Stelar's The Burning Spider Tour.
Special thanks to Dave and Dom for taking the time to chat with me! It was a pleasure learning more about GoldFish and we can't wait to see what you'll be up to next!
Follow GoldFish: