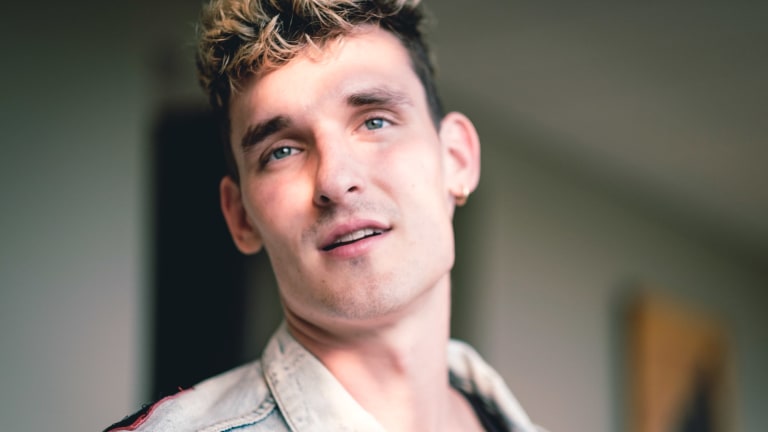 GRiZ Talks New Album, Mental Health, and His "Shit Ton" of Upcoming Releases [Interview]
"I live my life through music, and right now I just wanna be energetic and loud and no fucks given. I'm feeling like, 'Let's get crazy.'"
In the past few years, future-funk DJ GRiZ (real name Grant Kwiecinski) has had a busy journey through stardom. Releasing his first album in 2011, Kwiecinski was regularly touring by 2012 and landed time slots at some of the largest events in the country, like Lollapalooza and Electric Forest. In 2017, GRiZ came out publicly, and has since become a strong figure in the LGBTQ+ community. 
Since then, Kwiecinski has had a tumultuous relationship with social media. He went on a hiatus in 2017 and then wiped the contents of his Instagram in 2018, and he seems to have spent the time away focusing on artistic growth and reawakening. 2019 has seen Ride Waves, his sixth studio album and his first large release in over two years. Kwiecinski is also taking to the road, with festival appearances scheduled through October. 
Spring Awakening in Chicago marked the second stop on his festival circuit this year, with GRiZ closing down one of the main stages on Sunday night. Just ahead of this major set, GRiZ took the time to speak with us about his recent album, his time away, and what he has in store for us next.
EDM.com: You recently dropped Ride Waves … to us, It feels like a departure from your older, more electronic-heavy beats. Agree or disagree?
GRiZ: Agree! You know, it's up to you. Whatever you want reality to be, or think that it is, I can't disagree with your perception of the thing. I created this thing without trying to make it really much of anything… I don't know if it's like art, or the way that I might see art...
Self-expression, perhaps?
Yeah, absolutely! I just wanted to make music that felt honest, that felt real to me. Because I live my life through music. I make music all the time. I'm always making it how I feel about stuff. Whatever that is--the expression of the human condition, or what have you--that's what Ride Waves is. Whether it's a departure or an arrival at somewhere else. There are all sorts of ideas and feelings inside that album.
How does the change in your sound reflect the changes in your life the past couple of years since you've been working in the studio?
There's always personal growth that happens. Life is difficult, it's beautiful, it's happy, it's sad, and to me right now, I've reached a bit of a crux, a new, peaceful settling point. And within that, a lot of new personal truth and growth happened, and I'm feeling a lot more like I just don't care so much. I can't define myself or my success based on anything that anyone else thinks. My gauge of how I feel about myself can't come from the perception of other people.
We all live in a world where we let other people decide how cool or popular or loved a thing is. You take a picture of yourself and you publicly show it to people to let them decide if this is something they like or not. Isn't that fucking crazy? You gotta feel that. You gotta feel how shallow it is all the time. It hurts! It's toxic.
It's really, really hard to live outside of that. That's some new shit. How do I live outside of that, while also not being someone who just doesn't give a fuck about anything? I'm not trying to be apathetic, because I really care.
I feel like humans, we do care about stuff, but it's also cool to not care, which I think is dumb. If anything, we should at least care about each other, you know? I want to live an a community of people who care, and uplift each other and support each other. So everything I'm trying to do encompasses this energy.
Do you have any advice for those people who might be feeling at odds with themselves, their psyches, etc.?
Yeah. It's normal. It is so normal, and beyond that, you are so valid in feeling that way. But that is also not to say that it's not a unique feeling, and it also doesn't make you any less for feeling that way.
If you are struggling with things like anxiety, or depression, or in my case your sexual identity, or whatever it might be, I think it's important to research and find mechanisms to cope with those problems that is not a narcotic.
Two years ago we saw a GRiZ DJ set for a Spring Awakening after party. It was amazing. Do you remember that set?
Yeah! I'm pretty sure I laid down in the middle of it. I had to take a break (laughs). 
Will you be playing another set like that any time soon?
Fuck yeah! I'm actually gearing up to release a bunch of music from now until the fall that's thematically around that. Ride Waves is like the ethos of the project… but this project has so many different moods to it, because I love all sorts of music, I have a fucking tough time choosing where to stay.
But from now until the fall, we're going to release a shit ton of music that's all thematically in the danger zone realm.
Any names for you pending release?
I don't know yet. I'm close to a few things, but how the music is going to be released. I had this one idea, and now I'm having new ideas. So whether it's a mixtape, or the collection of EPs, or the album, I'm not exactly sure, but it's a lot of music.
I just love making music. Like I said, I live my life through music, and right now I just wanna be energetic and loud and no fucks given. I'm feeling like let's get crazy. Unleash the crazy.
(Interview has been condensed for clarity.)
To find out where you can catch GRiZ this season, check out his tour dates here. 
FOLLOW GRiZ:
Facebook: https://facebook.com/mynameisGRiZ/
Twitter: https://twitter.com/griz/
Instagram: https://instagram.com/griz/