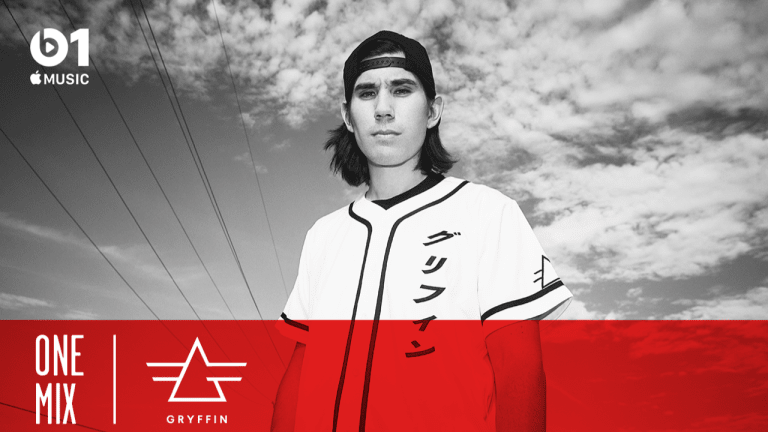 Vibrant Melodies, Emotive Vocals, and Sprinkles of House with GRYFFIN on One Mix [INTERVIEW]
Ahead of his One Mix, we caught up with GRYFFIN producer to talk about his upcoming debut album, Gravity, and his new live show.
Beats 1's weekly radio show One Mix hosts melodic dance music producer and multi-instrumentalist GRYFFIN for this weekend's mix. His One Mix debut is set to cover plenty of sounds ranging from relaxed and emotive to groovy and deep. Expect tunes from Fisher, MK, Rüfüs Du Sol, SG Lewis, and Silk City as the L.A. producer likes to keep his sets balanced with energies high and low.
Tune in here exclusively on Apple Music.
Air Date: Saturday 17th November 2018 - 00:00 LA, 03:00 NYC, 08:00 LDN
It wasn't too long ago that GRYFFIN (real name Dan Griffith) was a bedroom producer gaining traction on SoundCloud. His remixes, back in 2014 and 2015, of Tove Lo's "Talking Body," Maroon 5's "Animals" and Years & Years' "Desire," respectively, put him on the map. They formed the roots of his indie-electronic sound which embraces vibrant melodies, emotional vocals, and sprinkles of house.
His debut original, "Heading Home" featuring Australian singer Josef Salvat, cemented Griffith's personal sound. It was the first of many well-received productions, like "Whole Heart" featuring Bipolar Sunshine, "Feel Good" with Illenium & Daya, and 2018's "Winnebago" with Quinn XCII and Daniel Wilson.
Though he's known to play eclectic DJ sets (as listeners will find out on his upcoming One Mix), Griffith shines in live settings. He uses guitars, pianos, drum pads and synths on stage, making for organic, heartfelt performances that connect with audiences on a level that's hard with CDJs and a mixer.
The future looks bright for Griffith as he gears up to release his debut album Gravity next year. Plus, to celebrate, he's embarking on a 20-show North American tour, with an evolved stage design and improved live setup.
As anticipation for the album and tour looms, we caught up with Griffith to talk about what inspired creating a new album, what to expect from the upcoming tour, and his history with music.
EDM.com: For our readers who have never heard your music, describe your sound in a sentence.
GRYFFIN: Organic, uplifting, emotional dance music.
You studied Electrical Engineering at USC. What inspired the jump to doing music full time?
Well, it was during my time studying electric engineering that I started to play around in Ableton. While I was in college, DJs like Avicii and Skrillex were becoming massive. Having been a classically trained pianist and learning guitar when I was a kid, I was very interested in how they made dance music and began learning how to make my own.
You released "Remember" with ZOHARA just over a week ago. What inspired that track? How did it come together with ZOHARA?
I originally received the demo from ZOHARA about six months ago and immediately had an idea to make it into a house record. Last year, I had done a remix for Snakehips that had this metallic bass line and techy vibe to it, and I felt like working that sort of style into an original track. I felt this was the perfect vibe for it.
What's the theme behind the LP as a whole?
The idea behind the album revolves around portals. I've always tried to make music that could transport listeners to different places. The album will have a number of different feels to it but all of them will transport listeners to a certain place.
For you, what makes now the right time to put out an album? Was this something you have been planning for a while, or maybe a recent spark of inspiration triggering the intention to put together an album?
It was a combination of things. I've been working on some of these records for a while, and after a while it sort of just came together. I think it's also the perfect time to release an album because I feel like my project is in a place where it's found its identity and now I can really bring my fans, old and new, into my world.
What sort of artists are you hoping to list for support on the Gravity Tour?
It's going to be artists that I really respect but a mixture of live and DJ acts. They'll be announced soon.
What does your live show setup look like? Will there be any changes to your live setup on the upcoming Gravity tour?
My live set up is a combination of guitars, a keyboard, an upright piano, a MIDI pad, an SPD pad, and a mixer. The setup on The Gravity Tour will be similar but more custom and slightly different. I'm really excited for it. The stage design and feeling of the new show is completely different and evolved though, I can't wait for people to see what we've been working on.
How do you approach a live set versus a DJ set?
A live set certainly takes more time because I have to really think about the transitions and the different musical arrangements. I also have to think about what instruments I want to be playing at certain moments and how that will all translate live. For DJ sets, I'm able to have a little more freedom and sort of play what I want to. I always try to have a good balance of energy and familiarity so that any type of crowd can enjoy it.
You find a lottery ticket that ends up winning you $10 million. What would you do?
Probably buy more music gear then buy a house on an island somewhere. Wouldn't stop making music though!
First show experience?
Flume, Kaytranada, The Chemical Brothers, More to Play Goldenvoice's New San Francisco Festival, Portola
The two-day festival will also feature sets from James Blake, Arca, Peggy Gou, M.I.A, Four Tet, PinkPantheress, DJ Shadow, and more.
Rolling Stones in San Francisco with my dad.
First time you brought your mom to one of your shows?
My first live show at SnowGlobe in 2016.
The artist who inspired you to become a musician?
First artist I was truly obsessed with as a kid was Sublime.
Go-to places for new music?
Apple Music, Spotify, Soundcloud.
Guilty pleasure record?
"17" by MK. 
Desert-island dance record?
"Around the World" by Daft Punk.
Dream B2B partner?
Calvin Harris.
Favorite BPM?
123.
Piece of gear you always need on the road?
Computer with Ableton and headphones.
All-time favorite festival?
Austin City Limits.
Biggest misconception about dance music?
Dance music producers just press buttons. There's so much more that
goes into creating dance songs.
How often do you get out and have fun, and where do you go?
I try to get out and have fun when I have an off weekend from touring. I
usually stick around Venice where I live and hang out with my dog Gigi,
go to the Beach, and hang around Abbot Kinney.
City with the most underrated dance scene?
Tokyo.
Industry prediction for the next year?
House music will be back in a big way. Dance music cycles through
genres every few years, and a few house producers right now are really
bringing the genre back into the mainstream.
FOLLOW GRYFFIN:
Facebook: https://www.facebook.com/gryffinofficial/
Instagram: https://www.instagram.com/gryffinofficial/
Twitter: https://twitter.com/gryffinofficial
SoundCloud: https://soundcloud.com/gryffinofficial