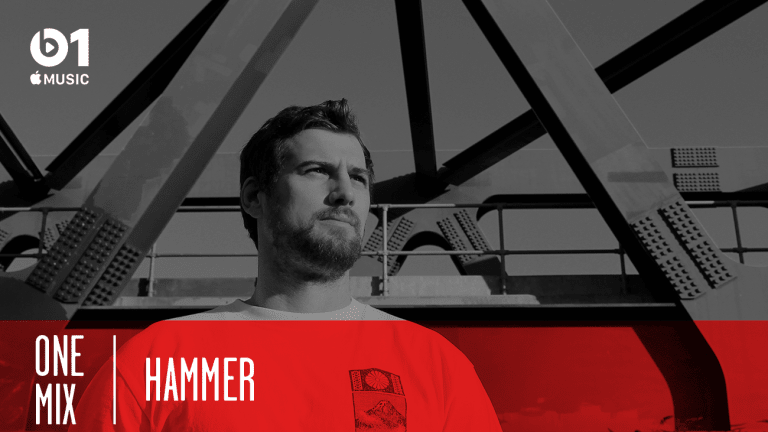 An Hour of Downbeat Electronica with Hammer on Beats 1 One Mix [INTERVIEW]
Belfast-born, London-based Hammer went from blogging about music to producing and touring.
Welcome the weekend with UK producer Hammer's downbeat electronica mix on Beats 1's weekly radio show, One Mix. Expect unreleased Hammer tunes plus music from Axel Boman, Mariah, and Arthur Russell.
Tune in here, exclusively on Apple Music.
Air Date: Friday 30th November 2018 - 21:00 LA / 00:00 NY / 05:00 UK
The Belfast born producer got his start in the music industry as a leading contributor of popular UK music blog Feel My Bicep, alongside childhood friends Andy Ferguson and Matt McBrian, who themselves gravitated towards making and performing music. You may have heard of them by their stage name, Bicep.
While the Bicep boys headed to London to kickstart their musical career, Hammer (real name Rory Hamilton) attended university in Glasgow aiming for a career in rugby. In a past interview with Mixmag, Hamilton mentioned:
"We were trying to keep it together, but it wasn't viable...It was tough because all of a sudden they just exploded. I was stuck in Glasgow trying to do rugby – and then I realised I didn't really want to do that at all."
Soon after, Hamilton devoted himself to music full time. He ran Thunder Disco Club at Glasgow's Sub Club while making frequent trips to London to work on music with the Bicep duo. Eventually, he fully moved to London, where he currently resides.
EPs like At Once and Canna mark some of Hamilton's best work, and last month's Ozone is up there as well. Hamilton embodies a house music sound brought to life by warm, rich synths, and a sense of playful energy.
We got to know more about what drives Hamilton's musical sensibilities, as he shared his dream collaborator, favorite throwback track, desert-island dance record, and more with us. Read on to see what he had to say.
EDM.com: First show experience? 
Hammer: When I was 17, playing techno in an old venue called Auntie Annies that my school friends and I put on.
First time you brought your mom to one of your shows? 
AVA Festival for my Boiler Room set; it made me very nervous!
The artist who inspired you to become a musician? 
Listening to Dave Clarke at Shine in Belfast.
Go-to places for new music? 
Clone has a great online store.
Guilty pleasure record? 
"A Lover's Holiday" by Change.
Desert-island dance record? 
"The Sun Can't Compare" by Larry Heard.
Dream B2B partner? 
Carl Cox.
Favorite BPM? 
Easy as 123.
Piece of gear you always need on the road? 
Phone charger.
All-time favorite festival? 
Love International.
Biggest misconception about dance music? 
That it's cool.
How often do you get out and have fun, and where do you go?
I'm always having fun, but when I'm not at gigs I just hit some pubs with my pals and have the odd house party.
City with the most underrated dance scene?
Most cities in Ireland. Derry, especially, is amazing.
Industry prediction for the next year? 
DJs are going to start wearing shorts in winter.
Best piece of advice for new producers? 
Only make what you love and do something different.
Dead or alive, who would be your dream collaborator? 
Prince. 
What is one of the unique experiences you've had backstage? 
Umm maybe getting stuck in a big barrel...
What's your favorite throwback track? 
"What You Need" by Soft House Company.
What's one track that fans always lose their mind to? 
My edit of "Love Somebody."
What was the first album you ever bought? 
I was bought the Meatloaf album when I was nine by a friend - he's still my friend! I was very confused and CDs were very exciting at the time. 
Name one remix that you think is better than the original. 
Bicep's remix of "Higher Level" by Isaac Tichauer.
What song would you want (god forbid) played at your funeral? 
I hate to taint the song for anyone but "This Must Be The Place" by Talking Heads.
What's the perfect sunset track? 
"Sunset People" by Donna Summer.
What song do you listen to cheer yourself up? 
Anything by Fleetwood Mac!

Follow Hammer:
Facebook: https://www.facebook.com/thehammerhits
Instagram: https://www.instagram.com/thehammerhits
Twitter: https://twitter.com/thehammerhits
SoundCloud: https://soundcloud.com/thehammerhits