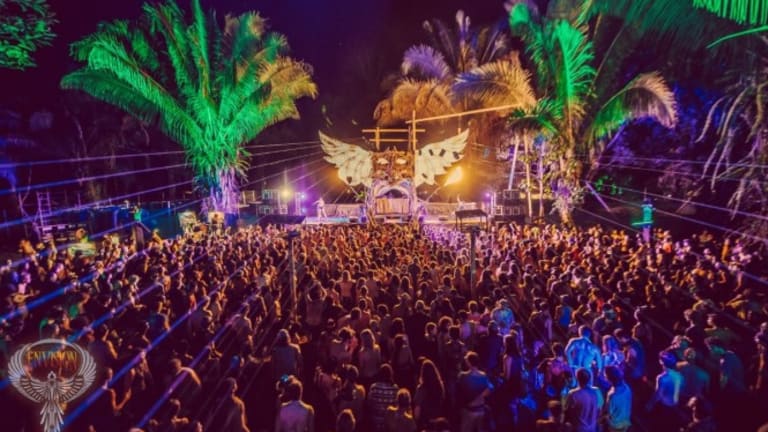 Happy Earth, Happy Dancers: Envision Co-Founder Discusses Running a Sustainable Festival
Learn some of the best eco-friendly festi practices from a co-founder of Envision.
Festivals are magical places. From the shared love of music, to the community and connections made, to the opportunities to learn through classes and workshops, it's no wonder most of us wish we could live at our favorite festival all year long. That's kind of what Josh Wendel and his co-founders had in mind when they created Envision Festival.
Perhaps the world's greenest music festival, Envision was born out of the founders' desire to live a sustainable lifestyle that brings the individual into harmony with the Earth around them. By sourcing natural materials for festival infrastructure, harvesting and serving farm to table food, composting bio-waste, reforesting local lands, supporting small businesses in neighboring towns, offering a dish rental service in place of single use utensils and more, Envision is setting the bar for economic and environmental sustainability in festival culture.
EDM.com: Many people have heard of Envision, but don't know much about it except that it's a huge festival in Costa Rica. What is unique about Envision that sets it apart from other festivals?
Josh Wendel: The first and most obvious thing that sets us apart is that we are set in paradise, in the jungle, on the beach, surrounded by waterfalls and scattered with monkeys and toucans throughout. In terms of the actual festival production, we don't cut any corners. Everything we build is out of local natural materials, and everywhere you look is meticulously curated to tell a story. From Funktion-One sound and a diverse offering of workshops to our onsite herbal clinic and 100 percent farm to table food, we seek to provide a full sensory experience.
Many events and fests claim a Leave No Trace philosophy, yet it's easy to see upon attending that this philosophy isn't taken very seriously. At Envision, how do you monitor and measure and effectiveness of sustainability practices.
Just like the word "sustainable", Leave No Trace is a goal that we reach for and improve upon every year. We believe firmly in these principles and go to great lengths to ensure that Envision Festival has a positive impact on the planet as well as on the attendees. In order to accomplish our goals, we begin by sourcing natural and local materials throughout the year to minimize the footprint of the resources we need. From there, we require and vet all of our vendors and contributors to ensure that any offerings they are bringing to the site are in alignment with our shared vision. Carrying this theme all the way through, we actively educate and encourage our attendees to pay attention to how their choices make an immediate difference on their environment. We also have a ton of environmental initiatives, such as huge reforestation projects in Costa Rica (costas verdes), have reforested our own site, banned all single use non-compostable items (cups, plates, straws) and recycle everything that still needs to be recycled. There is the obvious ripple effect of getting people excited by and pursuing these concepts perpetually in their own life after the festival, but the immediate goal is definitely to bring our specific event as close to sustainable as possible.
Why Costa Rica? Apart from the beauty of the location, did the decision for Envision's location have anything to do with creating this sustainable culture and environment?
We chose to live in this land well before the incarnation of Envision. We all came here separately but with a similar intention, the return to nature. This is a place where we can grow all of our own food year round, don't actually "need" electricity, and a comfortable home can consist of just a roof over your head; my house doesn't even have walls. It is easy to live a sustainable life. Frankly, it is a place where it feels natural to be a human being. You can walk around barefoot all day, don't need a heater, don't need AC and clothing is really just a formality. 
What came first, the festival or the vision? Did you always intend to create a festival with compost potties, or did your passion for sustainable practices grow out of a lack thereof?
The intention to create a sustainable lifestyle in Costa Rica came way before the festival. Creating the festival has definitely helped open our eyes to different sustainable practices, particularly on a larger scale (approx 7000 people on site). however, much of what we put into practice onsite has been a regular part of our lives for years prior. Since I was young I had a concept of living off the land in a tropical paradise, but I could never have imagined what we've created with this common vision my partners and I hold.
Do the organizers and artists playing at the festival adhere to the same ecofriendly practices?
We do our absolute best to educate our audience about the policies on site before they arrive. At this point it's become such a part of the culture, that other attendees help watch out for this and actually educate each other on the practices. It's beautiful to see this blossom into an aspect of Envision culture.
Envision is one of (if not the only) festival that makes an effort to offset the harmful emissions produced from traveling to and from the festival. Through your partnership with Community Carbon Trees, do you believe this effort is/will be successful?
There are too many factors outside of our control (such as attendee travels) to get an accurate measure as to the exact nature of how "carbon neutral" we are, but we certainly want to continue focusing on how we can improve upon our efforts. That said, through our work with Community Carbon Trees, Costas Verdes and all of the other sustainable farms that we work with, I know that Costa Rica is far greener and there are many more trees here as a result.
In addition to just balancing out, how is Envision positively impacting the local environment/economy?
We named the festival Envision because we aim to inspire people to create the world that they believe in. We want people to question the current paradigm, tap into their inner voice and help manifest what they believe in. The area that Envision takes place in, where I live, is a relatively new area for people to live. Hardly anybody lived here over 50 years ago. Envision is a sample pack of what a community could have from the health aspects, to the environmental awareness and regenerative practices, to the arts and music and the sustainable building. People walk out of Envision with new concepts and passions to follow that will impact their own local and greater communities.
Eco-education is a big priority at Envision. While you educate festival participants about sustainable practices they can take home, is there any initiative to share your most successful eco solutions with organizers of other festivals?
I think our no single-use dish program is one of our great revolutionary concepts. It is a buy-in program that allows you "rent" a plate, cup and/or silverware. When at a food stand, you turn in a ticket that's for the plate used. When the dish is dirty you return to our dish washing station and they give you a ticket back. It's simple and easy for the attendees, and they don't have to carry around a cup and plate the whole festival or run back to store it in their camping area. We hope this can provide a working model for other event producers so that collectively we can cut down on the needless waste that's created at so many other gatherings.
What has been the most difficult/challenging part of creating a sustainable festival community?
Our stubbornness and dedication to stick to principles and sustainable practices over profitability. We turn down a lot of sponsorship opportunities that could bring in additional funding because we don't want to be affiliated with brands we aren't ethically in line with, and we want our festival esthetically beautiful, not littered with advertisements.
What are your top complaints from festival-goers in terms of experience? Do people come expecting to participate and consume in a more conscious manner? Or do you often get complaints about convenience and comfort matters?
We try to prepare people with our "survival guide", but the reality is there is a version of Envision for everyone. There are beautiful homes with infinity pools in the area to rent, if you don't like camping. We also offer treehouses, bamboo bungalows and tents to rent. We understand that most of our audience comes internationally, and can't just drive up in an RV with all of their creature comforts, so we want to make it easy for people to feel at home here. It used to be very sunny in our camping grounds, but we've planted almonds, bananas and ylang-ylang trees and have tons of shade now, so no matter how you like travel there is a way for you to be comfortable.
As a Festival that's seeking to set the bar for sustainable partying, what have been your top initiatives for Envision 2018? And where would you like to see the festival improve in these efforts in the next 5 years?
Every year there is more of an effort to create permanent infrastructure, gardens, and structures. Initially, we had to build everything from the ground up. But our longtime relationship with the venue over the last couple events has allowed us to build upon the permanent and strategic development we've put in place, giving us the freedom to focus more clearly on the content we provide. As is true with permaculture, we aim to invest our efforts in such a way that lets us dig deeper each year into how we can create a world-class experience with an ever lower and lower cost to the environment. Over the next 5 years we foresee that the seeds we've been planting thus far are going to bear fruit not only in exponentially larger acts on the stages but also in our ambitious desires to create new initiatives beyond Envision.
Many companies shy away from sustainable practices because they end up costing more than doing things the convenient/quick way. Does it really cost more to run an eco-conscious business?
We believe strongly in the concept of the Triple Bottom Line, where People (social), Planet (environmental) and Profit (financial) must all be kept in balance. For example, it's probably cheaper go with the free plastic cups that a beer company provides and would go directly into the garbage, but we'd preferred to create a concept like a dish system that we make a small profit on and have zero waste. It's a win-win. This definitely takes a lot more thought, time and energy, but we feel much better about our impact on the planet and hopefully, our attendees walk away thinking of concepts they could implement in their own lives or workplaces.
How do you keep the sustainable vision strong on your team and day to day staff culture?
Most of us literally work from our homes on sustainable farms. I have my conference calls walking around barefoot picking fruit from my garden. It's easy to remember what you're fighting for when it's not a far-off concept from day to day life but is growing all around you. There's something so right about being in Costa Rica living sustainably that, when you have to leave here, you end up just wondering how to get back to where you felt so good.
It may be just one weekend out of the year, but the communal, artistic and educational impact Envision has on its attendees lasts a lifetime. Even more if we consider the impact on the environment. Envision 2018 is just a month away! You can check all the deets on their website. Maybe this is the year you go party in the jungle and learn how to dance with Mother Earth.
Photos courtesy of Envision Festival
Follow Envision Festival
Website: Envisionfestival.com
Facebook: facebook.com/envisionfestival
Instagram: instagram.com/envisionfestival
Twitter: twitter.com/EnvisionFestCR