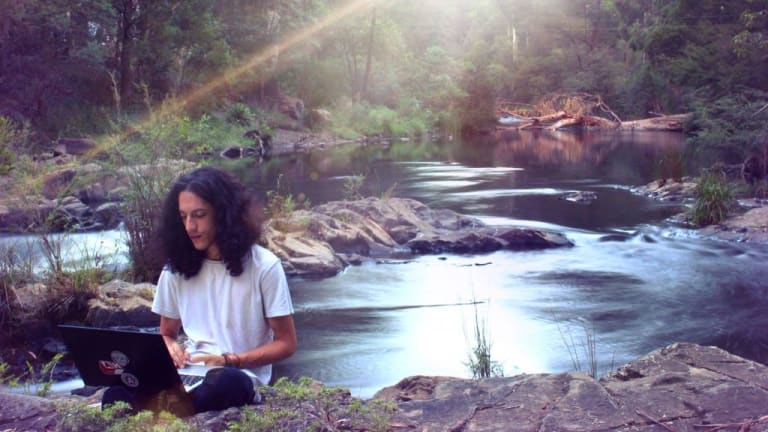 Under the Radar: Meet Herzeloyde
Herzeloyde just recently signed a track to Fool's Gold, along with all of his other accomplishments!
Welcome to another series of Under The Radar, where every week we showcase an upcoming artist who we believe you should know about. This week's talent is a super producer of bass music who goes by the name of Herzeloyde.
I first found Herzeloyde's music through hours of digging the various realms of SoundCloud in the year of 2015. "Hey" was the song that sparked my obsession with his sound. After digging through all of his music, it felt like each song was so unique, no two sounding extremely similar but each have the sound that is distinct to him as a producer.
Herzeloyde has received nothing but the utmost praise by the likes of Triple J, Nest HQ, Billboard Magazine, Noisia, Mr. Carmack, Snakehips Soulection and now with us at EDM.com, we're one of the lucky few to have landed an interview with him.
EDM: What is your songwriting process like?
From my perspective, there are two main approaches one can take to songwriting. The first being experiment driven, where you play with the tools you have and try different things to come up with new content; I find this is a great way to learn more about production and the DAW you work in. The other approach, I find, is vision driven where you have a pre-conceived idea of a tune you want to create. This is the method I've always gravitated towards and I personally find it the most enjoyable when writing.
Have you ever considered collaborating with a rapper or singer in the past?
I've always wanted to collaborate more with vocalists. There's something really cool about letting your production be the backdrop to another art form, be it singing or rapping. I need to find the right people to work with, so we can synchronize our vision and create an integral collaboration.
What are some of the VSTs that are used a lot in your production?
Over the years I've experimented a lot with different VSTs. I guess at some point I realized the profound importance limitations have on creativity. When you limit yourself in some way you are forced to work more creatively. Solving musical problems and overcoming obstacles must be done using alternate methods. Because of this revelation, I stripped back my entire production environment and began solely using basic oscillators and raw synths to create my music. Since then I haven't really looked back.
What has been your favorite venue to play so far in your career?
To answer this one I would have to refer to one of the last gigs I did which was Shambhala Music Festival 2017. The Amphitheatre was definitely the most amazing stage setup I've ever been lucky enough to perform on and the entire environment was beyond any gig I've ever experienced before.
Is there any festival/venue that you would love to play that's still on the bucket list?
The number of legendary and influential producers who have graced Low End Theory in LA is endless and I'd love to add my name to that list sooner than later. Having just had the opportunity to briefly visit the city while in transit, I immediately fell in love with the vibe and cannot wait to return.
Are there any projects that we should be on the lookout for in the near future?
I've got a lot of new music coming out on the horizon. A-Trak recently reached out which led to me signing a 2-track single to Fool's Gold that I'm really excited to have out. One of my songs titled 'Cardinal' will feature on the latest compilation from TheSoundYouNeed fam that'll be out later this year. I've also got a bunch of remixes coming out; one for an Australian producer named Generik that will be released on onelove later this month and another for an English, Electronic duo. Besides those, I've also started a new collaborative project alongside some homies in Australia, putting together minimix ciphers filled with unreleased gems and WIPs. Look out for my next one featuring Melbourne based producer, VanOi.