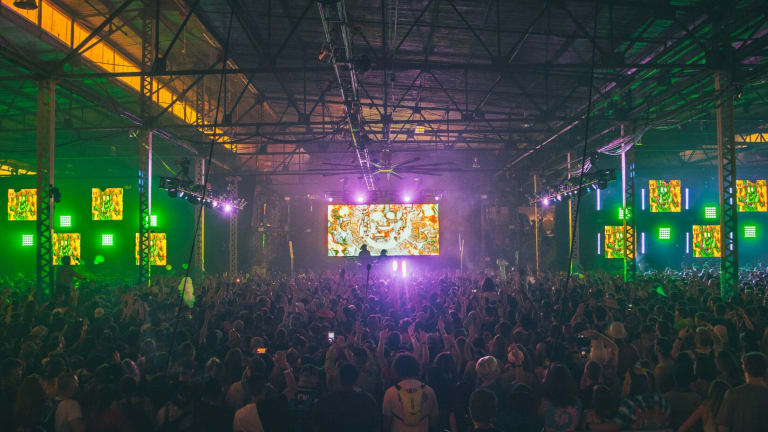 We Caught up with Hippie Sabotage at Buku Music & Arts Festival [INTERVIEW]
Get to know a little bit more about this dynamic duo.
After exploring the New Orleans themed festival grounds with my "BuKrew" I had the chance to sit down with Kevin and Jeff, the brothers of Hippie Sabotage, to talk about music, future plans, favorite foods, and more.  Within minutes of their set, one thing is clear - this duo knows a thing or two about having a good time.  Keeping the crowd engaged with their music from start to finish, this performance definitely made it into my list of favorites from the weekend.  Get to know more about our two favorite hippies below!
You've spend most of 2018 on the road touring on the Path of Righteousness Tour, what has been your favorite moment so far and why?
Kevin - There's been many moments, but Eugene, Oregon was pretty fun. It was a smaller theatre and the crowd was just packed in. It was just insane, insane energy. What was your moment, Jeff?
Jeff - I liked Seattle. Seattle was really great. A bunch of little like 9 year-old kids got up on stage with us and crowd surfed.  So any time young kids can be up there I love it.
What has this tour showed you about yourselves as artists that you may not have known before?
Jeff - I used to think that people showed up for just the music, and the mixing, and the set, you know, and that if I didn't play the right beat the whole show would go bad.  But, now I know that people show up for us and the music is just an accessory. They want to hang out with us, they want to experience it together with us.  It's not just about the music we're playing.  Its bigger than that.  That's just what I've learned on the road.
Kevin - I've learned good vibes all around and that we're hella tight.
What are your plans when the tour ends at the end of March?
Kevin - One, I think we're going to recover a little bit. Probably get right back to making songs and working on whatever project strikes our brain at the moment. Honestly we just kind of go off of what we're most inspired by.
If you could play b2b or collaborate with any artist, dead or alive, who would it be?
Jeff - Jimmy Hendrix!
Kevin - Boom!  Single answer.
A main element of your performance is the energy you guys give off to the crowd from start to finish, where do you draw inspiration for this kind of performance?
Jeff - Our second show was in Vegas with Waka Flacka and we had been performing for only a couple shows before that, like silent DJ, not really talking much.  But, then we saw how he interacts with the crowd the entire time and that's what people like about it.  He gets in the crowd, he puts people on his shoulders, you know. You're one with him. And once we saw that we were like "yo, we need to gear more towards that".
Kevin - It opened our eyes to the possibilities of honestly being able to do whatever we wanted during the show.  And most of all I think we just want to show people that we like Hippie Sabotage. We like our music. The sole purpose of us putting out songs is literally just so that people can hear it.  Us just showing the craziest amount of enthusiasm as possible is just our way of showing that we like it too.
Are you guys dog or cat people and why?
Jeff - I'm a dog person.  I don't like kitty litter smell, I think it's terrible. Sorry cat people.
Kevin - I'm a dog person too...but I fucks with cats. So, no offense.
What kind of music do you find yourselves listening to in your free time? Favorite song at the time?
Jeff - "Smoke Purp 123".
Kevin - Yeah, that's a pretty tight song.  Murder Beats killing the game. What I've been listening to.. I still listen to like old 50 Cent mix tapes when I'm smokin' weed. You know, or like Gangstarr or something.
Jeff - You know all of EDM evolved from rap. The production came from rap.  That's where 808s and Dubstep, all this music comes from rap music. And thats where our background is coming from production, so that's what we listen to. But my favorite song, is it "Roll in Peace"?  That's probably my favorite one right now.
What song of yours was the most challenging to create and why?
Kevin - Challenging to create?
Jeff - "Waiting too Long".
Kevin - Yes, "Waiting too Long", maybe "OM".  Yeah, it's not "hard", it's just making the right artistic decision.
Jeff - Putting out the song and, like he said, choosing which one to go with is the hard part.  The songs sort of just, you know, we're working on them every day.  Yeah, we don't stress over it.
If you had to eat only one food for the rest of your life, what would it be?
Kevin - Goldfish!
Jeff - Ice cream.
Kevin - What type of ice cream?
Jeff - Coffee ice cream.
Kevin - Damn, that's a good answer.
What advice would you give to struggling up and coming EDM artists out there?
Kevin - Make music every day.  And while you're making music every day, just try and enjoy it.  It's fun, man.  So just try really hard and make music every day.  That's what I would say.
Jeff - Yeah and don't let anyone else convince you that anything you say or make is less than what anybody else is doing.  So, just keep going.