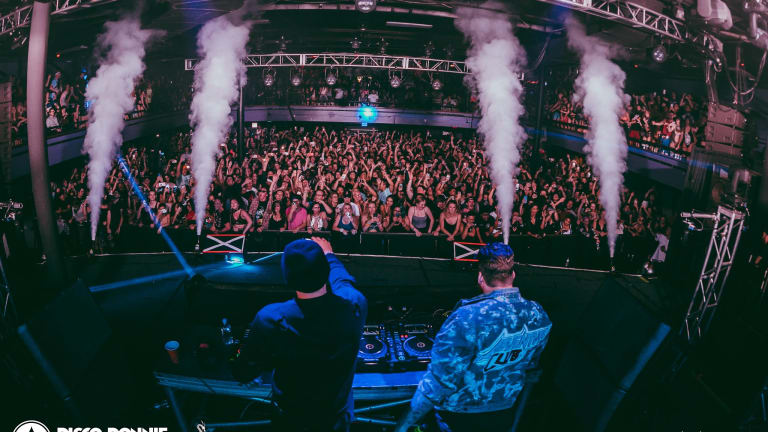 Honorary Superheroes for the Day With Adventure Club [Interview]
Adventure Club talks about Ultra Music Festival not returning back to Bayfront Park, a look inside their Halloween tour, and more.
There comes a time in everybody's life where they must choose between good or evil. Without a doubt, this decision can be one of the hardest they face. However, this was not the case for both Christian Srigley and Leighton James, who make up the iconic and GRAMMY-nominated electronic dance music duo Adventure Club. The two artists decided the path towards the light and good was one they knew at an early stage of their lives. 
The journey to becoming a superhero is an uphill and downhill kind of battle. Along the way, there is a lot of self-discovery. For Adventure Club, one of those unique experiences was starting a hardcore punk band in high school. The formation of this band in high school was just enough to ignite the fire causing the two to venture off into dubstep and to dip their feet into the electronic dance music scene. It was not until they saw massive success with their dubstep remix of "Daisy" by Brand New. Its success sparked an enormous change in the type of music these two produced and. 
Fast-forward to the present day and Adventure Club indeed has taken the world by storm and impacting life after life in a multitude of ways. They have created a brand that is recognizable instantly within the dance music scene, headlined top-notch festivals such as Ultra Music Festival, TomorrowWorld, and Electric Daisy Carnival in Las Vegas. Their Superheroes Anonymous mixes have become legendary as mixes that broadcast Adventure Club's sound and attitudes. They were one of the first electronic dance music duos not to be shy about sharing their love for heavy metal and rock, and then incorporating it into their mixes.
Adventure Club touched down in Portland, Oregon for their sold-out show at the Roseland Theater on September 29. They were kind enough to sit down and open up about what the next chapters are for them. Please join us as we take a more in-depth look into what is like to be a superhero with Adventure Club as they answer all the fans who might be curious about Srigley's scandalous Instagram posts, their reactions to Ultra being kicked out of Bayfront Park, or their new collaboration with Jauz and late We Came as Romans vocalist Kyle Pavone.
So, before the story of Adventure Club started you two began a hardcore punk band in high school. Some of your influences were All Time Low, Bring Me The Horizon, and Four Year Strong. In 2018, sadly Vans Warped Tour announced that it was ending after 24 years. Did this festival have any impact on you as artists?
Leighton: You know how this generation right now has EDC and Ultra? Well, that was Warped Tour for us. That festival inspired everything musically for us. It was my first festival. I remember seeing the bands on the platforms.
Christian: That was the first festival that I attended. Those were the golden days for music like that. Some of the legacy acts from that era are even still touring today.
If you had to pick one hardcore punk rock song that would describe you back in the day, which song would it be?
Leighton: There are a lot to go through in my catalog. I would have to say "The Taste of Ink" or "A Box Full Of Sharp Objects" - both by The Used - and maybe "Heroes Get Remembered, Legends Never Die" by Four Year Strong.
Christian: I am sticking with The Used. The Alchemy Index by Thrice is another important album we support.
Speaking of music, Your latest mix, Superheroes Anonymous 9: Survival, was released about three months ago. The previous installment came out about two years prior. Why the long wait for the next edition of Superheroes Anonymous when you released three in 2015?
Leighton: There are so many answers we could give. I think we wanted to wait for the right time between touring and being in the studio. We wanted to wait until we could create something that showed everyone the direction we were taking with our music.
Now your Superheroes Anonymous 4: Live On Tour Edition presented by EDM.COM. Looking back from then to now, how do you believe you have evolved as artists?
Christian: The industry itself and the EDM umbrella has changed so quickly. You look at genres throughout history. Rock you can categorize in decades, but you can't do that with our scene.
Leighton: For rock music, you can say Led Zeppelin, and that classifies a decade for rock music. Now it seems like every two months there is a new hybrid of every genre. I don't think we try to play into that, but more so we still keep up with the scene in our way without losing ourselves. It doesn't mean that if we hear a song and we get inspired by it we won't pull inspiration from it, but we don't chase the sounds we let that sound come to us.
Superheroes Anonymous: Cosmic Costume Party was recently announced. Do you have any ideas what your costumes will be? 
Christian: Hmm, are we able to talk about it? Hmm. Let us talk about our first music video. If you check out our music video "Everything to Me," which premiered on UKF Dubstep, that might give you a little indication for what is to come this Halloween. We've prepared something fun, though, for sure."
Now you have a track called "Frequency" with Jauz Ft. Kyle Pavone from We Came As Romans who sadly passed away in August. He was a big inspiration to both of you. How did the idea of the track form and who initially pushed for this epic collaboration?
Leighton: Jauz wanted to do a track with us forever. We both kind of had the same come up story regarding influences how we both loved the Vans Warped Tour scene. Adventure Club and Jauz both met Kyle, and we were all super nervous to meet him. We realized we were all on the same wavelength. Fast forward two years and we all thought it would be a great compassing track to make together.
Tons of new music from you two is about to come out - including a possible new collaboration with Krewella, right? There was a tweet from you your account the other day that caught the eyes of many fans. Can you tell us anything about that?
Leighton: There is a track. It might be the next track that comes out. Long story short, we just signed with Ultra Music a couple of weeks ago so after that we have another track that will be dropped within a month or two.
Now, Ultra Music Festival has recently just been voted down to return to Bayfront Park in Miami. That is a festival you have played countless times. What was your reaction about the festival not returning to Bayfront Park for 2019?
Christian: I feel like that location is Ultra. However, I don't think it will be detrimental to the brand. You can look at it as a progression.
Leighton: We were watching that unfold on the live stream. Ultra Music Festival was one of our first big North American festivals we ever landed, and it played a big role in the Adventure Club story - so to hear the news of the festival not returning to Bayfront was heartbreaking, but it is not that the brand still won't be stable if not even stronger than before.
Have either of you had a moment while playing a set where you looked at one another and thought we finally achieved everything we wanted to? 
Leighton: It happens at almost every set. There is always this moment during a set where one of us fucked up, and the one guy looks at the other guy, and we have this look where its like, "Dude, come we had one job." It always happens. Then there is, of course, that other moment where we look at each other and know it is all worth it.
Christian: I mean, you kind of get caught. You are doing this a lot where you are playing shows in different cities. There are moments where you will find yourself in this genuine moment where you're like, "Holy shit, this is what I am doing." You can get these beautiful moments because you are with thousands of people who are experiencing the same thing as you. Its a whole unity feeling and you can connect to that quite frequently. I had some teary-eyed moments on stage where I was just super grateful.
Christian, you have been making some pretty scandalous and somewhat risqué Instagram posts that have your fans going crazy. What finally convinced you to be active on Instagram?
Christian: I've always had a strange relationship with social media. I feel like I am so stop and go with social media. I'm very private person and then you see pictures like that come out. We can thank my photographer for that one. I consented for that photo to be taken and posted."
You guys have both been a huge inspiration to a lot of people, and even helped influence a lot of producers. Do you ever see yourselves opening a record Label yourself?
Christian: Yeah, definitely! We have thought about it a lot, and that is a natural progression down the road. To me, that seems like a real natural progression helping the new people coming up."
Leighton: I am always on SoundCloud trying to find new artists. We have always done that from the beginning and try to incorporate those artists into our sets. We love to help give as much publicity to those artists as we can because that is what happened to us.
Make sure also to check out a funnier and relaxed portion of the interview where both Christian and Leighton play a rigorous game of "Would You Rather."
FOLLOW ADVENTURE CLUB:
Facebook: https://www.facebook.com/AdventureClub/
Twitter: https://twitter.com/adventureclub
Instagram: https://www.instagram.com/adventureclub/
SoundCloud: https://soundcloud.com/adventureclub