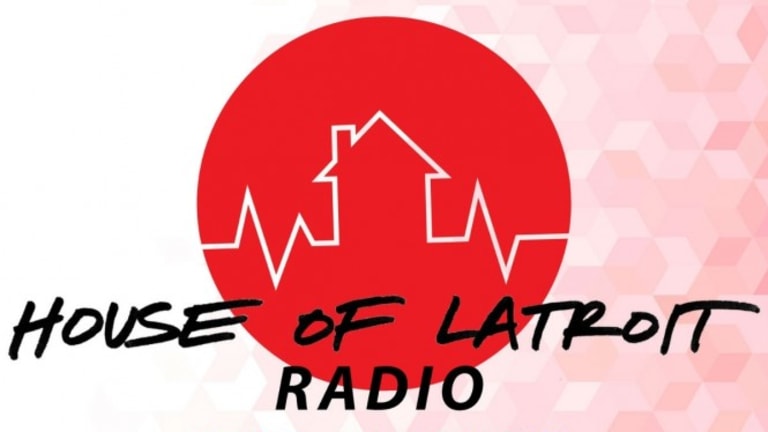 GRAMMY Nominated Producer Latroit Joins EDM.com for New Podcast Series
Tune in bi-weekly to House of Latroit for new music that bridges the gap between club-friendly beats and main stage melodies.
Up until recently, Latroit was a dance music project shrouded in obscurity. Fusing together the feel-good vibes of the West Coast with the soulful sounds of the Midwest, Latroit's approach to music was to create tracks that represent the best aspects of dance music's past and future. The man behind the name, Dennis White, purposely kept his name in the background, allowing his music to stand front and center.

But when you get nominated for a GRAMMY Award, that changes things pretty quickly.
Latroit's remix of Depeche Mode's "You Move" wasn't intended to be a critic's pick, so when White received the call saying he'd been nominated for Best Recorded Remix it came as a shock.
"I was excited and elated. And then I realized, oh shit, now I have all this work to do."
Despite having witnessed some of dance music's earliest and most intimate moments, White never intended to make dance music his career. After graduating from Berklee College of Music, Dennis was set on entering the world of live bands. It wasn't until a group of new DJ neighbors moved into the apartment loft next door in Detroit's Eastern Market that dance music came into his consciousness. Already making waves in Europe, the three young DJs Derrick May, Kevin Saunderson, and Juan Atkins (who today are largely credited with the creation of techno music) were starting to see the potential of the dance music industry. In an effort to move from clubs to seated venues, Dennis was recruited by Kevin Saunderson to string together a band to perform futuristic music on more classic instruments. It was at this moment for White, that his approach to music shifted and electronic music took focus.

Fast forward to 2017, and White has been the mind behind several aliases, which have brought him gold, platinum, and double platinum records. But pushing for DJ superstardom has never been the goal. Up until recently, Latroit was more keen to develop other artists rather than himself. Through his House of Latroit label, White was an early supporter of acts like Sullivan King, Ghastly, and Deorro. Although the recent GRAMMY nomination is an achievement any artist would be happy to hand their hat on, White continues to focus his efforts on the health of the scene.
In partnership with EDM.com, Latroit is hosting a new bi-monthly podcast series entitled House of Latroit Radio. Featuring a finely curated selection of club-friendly beats that meet main stage melodies, House of Latroit features new releases, breakthrough singles, and artist interviews. You can catch the debut episode of House of Latroit Radio show featured on Mixcloud below!
Following the shocking (but happily received) Grammy nomination, we caught up with Latroit to discuss the new program:
Getting inspiration from the feel-good vibes of LA and the dancefloor burners of Detroit, tell us a bit about your approach to producing and DJing?
With regard to Producing, it depends on the medium and circumstance, really. Like, with the Depeche Mode remix, it is of paramount importance that their original recording and performances be honored, so I try to be mindful to not fuck around with those parts too much. My role in that remix was to maintain the integrity of the original composition, whilst aiming it at a dance floor. I'm not gonna 'chop and screw' a Dave Gahan vocal, you know? But a different type of artist, or my own productions, I might be inclined to bend those performances more to my will.
For original tracks, like "I Want More," or "Origami"… those start with riff or melody ideas that just come to me randomly when I'm out of the studio, on a run or whatever. I try to record the idea on my phone, and chase what was in my brain in the studio. And there are a lot of happy accidents as well. Honestly, my sort of 'signature' bass sound I found as a total accident – the midi for the bass line was playing and I switched presets by accident, and I was like, "Whoa… this is way better."
What was the first record that really made you consider, "Yes, this is what I want to do."
It wasn't a song, it was being at my babysitters house when I was in 2nd grade or something. They were a musical family and had a drum set a marimba, and keyboards. It was just me, alone in the room with these random instruments, and it felt really exciting. I've never done anything else. I'm utterly unhireable in the real world.
Congratulations on your recent GRAMMY nomination for Best Remixed Recording for Depeche Mode's "You Move." How did you react to the nomination?
Thanks. I'm really excited. I'm proud of my remix, but I definitely don't have any delusions of grandeur here… this is more Depeche Mode's nomination than mine, you know? I was just lucky enough to be the one to get his hands on the parts to do the remix. I remember playing the solo'd tracks of the individual parts of the song over and over with this huge smile on my face. Then imagine, 8 months later I get this call out of the middle of nowhere connecting the dots between that pure 'Fan' moment, and a Grammy nomination…. WTF?? It was a friend who had called to tell me that it had happened, and according to my girlfriend, I reacted as if someone had died… she was actually really nervous for a few seconds...
I was in disbelief for a while and then my phone started blowing up and it settled in that it had happened. I feel really grateful and lucky. I'll be honest…I always wanted a Grammy nomination – I really did – so this is a big moment in my life.
You're launching your House of Latroit Radio podcast series on Mixcloud soon. How are you programming these podcasts? What can fans expect to hear on House of Latroit Radio?
We had a lot of fun with my previous EDM.com show, L'Radio. I had a great relationship with the fans of that show, and I miss them, so I'm really excited for the launch of this show. I pull music primarily from the EDM.com network of labels, friends, and some promos. Oh, and I always try to sneak an old school classic or two in there. I like to have guest co-hosts to help bring a little personality to the show. I'm not aware of many dance music shows that take that approach.
Apart from heading to the GRAMMY ceremony next month, what else is coming up for Latroit?
Well, my current single with my friends and frequent collaborators Lliam Taylor and Charlz came out a couple weeks ago. It's a sort of downtempo, indie/ neo-soul romp called "Feather" and has been getting a bit of traction with Spotify on New Music Friday and Viral 50 charts. I co-wrote a track called "Creepin" with Lliam Taylor and LondonBridge that came out on Insomniac Records last month as well. Next year, I've got a few singles, the radio show, some Tv and film stuff, some side project collabs with Grabbitz and Sullivan King.
Come to think of it…I gotta go! I've got a hell of a 'to do' list this month!
Follow Latroit:
Website: latroit.comFacebook: facebook.com/latroitlifeTwitter: twitter.com/latroitInstagram: instagram.com/latroithouseSoundcloud: soundcloud.com/latroit