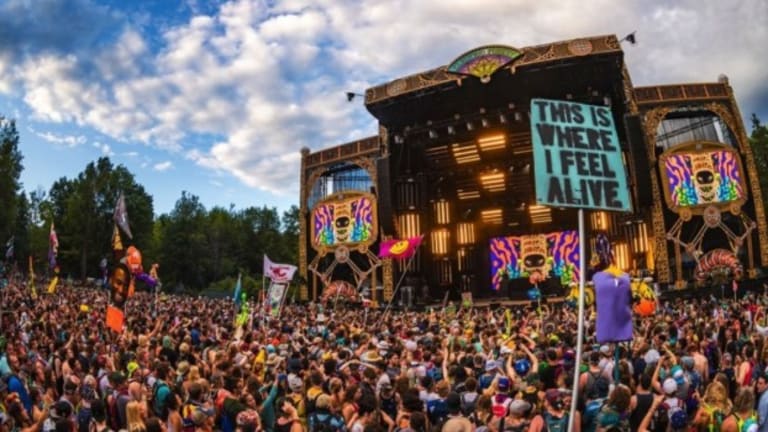 How Do Our Favorite Artists Stay Inspired? We Asked So You Can Feel Inspired Too
We got to chat with Big Wild, Two Friends, Whethan, and ASADI at Electric Forest about how they keep up the creativity!
Sometimes we forget that there are actually people behind the music we love. People who had the same mix of excitement and nerves as they published their very first song or remix online. People who dreamed about the things they wanted to do and the music they wanted to create, but had doubts. People who have to find the motivation and dedication daily to make it happen, and watch their dreams come true.

I had the chance to chat with a few of these people, artists, and now personal inspirations at Electric Forest last month. I was curious about their personal and creative journeys, about what gets them excited in addition to music, so I centered my interviews around three main questions:

How do you stay inspired and motivated, even on your most 'Meh' days?
How has success as an artist influenced your personal growth?
What's your passion beyond the music? How would you like to use your platform to change the world?

Here are some of the highlights from our conversations.
Big Wild
Jackson Stell is smart as hell. You get the idea that he spends all the time he's not making music studying how the world works, trying everything under the sun to see what fits. And in fact, he is.
"I stay inspired by learning new things.When I'm working on the show and I hit a roadblock, I'll go produce music. If I hit a roadblock producing music maybe I just won't work on music for awhile. Then when I come back I'm fresh and have a different perspective on the work."
There's no forcing the creative process for Jackson. If he doesn't feel the creative flow in one area, he moves to another or explores something different to reignite his flame.
A self-proclaimed introvert (fiercely corroborated by his girlfriend), Jackson says the biggest thing success has changed about him is encouraging him out of his shell.
"I would sit around in my room all day by myself or surround myself with almost no one if my career didn't require me to. Now, I feel more comfortable in the public and am happy to be with people more."
Beyond the music he makes, Jackson wants to make an impact on an environmental scale. When asked if he could mobilize his fans for a particular cause, he said it would be "helping us be better patrons of the environment and protecting national parks." In fact, the Big Wild team is working on something right up this alley, so stay on the lookout for how to be a part of it.
Whethan
You might be shocked to learn that the man behind the song that gets all our engines revving, Savage, is a whopping 18 years old. Or maybe you're not because so many of dance music's hottest new talent is barely of legal drinking age, or not even.
For Ethan Snoreck, it was never a question of whether he should pursue his dream of becoming a producer or not:
"I just did what I wanted to do. I had a great support system and my friends and family believed in me. At the time when all my friends were trying to figure out where to go to school and what to do with their lives, music was my answer. And fortunately, I already had good reason to believe it would work. I guess my success has helped me be even more confident because it's proved to me that I can do what I most want to do, and make a living at it."
This must be why Ethan is passionate about making music education, and especially electronic music education and equipment, available to young kids and school programs.
"We gotta help the kids, we gotta get the kids producing. We're in a different age of the world now, and young kids can produce music if they want to and have so much to offer if they have the tools. I'm excited to see what's going to come from the younger generations in the coming years."
Two Friends
I've never met an artist (or artist duo) who better embodied their name (except maybe Snails) than Two Friends. Just meeting them and seeing their friendship live and direct made me happy and inspired. It's easy to see where they get their best inspiration from.
"We are each other's' support. We're really lucky to be in this together because we know each other so well, can call each other out on our bullshit, and know how to motivate ourselves. If Eli's having a bad day, or bad attitude, I can just smack him upside the head and be like, 'Hey, snap out of it, we have work to do' and that's cool."
Matt and Eli have something unique, they get to grow together as friends and also as artists.
"When we started making music together in late high school we were like 'Hey, we can do this!' and since then we've taken it really seriously, even texting each other if we don't show up to the studio on time. But definitely not ourselves, we've never taken ourselves seriously."
Keep in mind almost every sentence these guys say is followed by laughter between the two of them, which is incredibly contagious. I was tempted to start a podcast after chatting with them because there's really no way to capture the hilarity of old middle school stories in writing.
Having been friends since elementary school, Matt and Eli have been through it all together, which is part of what keeps them so in sync creatively, in business and personally.
"We keep each other honest, and the constant laughs are part of the benefit of working with your best friend."
After all the history they've made together, music is the next chapter in their journey, and Two Friends love encouraging the kids of Los Angeles to pursue that passion as well.
"Camp Harmony is an organization that means a lot to us. It's a non-profit summer camp in Los Angeles for underprivileged kids. We had the privilege of going for a couple days to lead a songwriting workshop and it was such a great experience. The kids were so excited to hear the finished songs after we recorded them. We even got to record background vocals from a few of the groups to use in an upcoming single which they, and we, are very stoked about."
With the numerous remixes and original hits they've produced just in the last six months, it's safe to say these Two Friends are crushing it.
Asadi
I've met few more self-driven people than Daniel Asadi. He's so full of motivation it spilled over the table into my lap.I've met few more self-driven people than Daniel Asadi.
"I was here in the Forest for the first time four years ago," he says, "when I was seventeen, and remember saying to myself 'I'm going to play here one day.' After that I was all in and have been working on music every day since."
No one could fool ASADI into believing his dream would become reality with anything short of his absolute commitment, to himself and his music.
"It didn't come naturally for me to think 'Oh, I got this.' I forced myself to believe it and purposely told myself 'This is working, keep doing it.' Even playing at Electric Forest won't eliminate your doubts, you just have to get rid of them, just decide and don't entertain the doubt."
As someone who trips over self-doubt almost daily, I found ASADI's 'just do it' attitude refreshing and simple. To him, motivation almost seems like simple math:
"Any human being has the power to put negativity or positivity into their head. I take that power very seriously, and believe if you're confident and keep your chin up, what you're pursuing will find it's way to you. I worked my ass off to be here, and it was one stupid video I thought up over dinner that was the catalyst. Destiny is real."
What does that destiny look like for Asadi?
"My main passion and priority that takes up 90 percent of my time is Persian Trap music. My goal is to make that my sole thing and be a headliner with it. One day my goal is to have my own persian ensemble and trap it out on stage, to be completely live."
Talk about a divine mission; it seems that ASADI is the messiah of Persian Trap music. But his faith isn't founded in anything supernatural. Rather, it's in the same thing every one of us has if we believe in it - ourselves.
In case we're tempted to listen to or be or do anything but what we feel in our gut, ASADI encourages us:
"Don't be clay. Be stubborn. Don't listen to other people, be who/what you want to be. There's no spiritual thing behind it or deeper meaning, just believe in yourself and do what you want to do - that's the way great things happen."
Probably my favorite part of the interview was Daniel's response when I asked him what he does when he's not feeling the juju (if that ever happens).
"I just tell myself 'Don't be a little bitch' and it works."
I've since used this inspiring mantra on myself at least a dozen times. He's right, it works.
If the scads of comments I heard from people saying Asadi was one of their favorite acts of the weekend is any indication, I'd say Daniel's well on his way to bringing Persian Trap to the masses.
Beyond the music, Asadi has a passion for philanthropy and technology, and would like to find ways to bring the best scientific minds together to solve some of the world's most perplexing problems.
We can learn a lot from each other just by learning about each other, especially the artists we look up to. It's how we stay inspired, stay motivated, and like them, how we find the faith to do what we love.
Cover photo courtesy of Electric Forest