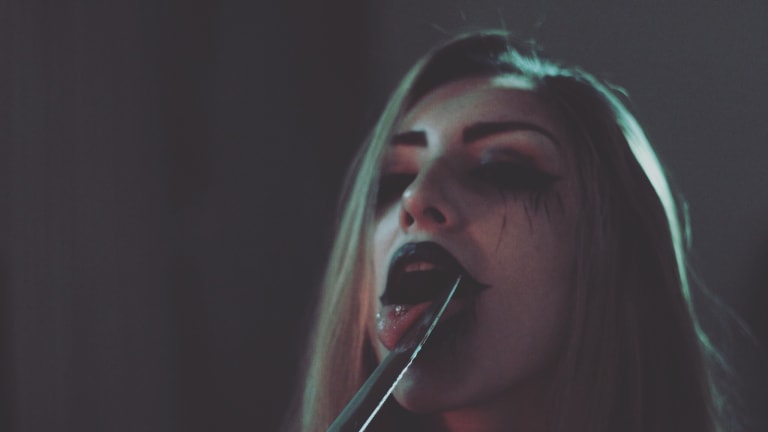 HVDES On NEW EP & Her Origin Story In Electronic Music
One of the most exciting EPs of 2018...
HVDES is an artist that we're certainly watching out for over the coming months. With her debut EP titled "Revelations", her dark persona is evidently shown throughout each track. 
With a stunning 3 tracks, it clearly highlights her talent & exceptional ability within music production. Released by Kannibalen Records, each song clearly personifies the devilish character of HVDES. 
We got the chance to speak with her about her new EP, origin story, and plans for the future. 
EDM.com: We're absolutely in love with this EP. How did you originally get into electronic music?
HVDES: I only really started getting into electronic music around 2014. I grew up on punk rock, hip-hop, metal, and pop punk/emo type stuff. I was super deep in the punk subculture both mentally, spiritually, and physically, and literally did not listen to anything outside of it. I think the first time I was ever exposed to any sort of electronic music was when I went to a treatment facility at 16 years old, because for the first time in my life I had been taken out of the small punk bubble that I had sunken into so deeply, and was around other kids who listened to different kinds of music, everything from pop to hardcore to EDM, and it sort of just opened my mind to what's actually out there musically. It was like a whole world that I had completely shut myself off to. 
After that, I think I just really fell in love with electronic music because of how infinite it is. There are endless possibilities to what you can do with sound, and that was really what was so intriguing to me. I grew up playing classical piano, boxed in by the structure of music theory and the "rules" of where and how everything should be, musically. So to work within a medium where those "rules" didn't necessarily need to be followed, was very inspiring for me.
What's the vision for the upcoming few years of your career?
I have so much more music on the way. Ideally, I'd like to tour... especially in Japan and Asia. I am so fascinated with Japan and the culture there. I'd love to see my name on major festival lineups. And honestly, just continuing to create authentically. Wherever that may take me.
The overall sound of this EP is extremely unique. What was the inspiration for it?
I draw a lot of my inspiration from my personal experience as a human. The first tune, "Revelations," is sort of a take on Justice's "Genesis." Genesis is the first book of the Bible, and it is all about the creation of the world. Revelations is the last book of the Bible, with vivid imagery of disaster, suffering, and destruction-- many people see it as a map to the end of the world. 
Now, I've never actually read the Bible, nor am I a religious person but I think that this is powerful because I've always believed that destruction is a form of creation. True personal growth, mentally, spiritually, and physically, requires leaving behind the old and embracing the new. This is something I can relate to personally, because I've done a lot destroying, to myself, to say the least. I've battled with mental illness and addiction for many years, and had more than a few periods in my life where I've pretty much completely self-destructed... and from hitting those lows I was able to truly understand what it means to take my power back. 
 "R U Afraid" speaks to that as well, which is why I put the sample in there that says, "Are you afraid of the dark?" Because ultimately, I am not the darkness inside my mind. I'm not defined by my depression or my past or any of that shit. It's just a passenger, something I have to acknowledge and understand, but not yield to.  Not saying like.. 'go fuck your life up if you want to figure this shit out...' But in my own personal experience, if it weren't for those dark places that I went to, I would not be the person that I am today, and I would not understand or appreciate my life in the same way that I do. And I would not trade that for anything.
Lastly, "Thoughtcrime" is a term from George Orwell's book 1984, which, in the dystopian society he writes about, basically means an instance of unorthodox or controversial thinking, considered as a criminal offense or as socially unacceptable. That being said, this tune is meant to empower. My ultimate goal as an artist and a creator is to aid in breaking the stigma against mental health issues in our society through my own art, music, and experience, and I just thought that this idea of a thoughtcrime from Orwell's novel perfectly encapsulates how our society views people with mental health issues and the conversations being had about them.
What's been the most rewarding thing about creating an EP in comparison to just releasing one single?
I think that the most rewarding aspect is that this EP tells a story -my story. It's much more impactful and meaningful to me than a single. I've been working on this for a long time. The story had to be told in the right way.
This is a question that I ask in all interviews that I do. If the world was to end tomorrow, what would you want future generations to remember you by?
I would just want them to remember the message that my music preaches and the power they can draw from it.