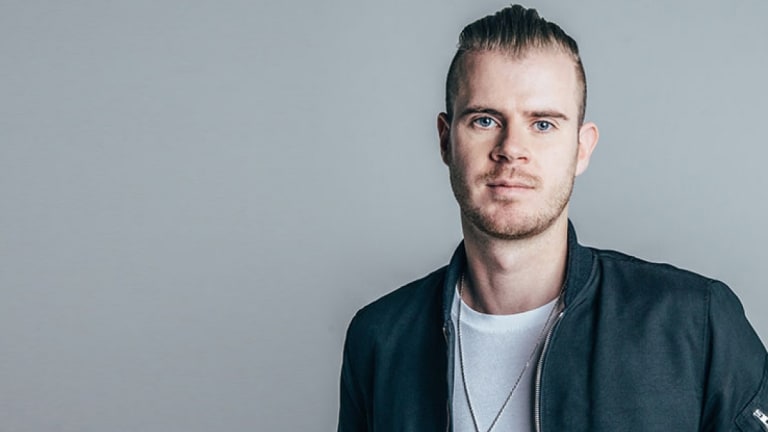 Get Hypnotized with 'Hypnotic' - Wilkinson on New Music, the Writing Process and Much More [Interview]
The drum n bass phenomenon spoke to us about his latest album 'Hypnotic'.
When it comes to Drum & Bass, once you earn your respect in London, you've earned it everywhere. From that point, there is only one way - up.
Mark Wilkinson, London born Drum & Bass DJ and producer first appeared in 2010, taking the scene by a storm. Three years and only a handful of independent singles were enough to get his name out in the underground. His stellar rise came in 2013 with his debut LP Lazers Not Included. The record reached #2 on UK Dance Chart, and more importantly, gave 'Afterglow' his biggest hit to date, and festival anthem of that summer.
Four years later, Wilkinson is back with his sophomore record Hypnotic which brought another set of d'n'b bangers and reached #1 on UK Dance Chart.
He spoke with us at EDM.com about the new record, live shows, the writing process and his love for extreme sports.
EDM.com: You just came back from your US tour, so let's start from there - how was it? Is touring with Flux Pavilion really as fun as everyone would guess?
Wilkinson: Yeah, I had an amazing time in the U.S, Flux is a really nice humble guy and it was great being able to spend time with him on the road and see his show.

Just recently you released your brand new record Hypnotic. How happy are you with an outcome? Have you heard any reactions so far?
I'm really happy with the outcome and been amazed at all the positive feedback from other DJ's and my fans. It's always a challenge putting out a second album but I feel like I did myself justice and have pushed my sound/style forward as well.
It's been four years between Hypnotic and Lazers Not Included. What are the reasons for such a long gap?
As soon as my first album dropped my life got very busy. Touring around the world constantly and trying to get in the studio is a battle, especially when you're lacking in sleep. My personal life took the back seat so it was definitely a challenge.

When releasing Hypnotic have you felt any pressure that you have to top the quality and success of Lazers Not Included?
Yes, definitely, but I made sure I stayed focused and didn't compromise my sound for success. I'm proud of every song on the album and have an emotional attachment to each one individually.
On both of your albums, you have made many amazing collaborations. From Karen Harding to Becky Hill, from Wretch 32 to P Money, every single vocalist fits perfectly, and yet many of them have the completely different background. How do you choose people to work with, and how do you know what song will fit certain person?
That's one of the things I enjoy the most. I love merging different genres/styles with Drum & Bass. I've always got my ears in different genres and try to find upcoming talented artists to work with. I love being part of that journey.
I know you are fan of extreme and water sports. How much do you enjoy playing at contest and festivals of that kind? Is there any different type of energy than on your usual gigs?
I always find the crowds at Boardmasters Festival & Nass Festival have a mad energy. For me, Drum & Bass has always given me the same rush that BMX-ing did for me back in the day. I used to listen to it to encourage me to go faster and do more crazy stuff on my bike.
Your video for 'Wash Away' features the UK #1 Big Wave Surfer Tom Butler, and has a really interesting story behind it. Would you like to share it a bit more?
Tom's an amazing guy, he lives for the sport and is really pushing it forward. It's not got as much coverage as the small wave surfing but it's getting there. You need to see it to believe it! When we shot the video in Newquay it was spring so the lifeguards weren't out yet. We noticed a guy being battered against the rocks out at sea and in true 'Bay Watch' style, swam out and rescued him.
I feel that you are one of the few artists in electronic music world who pay special attention to lyrics. How much is that aspect of music important to you?
It's really important to me. As much as I want my music to make people dance it has to send a message. That's always what I want to do with my song based tracks. I love sharing stories with singers/writers in the studio, coming up with concepts and then writing about them.
For the past few years, you've played shows with live band and vocalists. How different it is from a classic DJ or DJ + MC set? Where do you find more fun on stage at this point?
It's different in a few ways. Every live show I do costs me a fortune, not a lot of people understand that. Those CO2 cannons that I like to blast when my songs drop cost a couple of grand a time. My lights cost tens of thousands a show. BUT I wouldn't change it for the world. It's always been a dream of mine to have a full live show and share the stage with such an amazing crew and band and perform my songs in the rawest form to my fans, it's like sharing my studio with thousands of people. It takes a ridiculous amount of time and effort but the feeling I get from it is priceless.
How much has playing with a band influenced you as a songwriter? When writing, do you have in mind live arrangement of the songs, or that's something that comes later?
Before I set out with the live show I said to myself I'd never change the way I approach my writing because of it. The live show is influenced by music, not the other way round. It definitely made me improve my music theory, piano and drumming which I've found have benefited me in the studio.
You play a few instruments, and recently you posted videos of amazing 'Live From The Pool' session where you played unplugged versions of "Sweet Lies" and "Run." How hard is to make acoustic performances of electronic heavy tracks?
This kind of refers back to your earlier question. When I'm in the studio with singers/writers the song comes first. We write the verse/pre/chorus without any Drum & Bass production. I usually start on the piano. I guess that's why those songs work so well in acoustic sessions because when you strip them of all the Drum & Bass elements they're still good 'songs'.

Drum and bass has certainly picked up in popularity in the last few years. How do you see it from the inside? Was it something that you expected to happen? Where do you see drum and bass in the future?
It's just constantly evolving. There are so many sub genre's it's such an exciting genre to be part of. I had an amazing time over in the U.S with Flux Pavilion a couple of weeks ago seeing how differently Drum & Bass was received in each city. It excites me and I hope that I can/have introduced some people around the world to Drum & Bass in the same way Pendulum, High Contrast, Sub Focus & Logistics and so many more of my heroes did to me over 12 years ago.
Follow Wilkinson:
Soundcloud: http://soundcloud.com/wilkinsonuk
Twitter: http://twitter.com/WilkinsonUK