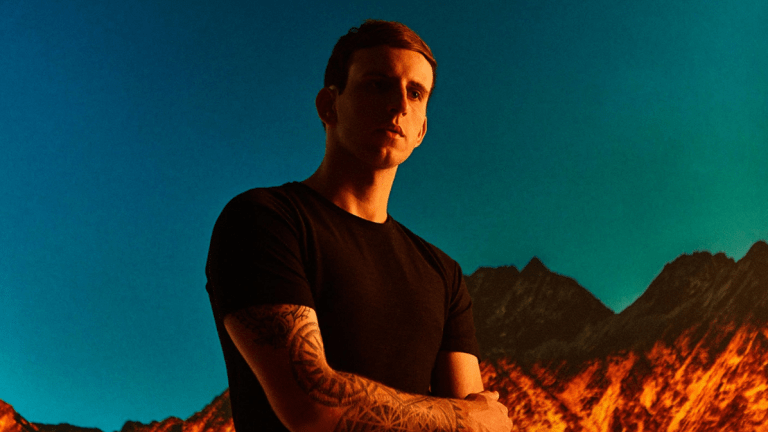 Illenium on New Album, ASCEND, and the Tour of its Namesake [Interview]
Aptly titled ASCEND, the album is everything fans have come to love from Illenium, and a little more.
Few electronic music artists can rival Illenium's meteoric growth. Just three years ago, Illenium (real name Nick Miller) was playing opening slots at festivals. Last weekend, he headlined at New York's famed Madison Square Garden to a full house.
Miller just has a sound that clicks. It's a sweet combination of poignant vocals, catchy melodies, and lush, dreamy soundscapes. He's built a style that's consistent and easily identifiable, yet one that evolves with each new album - all three of which he has released within the last four years.
Outside of the studio, Miller always pushes forward as well. Initially purely DJing, he moved to live performances with MIDI controllers and now has a rock band setup with close friends and fellow musicians Said The Sky, Dabin and Day joining him onstage.
Apart from dedication to his craft, a lot of Miller's success can be attributed to his open, sincere engagement with his ever-growing fan base, a group who fondly call themselves Illenials. Apart from gestures like thoughtfully engaging on social media and staying after shows to thank attendees, Miller isn't afraid to be vulnerable in front of his audience. His music certainly has a deep emotional resonance that fans connect with, and it turns out Miller himself had a personal struggle involving heroin overdose influencing his dive into music as a source of refuge and redemption.
Now seven years sober, Miller's story is one of hope and resilience - and having hope is exactly what Miller is trying to convey with his latest album. 
Aptly titled ASCEND, the LP is everything for which fans have come to love Miller, and a little more. From the high-energy, dubstep-inspired "Blood" to the spirited anthem "Good Things Fall Apart," the album blends warm instrumentation, vibrant electronic music soundscapes, and emotive vocals in signature Illenium fashion.
Before his performance at Madison Square Garden, EDM.com spoke with Miller about the ideas behind ASCEND and what to expect from his new live show. Read on for our conversation with him.
EDM.com: For our readers who may not be familiar with you, describe the Illenium sound in a sentence.
Illenium: I would best describe it as melodic bass. I like to change up the styles a lot. The new set is like an EDM concert with rock band roots.
What inspired you to put together your recent album, ASCEND?
Ever since I started writing music, I just can't not be working on something. It's one of my favorite things to do. I don't think I really needed inspiration to make the album, but a lot of the music is very influenced by the music I loved growing up.
What message are you trying to convey with the narrative of ASCEND?
Mainly just a message of hope.
Do you have a favorite song from ASCEND?
It's really hard to name a song as my favorite. I'm really loving "Hold On" right now. There's a moment of "Hold On" in the new set that I really love so I think you could say it's my favorite at the moment.
Ascend is full of interesting collaborations. How did the track with The Chainsmokers come about?
We were working on the song for a long time before we came up with something we both truly loved. I'm super happy with how that one turned out. It's been received super well by everyone and I love that we were finally able to get something out together.
The album certainly has more elements of pop than your previous work. Is a presence in pop music a goal of yours?
I don't think it really does, and it wasn't the intention. I just tried to stay true to my sound while also expanding it. I was really focused on making it more of a rock-type album without losing the core of what my music is about.
You've released three albums in the last four years. It seems you have the next in mind as soon as you release one. Do you have plans to release another album after ASCEND soon?
Like I said earlier, I just love making music. It makes it more fun to me when it's all a cohesive product. I'll always be working on new music and each song influences the next. They just seem to fit right together once I've been writing for a while.
Is there a difference between your live show for the ASCEND Tour compared to last year's Awake tour?
Yeah, there are quite a few differences. David is now on a full drum kit. Said the Sky has a different station now, with toms and cymbals as well as snare and piano. I'm playing live guitar which is definitely nerve wracking. I feel like we've really grown as a band as well. It feels more like a true rock band to me now. The production has also definitely been upped to another level.
This interview has been lightly edited and condensed for clarity.
Follow Illenium
Facebook: facebook.com/ILLENIUM
Instagram: instagram.com/illeniummusic
Twitter: twitter.com/ILLENIUMMUSIC
SoundCloud: soundcloud.com/illeniumofficial