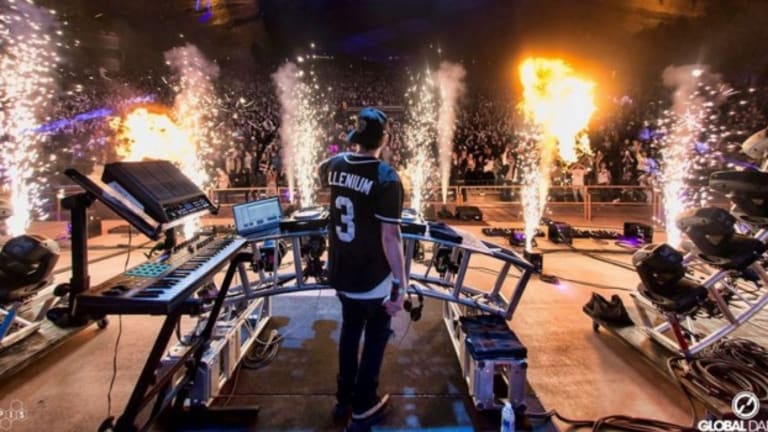 Learn About Illenium's Strong Connection to His Music, Fans, and More [INTERVIEW]
You're not gonna wanna miss this interview with this down to earth DJ!
Illenium is quickly becoming a household name that appears on both festival lineups and venue marquees all over the country. With a skyrocketing career and insanely busy summer schedule performing at festivals close to every weekend, we consider ourselves lucky to have caught Illenium in moment of free time to chat about all things music, fans, and Colorado. We also got to hear about how stoked he is to perform at WayHome this July.
If you somehow don't know who Illenium is, we promise you're missing out. His versatile music is able to connect with each and every listener, plus he's one of the most humble, down-to-earth artists out there. Keep reading below to get the inside perspective from the man himself, Nick Miller.
EDM.com: You recently released your upcoming album "Awake" scheduled to debut this summer! What can we expect to hear on this album that's different from "Ashes"?
Illenium: Awake will be a mix of emotional melodic with some really chill stuff thrown in. There will be vocal songs, a few sleepy time songs, some instrumental tracks with vocal chops, with the Ashes sound interspersed throughout. A lot of different things meshed together. There will also be more recorded elements- guitar, hi-hats, drums. Stuff that can easily be incorporated into the live show. I experimented a bit on some songs too by simplifying things and using a more minimalist approach. There are tracks with no drop, no huge synths. I'm excited to see the reactions on those.
You've mentioned in the past that most of your shows from now on will include more of your own melodic music and less hard-style dubstep. Why is this update on your sets important to you?
My passion is the melodic and emotional. I love the connection that type of music creates. I'm not totally eliminating dubstep or harder-style music from my performances but I am transitioning to playing mostly original music at my live shows. I want all the dubstep/harder tracks to be stuff that I made. Further down the line after Awake comes out I want to release either an EP or some singles of heavier stuff. It will have vocals and guitar but also be dark and ominous. That way I'll have those styles available to include in an all original set.
You and Trevor (Said the Sky) have a really close relationship. Can we expect to see any new collabs between you two either on the new album or in the future?
Trevor is one of my favorite people to create with. We're both working on our own albums right now so there hasn't been a lot of time to collab. He's helped with critiquing and giving advice but currently there is nothing "official" with the two of us on Awake. There's one thing we started but I'm not sure if we'll release it or just keep it for live shows. Either way I'm sure there will be another Illenium X Said The Sky collab again in the future.
Any updates on your label Kasaya? Are you planning on adding artists to it in the future or mostly using it for your own releases?
As of now the focus has just been on using it for my own releases. It takes a lot of work to run a label but we're starting to get the team in place to make that happen. Eventually I'd like to use it as a platform for promoting other artists I dig but we're still working towards that.
It looks like this July will be your first time performing at WayHome Music & Arts Festival! What are you looking forward to about performing in Ontario?
I'm stoked for WayHome! The lineup is so diverse and I'm looking forward to catching a bunch of different acts and meeting everyone there. I can't wait to experience the festival and the community surrounding it!
WayHome is all about community and bringing people together regardless of age, background, and personal beliefs. How do you connect with these values on a personal level?
For me music is almost a spiritual experience that brought me up from one of the lowest points in my life. Being able to share that positivity in an environment that brings people together is one of my favorite things. Music is something that anyone can experience and relate to regardless of their background. It's a very unifying force and I'm blessed to be a part of that.
I know that you have a very strong connection with your fans. What is your favorite part about interacting with them both online and in person?
I am absolutely humbled by the connection people have with my music. Fans telling me stories about how a song inspired them to change their life or helped them grieve or move on blows me away. I love hearing how people relate to the music or how a song made them feel. That's my goal- to create music that evokes emotion. I'm grateful for all the support I've been given. It allows me to follow my passion and I'll never forget where I came from.
What is one of your favorite Colorado spots to spend time at and get away from everything for a little while?
Outdoors in the mountains is where I go to clear my mind. So much inspiration can come from nature. After being perpetually in motion it's important for me to slow down and take the time to get centered. A hike in the wilderness is perfect for that.
What song, or songs, do you have on repeat right now and why?
Lately I've been listening to the new Dabin album a ton. He's a dope producer and good friend. "Show and Tell" (Said The Sky's newest) is great too. Awesome vocals and melody.
Make sure to follow Nick on his socials so you don't miss a show near you on The Awake Tour!
Instagram: @illeniummusic
Twitter: @illeniummusic
Facebook: Illenium
Soundcloud: Illenium