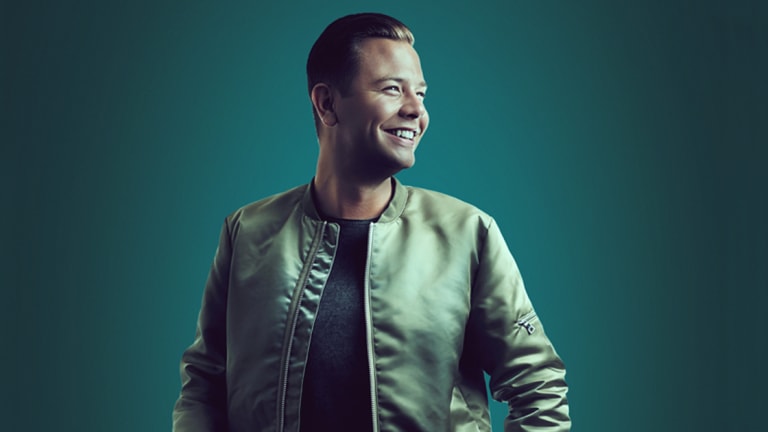 After Releasing Multiple Albums and a New Single, Sam Feldt has Even More Music on the Way [Interview]
Sam Feldt talks about his latest single, "Down For Anything" and tells us what his all time favorite 90's song is.
After releasing his debut album Sunrise to Sunset in October/November, deep/tropical house Dutch DJ and producer Sam Feldt has been on a roll with new releases and securing a long list of festivals and shows. And he has a lot more to come. We were lucky enough to catch up with Sam and learn more about his music and what he's been up to these past few months. 
EDM.com: At the age of thirteen you registered your own company, which is pretty impressive. Then in college you pursued a marketing degree, how did you fall into a music career instead of something in business?
Sam Feldt: When I was around eight years old, I started playing the piano and it was then that I realized I wanted to make music myself. When I was eleven I pursued a DJ career and, with the help of my dad, I traveled for these drive-in shows I did. At first, it was for friends and family at birthdays and then later at parties for whoever wanted to hear me play. When I was seventeen I went to a club for the first time and I immediately knew this was something I wanted to pursue as a profession and dedicate my time to.
So when you were trying to get signed by Spinnin' Records you sent out some big room tracks, but it was a deep house/tropical house track that caught their attention instead. Why did you go from big room to deep house/tropical house? 
It took me awhile before I found my own sound. As a lot of beginning producers do, you try to replicate a certain style or look at other producers that inspire you. I was too focused on doing what other people were doing without really paying attention to adding that personal touch to my music. 
The track that's your claim to fame is a beautiful remake of Robin S' "Show Me Love." Why'd you pick that song to remake out of all the 90's dance hits? And how'd it feel to get such huge support for it? 
When I was a young kid "Show Me Love" by Robin S. was one of the first true dance tracks I heard and I was immediately sold. For me personally, this song is what started it all for me. It's such an amazing track that really captures what dance music is all about. Paying tribute with my remix was the least I could do for a song that had such a big impact on my life and pursuit of becoming a DJ/producer myself. Getting back so much support for the remix was what propelled me even further and really fueled me even more because it's such an amazing feeling to be able to share your music with other people and see their reactions.
Your debut album Sunrise To Sunset has a cover of Eagle-Eyed Cherry's "Save Tonight" and samples La Bouche in your collaboration with Alex Schulz, "Be My Lover." I'm starting to see a 90's trend here, so what's your all-time favorite 90's song and why?
Well, like I mentioned before, the 90's song that I love the most is "Show Me Love." For it to be the song that I remixed and that launched my professional career as a DJ/producer makes it extra special. For me personally, the 90's is a very important era.
Around this time, I started to get in contact with dance music for the first time. I loved the energy, melodies, basslines, piano riffs, uplifting vocals and let's not forget the beats that get you dancing and jumping around the room. It was simply something new, which I loved from the get-go.
Talking about your debut album, you released Sunset in October and then a double album Sunset to Sunrise in November, which added twelve more tracks. Is there a story behind the album and its many tracks? 
As a producer you normally would try and release a single every three months, but I was making so much music that I didn't want to keep from my fans, so I decided to give them something back in the form of this album, which in total consists of twenty-four songs that I produced over a period of two to three years. It really represents me as an artist and the sound of Sam Feldt. Each one of the twenty-four tracks stand for a specific hour of the day, making it the perfect album to enjoy at any time. There is always a certain song that fits the moment. In 2017 I also turned twenty-four and the surprise album Sunset was released on November 24th, so there is also a bit of numerology involved here.
You just released a new single with Möwe, "Down for Anything." It's obviously not part of the album, but if it was, where would you think it would fit in the whole twenty-four hours timeline?
That's an interesting question because, as the title suggests, it can be an invitation to go out and have fun. "Down for Anything" could be played early in the morning or somewhere in the early afternoon while the sun is out and you're ready for a nice time chillin' with friends going to the park or the beach. It's a pretty breezy and relaxed song with the lovely vocals of KARRA. I think it's a perfect track for the warmer days ahead of us.
We're pretty curious, what was the creative process behind "Down for Anything" and what was it like working with the tropical house duo Möwe and singer-songwriter KARRA? Are there any fun stories?
We did a lot of experimenting during the creation process, which was a lot of fun. We wanted to make a song with a summer feel to it and a catchy melody that sticks. I think we pretty much nailed it, especially with the sweet poppy vocals from KARRA. We ended up with a song that is perfect for the radio and has a feel-good vibe to it that we're all very proud of. 
Along with the original, you also released a bangin' club radio mix for "Down for Anything," do you like one better than the other? We wouldn't blame you if you didn't because they're both awesome. 
I think we did a great job with both versions, each suited for a different setting. I think the club version has more of a certain energy that you need to translate when you're playing in a club or at a festival. I like to play songs that my fans recognize, maybe from the radio and that I'll also be able to incorporate in my DJ sets with or without my live band. 
You also released a remix album After The Sunset for Sunrise To Sunset and it's packed with a bunch of talented DJs like De Hofnar, King Arthur, Breathe Carolina and Holl & Rush. Do you have a favorite remix? 
It's hard to choose one particular remix I like the most because all of these producers did a wonderful job creating these amazing remixes. It's so cool to hear what other people are able to do with your music and see their interpretations. It's very inspiring and so cool to experience. One of the remixes I play a lot during my shows is Zonderling's take on "Sensational," which really represents the feel of the whole remix album. The crowd goes bonkers each time I play it.
Fangage is a platform you founded to help artists connect with their fans on a deeper level. What spurred on this idea?
I founded Fangage around two years ago. During that period, I was looking at my social media and I saw I had almost one million fans across several platforms. However, I had no idea who these people were or how I could best reach them directly due to the restrictions and algorithms these third parties where using. My only real option was to start paying large amounts of money to Facebook or Instagram in order to reach out to my fans, get noticed on their timelines and have them all get in contact with my music or my other endeavors. For me, this was quite bizarre and it got me thinking about ways to reach my fans directly. This led me to create an independent platform for my fans to get access to all my content and where I can personally get in touch with them. After launching my own platform (Heartfeldt.me) for my own fans I decided to create Fangage, which opened up this opportunity for other artists, brands and/or influencers to have their own portal ready for them the way they see fit. 
During Miami Music Week, you hosted the Heartfeldt Pool Party at the Spinnin' Hotel and it looked epic! From having KARRA sing and performing alongside other artists like GoldFish, what was the most fun part of the event for you?
The whole Pool Party in itself was super awesome, but for me personally, the highlight of the show was KARRA joining me on stage to perform our newest single "Down for Anything" because it was the first time we performed it together for a crowd. The fans went crazy, so we know for sure we did a great job. 
So what's next for Sam Feldt? Any other upcoming releases or shows?
I've got so many cool things coming up. I'm currently working on a couple of singles I'm looking to release spread over this year. The summer/festival season is getting closer and closer, which I'm super excited about. Looking at my tour schedule really puts a smile on my face. With so many cool festivals lined up, this is definitely going to be a summer to remember. I'll also be touring a lot with my live band, which has been a huge success so far and adds that extra bit of energy to my shows. In my productions, I use a lot of live instruments, so touring with my band was something I wanted to do for quite some time. So that's also a dream come true for me. I'm also on the verge of announcing some news surrounding my plans for creating a more sustainable world. We've got a lot of stuff going on and I'm super proud of what we've got planned for the future.
Special thanks to Sam for taking the time to chat with me! We can't wait to hear all of those new tracks!
Follow Sam Feldt: