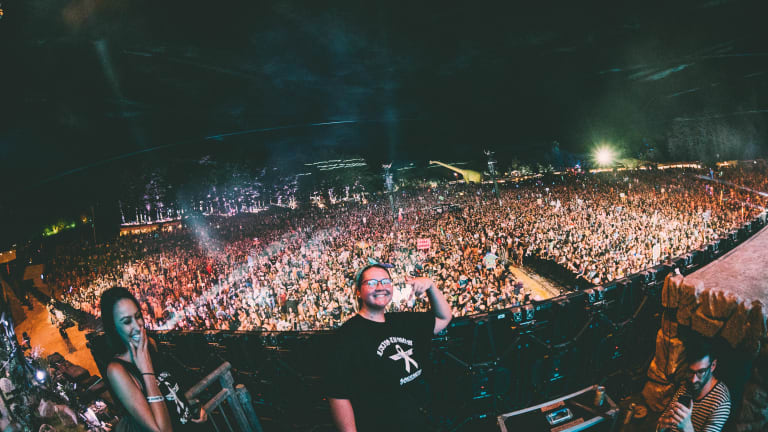 Ivy Coleman Talks About How EDM Helped Her Beat Leukemia [Interview]
We spoke with a leukemia survivor about her upbringing, diagnosis and how dance music helped her recovery.
What's one thing about dance music that makes it unique? Could it be the inherit energy it provides? Perhaps, but other forms of music have that too. Maybe it's the diversity of sub genres? Possibly - but again, not what makes it distinct. 
Here's what makes dance Music unique.  It's the sense of community that sets it apart from other genres of music. Dance music has always fostered a judgement-free attitude. It has an inclusive vibe for everyone to share. For some, it's a place of refuge and allows you to freely express yourself. For Ivy Coleman, EDM culture has had a profound impact on her life. 
Ivy is an Ohio native who overcome a fierce battle with Leukemia and did so with her positivity, persistence and love for music. We had the pleasure of talking with Ivy Coleman recently about her inspiring life, and what she had to say might make you fall in love with EDM all over again.
EDM.com: Tell us a bit about yourself?
Ivy Coleman: I'm a born-and-raised Ohio native (grew up in Hilliard, Ohio).  I have two older siblings that live in Colorado. Since I was little I've played softball in a summer league every year and continued to do so until I graduated from high school. 
During high school, I was very focused on my academics and anxiously waited to go college. On February 9th, 2016, I was diagnosed with acute lymphoblastic leukemia (A.L.L.). 819 days later, I am officially done with treatment. By February 2020, my percentage chance of relapse should be in the single digits. This is what us cancer survivors like to call our "new normal."
After going through this journey, our lives will never be quite the same as before. The journey we took and the roads we traveled will always be something we take with us in anything we do. I'm just beginning my "new normal," but I'm am excited and hopeful to see where it leads me. I'm currently looking into schooling options that I can slowly work myself into. I really want to find a meaningful career and not rush into anything. Having two and a half years to myself you would think I would know what I want to do by now but really, I was in a tunnel vision of trying to make it day by day and focusing on healing my body and mind. 
Only now have I reached the end of that tunnel to be able to plan ahead for my future. I know the music industry has inspired me so much during treatment as well as the medical field so those are both options that I'm open to looking more into. 
EDM.com: What got you into Dance Music?
Ivy Coleman: My older siblings! My sister is eight years older than me and my brother is five years older. When EDM began to boom they were on top of it, so by default, little 13-year-old me was as well. Music has always been big in my family. My oldest memories go all the way back to my dad burning CDs for me, jamming in the basement with my sister, to my brother teaching me how to use iTunes. We love music. So, when EDM was coming up, it was only natural for my siblings to show me the ropes and I've been a fan ever since. 
One of the first artists I remember my brother showing me was Skrillex. However, that was only the beginning. I got into Bassnectar, Nero, Rusko, Zedd, deadmau5, Daft Punk, and Avicii. A funny memory about the first Rusko song I'd heard was in the video game Saints Row: The Third. It was the song "Woo Boost" and I remember it was on a radio station when you got into a car. Now every time I hear that song it immediately brings back flashbacks to my horrible driving skills in that game and all the police chases I went through.
EDM.com: Could you describe what Acute Lymphoblastic Leukemia is and how it effected your everyday life?
Ivy Coleman: Acute Lymphoblastic Leukemia is a blood cancer where the bone marrow makes too many immature lymphocytes, a type of white blood cell. There are three different types of lymphocytes so there are different types of A.L.L. I had B-Cell Acute Lymphoblastic Leukemia. B Cell lymphocytes are the white blood cells that are your first lines of defense when fighting off infections. So, these immature white blood cells are useless and reproducing very quickly in your body.
They cannot fight infections and reproduce so much that there is no more room for the healthy white blood cells, red blood cells, and platelets that your body needs. In fact, by the time I was diagnosed, the cells in my body were 75% of these immature lymphocytes. All the lymph nodes in my body had swelled up and even enlarged my spleen because of this. 
I also had an extreme amount of bruising on my legs from having no platelets. The simplest bump on my leg would cause a bruise. It's not fun. Leukemia effected my daily life in so many ways. The real question is how didn't it effect it. To get rid of Leukemia they have to wipe out your whole bone marrow. Your bone marrow is where these cells are produced. In doing this, I was basically reverted back to the immune system of a newborn baby. 
I was sensitive to everybody and everything as now I had no white blood cells to fight infections. I had to avoid many types of food, going outside, large crowds of people, people who were sick, recently sick, or around a sick person. I was very isolated. For months, I had numbness and tingling in my fingertips and toes as well as body shakes from being on a very high dosage of steroids. 
Then from chemo and lying in a hospital bed for a month, the muscles in my body had deteriorated so trying to build strength to walk again with numb toes was a challenge. I was in a wheelchair and with physical therapy eventually a walker. Vomiting and mouth sores were common as well as trips back to the hospital for fevers, blood and platelet transfusions (29 total), bone marrow biopsies (6 total), and lumbar punctures (26 total). 
I had five cycles of chemo my last cycle being maintenance chemo which was when I felt like I could finally stop and take a breath. Maintenance chemo wasn't nearly as bad as the first eight months. However, my immune system was still trying to rebuild itself so even when I started to feel better I had to limit myself because internally I was not at all better yet. Mentally, it was just as hard. 
A lot of days you're just so tired but you never got a break. I had even stopped wearing sweaters fearing it would raise my temperature, resulting in a fever, even though I knew that wasn't how it worked. It was hard watching your friends live their lives on social media doing what you should've been doing. It's even harder seeing the toll it takes on your family. 
They were just as scared, if not more, as me and I hated that I was putting them through that. If anything good came out of all this, it's that my family is stronger and closer than we've ever been. We know now that if we could get through that then we can get through anything together.
EDM.com: The Living the Dream foundation came to your aid during your battle with Leukemia. Did they reach out to you or did you seek them out?
Ivy Coleman: A girl named Emily Tantuccio contacted me on Twitter in 2017 to inform me about the foundation. They had hosted a day for her at Warped Tour a few years back and went on to become a rep for them. How she found me is quite an interesting story.
I went to a local concert during my treatment as a test to see if I could handle being in a large crowd. As you can imagine, I had a difficult time. Although it was a rough experience to go through, I met some people that would help me get in contact with the foundation.
Alex Smith, the merch guy of the band Sleep On It wrote a blog about how I tried to see another band that night. My story spread in the local band community and it got an overwhelming amount of support. Emily read the blog and took it upon herself to make things happen. She reached out to me shortly after that. My first experience with the foundation was them taking me to Warped Tour in 2017. 
When they contacted me again a year later about Lost Lands, I was ecstatic. It was perfect timing too as I had just finished chemo. I've always wanted to go to an EDM Festival but just never saw it in the books for me. With the help of my Dream Day mentor, Kacie Quigley, I was able to have the time of my life at both festivals. She was the best mentor that I could ask for. 
I'm so grateful that Emily connected me with the foundation. They're an amazing foundation and I'll never be able to express how thankful I am for them. They were a bright spot during such a dark time in my life. They understand the power of music and how much it can help you heal.
EDM.com: Describe your initial feeling when you attended Lost Lands?
Ivy Coleman: I was a dear caught in headlights. Kacie was cracking up at my expression. I just remember her saying, "This is crazy, right!?" This had also been the biggest Dream Day she had hosted with someone so it was just as exciting for her. My brother, his girlfriend and I had been watching the live stream the night before and we were freaking out! 
We could feel the energy through my phone so actually feeling it when we got there was overwhelming. You could just feel how happy everyone was to be there. The whole valley was larger than life. I just remember feeling so small. Kacie had sent us the lineup of artist beforehand so we knew we were going to be in for a good time.
EDM.com: You had the opportunity to meet Rusko at Lost Lands and share your experience with him as a fellow cancer survivor. What was the most encouraging piece of advice that he gave you?
Ivy Coleman: Rusko is one of the kindest, most humble humans that I've had the pleasure of meeting. I was so surprised when Kacie told me that Rusko wanted to meet me. I was so nervous going into it  because he's so well known and I had been listened to him for a long time. It was such a comfortable and casual conversation. We mainly talked about our cancer experiences and found a lot of similarities between them. It was pretty therapeutic, honestly. 
It's different being able to talk to someone about your cancer story when they've gone through it too. What we've been through is a lot to carry on your shoulders every day. You expect a lot from yourself after treatment. With that in mind, it was nice to to step back, realize what you've gone through and talk to someone else who understands what it all feels like. 
So, it wasn't so much as advice rather than a mutual understanding of our experiences. I think it's amazing and inspiring how he was able to get right back to his music. It never stopped him from living his dream. 
EDM.com: Aside from getting on stage and meeting some great artists, what was the best part about attending Lost Lands?
Ivy Coleman: It was meeting the people behind the scenes. They are just as important as the artists when it comes to making something as big as Lost Lands happen successfully. The techs, photographers, promoters, managers, sound guys. They're the ones that inspire me to look into the music industry. I met Bryan Andres from PK Sound - who was actually the one that was able to get me onto Rusko's stage. 
After Lost Lands was over, we met up with him again and just got to talking about life. I met Jen Stein, Rusko's manager, who let me stay onstage even longer and danced with me later during Excision's set. I met John Reese and his wife, who collaborated with Excision to put the festival together. They're the ones who allowed the LTD Foundation to come to Lost Lands. Kacie was texting Mrs. Reese all night to let her know the good time I was having. Before we left Lost Lands, John gave me great words of encouragement and told me how strong I was for fighting leukemia.  
All these people were genuinely happy to see me enjoy the festival. The support I got from everyone there was beyond belief. I loved the positive atmosphere I felt throughout the whole day. It felt like a real "no judgment" zone. Everyone was truly being themselves.
EDM.com: What's your motto that you lived by to get through your recovery and continue to live by in your daily life?
Ivy Coleman: I read a few motivational books gifted from friends and family to keep me inspired but ultimately, the motto I had was to stay strong and persevere. You are stronger than you believe so don't give up on yourself. There were a lot of times where I doubted my strength going through this but you can't do that. I I know I had to  fight it and that wasn't always easy. 
 A quote in one of the books I read was from Nelson Mandala and he said, "It always seems impossible until it is done." With that in mind, you have to believe in yourself because all the way back in 2016, it sure felt like it would be impossible. My doctors told me treatment would last until 2018. At the time, I thought that there was no way I could last that long. Fast forward to 2018 and here I am. I got through it and it wasn't impossible to overcome. 
We thank Ivy for sharing her story with us and hope all of you were inspired by her. If you want to learn more about Ivy and the Living The Dream foundation, the appropriate links can be found below. 
Ivy's blog: http://ivyhcoleman.wixsite.com/thesideeffects
Living the Dream Foundation: https://www.ltdfoundation.org