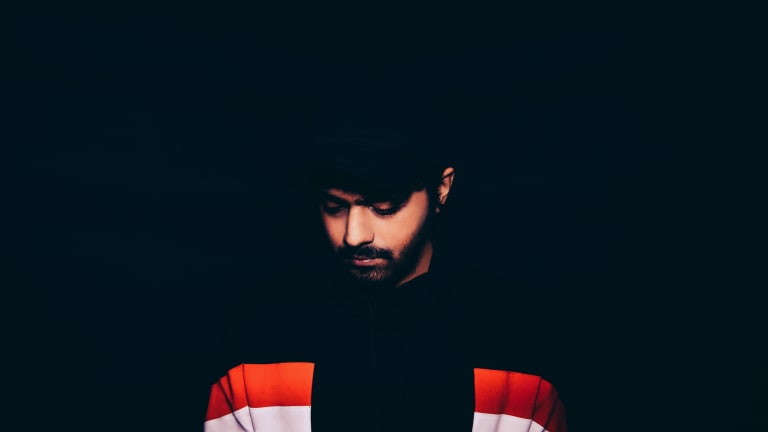 Jai Wolf On "The Cure To Loneliness," Early Dubstep Days, and Making Music That Lasts [INTERVIEW]
"Something you can't control as an artist is if fans will wait around for you."
From making music in his parents' basement to playing the world's biggest festivals, Jai Wolf (real name Sajeeb Saha) has proved himself to be an attention-grabbing figure in dance music over the past few years.
Growing up playing the violin and piano, Saha was raised on classical music, though he was innately attracted to synthesized sounds, and began dabbling in music production during his senior year of high school. Punk rock productions inspired by the likes of Blink 182 and Fall Out Boy gave way to dubstep beats as EDM flag-bearers like Skrillex began edging into the global spotlight.
However, Saha soon realized dubstep wasn't for him and started afresh as Jai Wolf. "Indian Summer,' his debut original released on ODESZA's Foreign Family Collective label, organically exploded, garnering millions of plays and features in a GoPro campaign and Kobe Bryant's farewell game. Just last month it went gold.
The melodic musician was quick to prove he's more than a one-hit wonder. Future releases like "Drive" and "Starlight" doubled down on his distinct brand of indie dance music. Nostalgic songs that float in your head like bright fleeting dreams and pierce your heart like visceral memories of the past.
Not to mention, Saha's not afraid to publicly take the moral high ground.
Just last month, he released his debut album The Cure To Loneliness, a 12-track collection of impassioned, vocal-driven songs, exploring what loneliness means. From dealing with loneliness to accepting it, Saha explores what it means to be lonely in all it's varying, vulnerable facets.
As Saha tours across North America celebrating the LP, what better time to prod the mind of the ever-evolving musician? Recently, EDM.com spoke with him about his album, tour, signature sound, and more. Read on for our conversation with Jai Wolf.
EDM.com: For our readers who may not be familiar with you, describe the Jai Wolf sound in a sentence.
Jai Wolf: Nostalgic-sounding indie dance music.
You're on tour celebrating the release of your debut album. How has it been so far?
It's been really good. Cool to play new music for all the fans, seeing them super enthusiastic and excited about the show. It's a great feeling every time I get off the stage. Excited to do the rest of the dates, we still have a bunch more to go!
You have a live setup for the first time now. What do you have up with you on stage?
Sample pads which basically trigger different samples and synth sounds, drum pads, plus a custom fader, knobs and effects rack, which controls Ableton. It's very similar to the effects on CDJs but it's a custom setup that we built. I don't think anyone actually has this setup. It's mainly used for Photoshop, but we rigged it so that it controls Ableton.
Naturally, you've been playing a lot of live edits. Are you not going to be releasing any of those, like your edit of RL Grime's "Arcus" with Virtual Self's "Ghost Voices?"
That's live only. All my favorite artists, when they do live shows, they have specific songs they keep for live. The whole purpose is so people will want to continuously come see you play those songs, and I like that mentality a lot.
If you release them, people might be less willing to see you live. So I like the exclusivity of only hearing the songs live. 
Really distinct stage design with the orb. Is there any significance to the design?
We designed it three years ago, debuted an earlier version of it for our 2016 Kindred Spirits tour, this is the 2.0 version of the orb. The basis of it was, "how can we create a stage setup that has a unique look but is simultaneously very simple and recognizable?" After some brainstorming we thought that doing a circular setup would make it stand out.
For the tour, you recently revealed that you "spent a lot of time working not just on the music but also on the visuals and the lights." What aesthetic are you going for?
Basically just creating an immersive world. There are a lot of space-themed visuals, that's something that I wanted this tour to have. Each song has its own aesthetic to it, and I wanted the visuals to match up with what it represents. At the end of the day, I want the audience to shut out the outside world and exist within the show, and take them on this journey through space and time.
So, about the album itself, when did you start working on it?
I started demo-ing the album in 2017, but conceptually, it came closer together at the end of 2017, start of 2018. After the concept came together, the songs started to come out more easily.
So I worked on it for two years. I didn't release that much music in between, just "Starlight" in 2017 and "Lost" in 2018.
You're known to make tracks with intention, so what's the general theme behind the album?
Looking at the idea of loneliness through different lenses. Each song focuses on a different aspect of loneliness. Dealing with loneliness, accepting loneliness, and everything in between. That spectrum of a multitude of feelings is what I centered the theme of the album around.
Lot of '80s-inspired, nostalgic sounds in the album, naturally, since you love movie scores. What are some of your favorite movie scores?
The soundtrack to Drive, that's one of my favorite movies. The guy who did Drive also did Spring Breakers, love that one. Interstellar, Hans Zimmer did that one, really good.
Let's take it back. You've been exposed to music from a young age, but how exactly did you get into EDM, and that too making dubstep under your No Pets Allowed moniker?
I was always into any sort of synthesized sounds. Growing up, I think that was just what I was drawn towards. So when I started producing I was doing a lot of synth-based music. And I got into making music around the same time that EDM [with Skrillex at the forefront] was getting popular, so that's how I got into producing dubstep. I was interested in sound design and I thought dubstep was really interesting at the time, but it wasn't what I wanted to make for the rest of my life, so eventually I stopped making dubstep. 
What was the tipping point or realization that made you wanted to start afresh as Jai Wolf?
At some point I realized I just didn't want to make dubstep for the rest of my life - I wanted to get serious about music, and make music that felt like it could last. I felt like dubstep was a trend. I still have a lot of respect for it but it just wasn't something I was trying to make.
Is there any special meaning behind the name Jai Wolf?
When I was switching names I wanted to do Dire Wolf, but my management thought it was too much of a metal band name. So I picked "Jai" because it's a normal name that is easy to say; also an Indian name, and I wanted to have a stage name that reflected my ethnicity.
You've mentioned that you "definitely would not be here if it weren't for ODESZA opening this door and providing me a platform from which I've been able to express myself on." Can you elaborate on the role ODESZA has played in helping you advance your career as a musician?
We were connected through the internet five years ago and started talking. I remixed one of their songs, "Say My Name." Then, at my first show ever in Seattle, Harrison from ODESZA asked to grab a beer before, told me how they are starting a record label, and how I should submit something to that label. From there, I submitted "Indian Summer" and they brought me on tour later that year.
They've just been supportive in not only releasing my music, but also putting me in front of an audience, I think that helped out a lot in the beginning.
Speaking of "Indian Summer," your debut original and one of your biggest songs to date, featured in a GoPro campaign as well as in Kobe Bryant's farewell game. And just recently, it went gold! When you released it though, you said "this is my worst song ever" and you didn't think it would do well. What made you feel that way?
Just at the time, there wasn't a lot of stuff that was like it. I was unsure of how anyone would react to it. I think it's almost impossible to tell what the reaction will be for anything you make, but that one specifically because of contextually what was going on at that time. I didn't think it would be what it is today. I definitely didn't think it would become a popular song by any means. I was just having fun with it and messing around.
Before "Indian Summer" blew up, you made waves with your remix of Skrillex's "Ease My Mind." You were pretty unknown back then, so how'd you go from making a bootleg of the song to having Skrillex release it on OWSLA?
I showed someone who knew Skrillex and they forwarded it to him. I guess he liked it and started playing it out at a bunch of festivals. Then we got in contact with the record label and they were putting out a remix EP so they signed the remix!
So you've come a long way now, and it's safe to say you have a great fan base, and a solid standing the music industry. We don't see many South Asians, or Asians really, making it big in the electronic music world. Do you see yourself as a figurehead or role model for aspiring South Asian producers?
Yeah, I think so. There's definitely a handful right now but it's cool to see more people getting into the scene. Hopefully what we're doing gets to pave the way for future South Asian acts.
Also, you've made it this far with a single EP, a few originals a few remixes, and just recently your first album. That isn't a huge catalog of music. You've managed to retain a solid fanbase and industry standing without churning out tunes or creating a larger-than-life brand, what's your secret?
There's no secret! It's really just that, thankfully, people liked the existing music and wanted more, but didn't forget about what we were doing. What worked out for us, I wouldn't say is luck necessarily, but something you can't control as an artist is if fans will wait around for you. I think it comes down to trusting your listener base.
Because we live in a time where music moves very fast, if you're not putting out music, people can easily get bored of you and move on. Because I never fell into that, I don't think my listeners were always expecting the next single. I was very particular about making sure I wasn't just releasing single after single because I think that leads your audience to slowly expect that from you. And then when you stop releasing music, they'll suddenly move onto the next thing. 
In a past interview, you were asked where you see yourself in 5 years. You answered, "tough to say but man I'd love to be playing some larger festivals out there. EDC, Electric Zoo, Coachella, a lot of others are all on my hitlist. I'd also love to produce beats for pop artists - Biebs, Ariana Grande, Rihanna etc." You've played all those festivals, but no pop productions yet. Is that something you're still keen on?
Not anytime soon, but I would love to eventually do that. I want to focus on my own project first, but I still want to do those things for sure.
Follow Jai Wolf
Facebook: facebook.com/JaiWolfMusic
Instagram: @jaiwolfx
Twitter: @JaiWolfx
SoundCloud: soundcloud.com/jaiwolfmusic