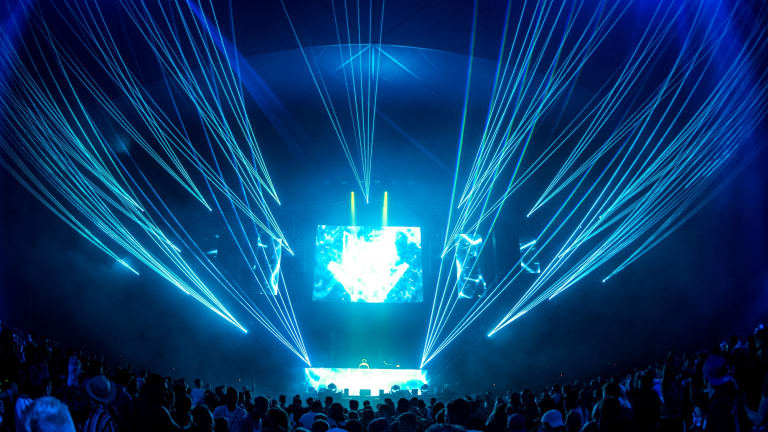 Jauz's Debut Album Is Coming Sooner Than You Think [INTERVIEW]​
We caught up with the producer at Airbeat One Festival in Germany, and he had a lot to say.​
Jauz has had an amazing 2018 so far, and as it looks, things are just getting started. He's already released a handful of arguably his best collaborations to date and is currently having his summer run at the worlds biggest festivals. 
After "In The Zone" featuring Example came the huge "Gassed Up" with DJ Snake, "Motherfuckers", an industrial banger with fellow producer Snails and old-school electro jam "Keep The Rave Alive" with Lazer Lazer Lazer. As if these bangers weren't enough, one of his most unexpected tracks to date was recently released; "Diamonds" featuring singer Kiara shows a totally different side of Jauz; slower vibes and mellow atmospheres that definitely have us excited for his debut album.
We caught up with the producer right after his performance at the Arena Stage At Airbeat One. Despite the fact that it was 5 in the morning on a freezing North Germany night, Jauz didn't seem to care at all and gave a really interesting talk about the festival, his debut album, and his production process.
EDM.com: You just performed at the Arena at Airbeat One. I know it's your first time at the festival. What made your performance here special?
Jauz: It's really cool to see a festival like this, it reminds me a lot of Electric Forest in the US, where everyone is camping, and the designs of the stages are really intricate and different. Driving around the festival and seeing it a little bit, it feels like a really special place; I've wanted to come here for so many years so I'm just really happy to be here. 
You just released your new single "Diamonds" featuring Kiara. Talk to us about how the track came to be and your thoughts on it.
I don't really know how it all came together. My manager was like "hey, do you want to write a song with Kiara?" and I was like "sure why not", so we met each other for the first time in the studio. We got along really well; she played me a bunch of songs, I played her a bunch of songs, and we ended up using the song that was "Diamonds". She went in the booth and recorded the whole thing in like less than an hour, and that was pretty much that. The song came together super fast and super natural and, you know, for me it's really hard when it comes to songs that are more poppy, because I don't want it to sound like something I wouldn't put out normally as Jauz. I'm really specific about those kinds of songs, and "Diamonds" felt super organic as a Jauz song so I'm super happy with it.
And you have your debut album coming later this year on your own label Bite This.
I don't know when this article is gonna come out, but today is... Friday the 13th! Soooo, if all things go as planned, the album should come out in three weeks. If it doesn't happen it doesn't happen. All the songs have been done for a while, we're just really making sure that everything about the album is perfect before we put it out. It's because we've already spent so much time working on it, why would we rush it now; like what is another week or two in the grand scheme of things.
And what does the album mean to you and your progression as an artist?
Honestly, putting out an album in 2018 is really stupid, there are no doubts about that. But I'm doing it for me, because as an artist you feel like releasing an album is that next step in the progression of the maturity in your career. I just want to be able to look at a body of work that I've done, but more than that - without giving any details about the album; because I haven't said anything about it at all - this album is kind of a reset for Jauz. The whole thing is like: all of this stuff and everything in between is what I do, and if you don't like it that's too bad. And you know, I make house music, dubstep, and melodic stuff, and fans like different things, so the whole point of Jauz was to make and play all that music and have people like all of it. This album is kind of there to remind people about that. Ιf you listen to it top to bottom there are so many different things going on but it all fits together. So yeah, it'll be really interesting to see how people respond to it.
Who is a dream collaborator of yours?
It would definitely be Calvin Harris, but another one who I think would be really cool would be Martin Garrix, for no reason other that I love the kid. He's just such a good guy; and I've watched him work in the studio and he's a fucking wizard. He's one of the fastest, brightest producers I've ever met, so I'd love to work on a song with him just to be able to learn, because to me, the best part about collaborating with people - especially when you get in the studio - is that you get to learn so much. Getting projects of mine back that people have worked on and seeing how they did certain things I'm like "holy shit, I never thought about doing that", and then I kind of steal it and add it in my little bag of tricks, and that's one of the ways to keep evolving as a producer.
What's the biggest producer mistake you were doing when you were starting out?
Oh so so many, but there's two in particular. One is that I couldn't understand that sounds aren't meant to sound good on their own, they are meant to sound good as a whole. I would sit in the studio for - and I'm not joking, I'm dead serious when I say this - 8 hours straight EQing a single kick. I thought that if I made the perfect kick it would work perfectly in every song, and then I couldn't put it in any song because it would sound completely different when I played it with the whole mix. So that's one; nowadays I hardly even EQ stuff, I just throw it all together and it all fits somehow. It's a lot less work than people think, less is more and I know it sounds cheesy, but it's true.
The other thing, and this is the most important one, is that up until 8 months before Jauz started, all I did was try to sound like producers that I liked; I wanted to sound like Excision, MUST DIE!, Skrillex obviously, and I was never happy with any of the songs I was making. The sounds and the ideas I was making were sounding like those guys, but they weren't good enough, because you're never going to make something that sounds like someone else, and be as good as them, it's just not possible. So once I had that epiphany of just making whatever comes out of my brain naturally, that's when I started making music that people actually gave a shit about. It's just that simple.
Anything else you'd like to add or say to your fans?
Thank you guys for supporting me and getting me to where I am today, I still have no idea how the fuck I got here. Also, thank you for being patient with the album. In all honesty, I thought the album would be finished and released in March, and it's a long way away from March right now. But that's the process of making an album, it happens and it's been nice because we've gotten to put out all these singles. There are so many songs on the album that even with all the singles out - and there's still one more single to come - it's still going to feel like a whole new thing. It's been nice to be able to spread it out over the whole year, especially because of the thing we were talking about; music is so fickle nowadays that people tend to forget about it, so at least now it's had its longevity. There's so much I want to say about the album that I'm not going to because it's not worth putting out anything until it's there, but it's coming pretty soon and you guys will hear about it all; the truth will soon be revealed.
Follow Jauz
Facebook: www.facebook.com/JauzOfficial/
Instagram: www.instagram.com/jauzofficial/
Twitter: https://twitter.com/jauzofficial
Soundcloud: https://soundcloud.com/jauzofficial
Cover photo courtesy: Steffen Schulze