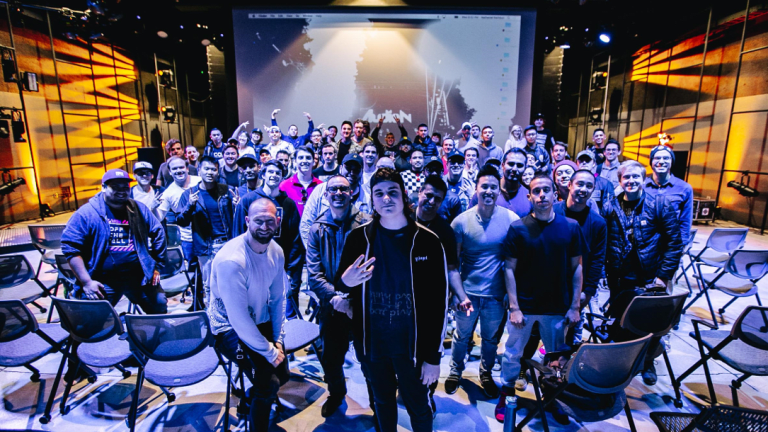 JBL Professional Head of Artist Relations Aasheesh Paliwal Talks About their Fall Masterclass [Interview]
Aasheesh Paliwal took a break from gearing up for the next JBL Masterclass to tell us all about it.
This year, JBL Professional launched a monthly series called The JBL Masterclass in which figures in electronic music and hip-hop give talks on various topics. Ahead of the fall 2019 installment, JBL Pro Head of Artist Relations Aasheesh Paliwal spoke to EDM.com about what the next one will entail.
In addition to his work with JBL, Paliwal also plays and produces music under the stage name Shishi. He is also one half of the duo Little Red Box and works for the Harman-owned gear manufacturer AKG Audio.
To learn more about the upcoming JBL Masterclass, read on to see what Paliwal had to say.
EDM.com: Tell us about the masterclass series coming out this fall.
Aasheesh Paliwal: The JBL Masterclass is a monthly event series we started this year in which we find an established artist in the hip-hop or dance music space to come and speak about their career, share insights into their creative process, and give advice to aspiring artists. The inspiration behind it was to create an authentic space where aspiring artists can link up with and learn from the artists they look up to, in an intimate setting that fosters conversation, learning and connection. Each masterclass consists of an hour-long talk that is either led by the artist (diving into their career and/or production techniques) or is a conversation between myself and the artist, followed by a 30 minute Q&A and then a meet and greet with pizza. So far we've had the privilege of hosting Quix, Morgan Page, Audien, Vincent and Pegboard Nerds at our L.A. Experience Center, Kirk Knight and Gashi at our NYC Store, and Snakehips as part of a panel at Sonar+D Festival in Barcelona.
How will Jauz, Luca Lush and Gareth Emery be participating in the masterclass?
Jauz, Luca Lush and Gareth Emery will all be giving talks at our Experience Center in L.A. – they'll be sharing advice and learnings from their careers and also plugging their laptops in to our JBL Soundstage System to teach production live to their audiences.
How did you get involved with each of them in the first place?
When we first conceived of the Masterclass idea, we just reached out to a ton of different artists, producers and DJs. We eventually narrowed it down to the artists who shared our passion for inspiring the next generation of artists and paying it forward.
JBL is best known for equipment. What made you decide to branch out into production tutorials?
As a pro audio gear company, we see ourselves as an important part of the creative process, providing the tools to empower artists to follow their passion and create. From that perspective, it made a lot of sense to create a series that provides aspiring artists with the resources they need – whether that be education, relationships, or inspiration – to pursue their creative ambitions.
Do a lot of people on the JBL team enjoy electronic music? Is this community becoming a bigger part of the company's identity?
Honestly, one of the reasons we wanted to focus on electronic and hip-hop music for the first year of this program is that JBL has traditionally been a very rock-focused company in terms of the utility of the equipment it's created and the artists it has partnered with. As an electronic music producer and artist myself and a huge fan of electronic music - along with my colleague Tori Baek, who has been instrumental in helping me bring this program to life - I wanted to bring JBL more into this amazing community.
Are you going to do more masterclass series after this year? If so, what types of artists do you have in mind?
We will be continuing the program next year, and while I can't disclose too much information yet, I can say that we will be expanding to do bigger events globally, as well as widening our footprint to include not only musicians, but also other successful content creators like gamers, online personalities and others.
Talk about some of the software/equipment that will be showcased in the masterclass.
All audio in the masterclasses is obviously run on JBL pro sound, and at all masterclasses we do live giveaways of new professional JBL and AKG products, like the JBL104 Monitors and the AKG K371 Headphones.
What else does JBL have in the works other than the masterclass that might interest our readers?
Announcements for the JBL Masterclass series in 2020 will be made on our official JBL Masterclass website in the coming months, so if you'd like to be in the know check back there. In addition to the two products I mentioned above, which are both new this year, in October another one of our brands, AKG, will be dropping our first ever USB Microphone, the AKG Lyra – it's an absolute beast so if you're a vocalist or musician look for an incredible and portable microphone make sure to be on the lookout for that!
Watch the first JBL Masterclass here, and follow Aasheesh Paliwal's Shishi project on his Instagram account.
Follow JBL Professional:
Facebook: facebook.com/jblprofessional
Twitter: twitter.com/TheJBLpro
Instagram: instagram.com/jbl_pro