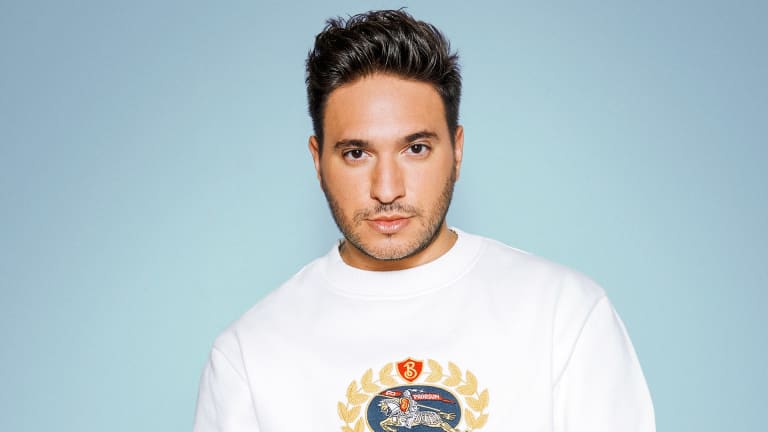 Jonas Blue Talks Tiësto Collaboration, Staying Fit on the Road and More
We caught up with the producer before his performance at Airbeat One in Germany.
Jonas Blue has dominated the charts more than a couple of times over the past years. His ability to write hits while always keeping his production style current is astounding. His talent and work ethic have resulted in massive collaborations such as "Fast Car" with Dakota, "Perfect Strangers" with JP Cooper and "Mama" with William Singe. 
Though he released his debut album, Blue, in 2018, he hasn't slowed down one bit, constantly touring all over the world while also releasing more music. Most recently, he delivered the radio-friendly "Ritual" with Tiësto and Rita Ora, as well as solo single "I Wanna Dance" - a surprising banger curated for the dance floor. 
Before his performance at the festival Airbeat One in North Germany, we had the chance to sit down with the talented producer and talk about his collaborations, touring all over the world, and even about how he worked at the same bar as Sam Smith. 
EDM.com: You recently released your track "Ritual" with Tiësto and Rita Ora. How did that collaboration came to be?
Jonas Blue: I wrote Ritual with a guy named Fraser T. Smith, and an amazing singer/songwriter called Grace Barker. We wrote this song about a year and a half ago, and then about a year ago I was playing at this huge nightclub called LIV in Miami with Tiësto, and he asked me if I had any songs that we could possibly work on together. He just had "Jackie Chan" and was looking for the follow up, and I said that I have the perfect song that I think would be ideal for our collaboration. So I sent him Ritual and he really loved it, and I thought that the only person I could hear singing over it was Rita Ora. We were really lucky because she had just finished her album, Phoenix, and she was ready to do a collaboration. The track had been doing amazing so far, and it's also a massive track in our sets.
In an interview with GQ you said that you worked as a DJ at a bar where Sam Smith was bartending. That's a crazy story! Talk to us a bit about that.
So before I became Jonas Blue my job was to DJ at a bar for about six or seven hours three times a week - and to be honest, I loved it. I played lots of pop music, house music, classics, pretty much everything. And I didn't know, but upstairs, Sam Smith was one of the bartenders making pints of beer (laughs) and in that year he wrote "Latch" with Disclosure. It was funny because we both left that bar, and he ended up signing to Capitol Records in the U.S., which is the record label I'm also signed to in the U.S. - so yeah, there must be something about that bar.
You've collaborated with a lot of vocalists so far. Can you name one of your favorite collaborations, and why they were special?
One of my favorite collaborations so far would have been with William Singe on my song "Mama." The reason is that I found the guy on YouTube, and I was just a massive fan of his R&B covers. When I wrote "Mama" and sent it to him he was on a tour bus, recorded it on his laptop using a USB microphone, and that's what you hear on the record! That's been one of my favorite songs to work on for sure.
Your debut album Blue came out late last year. What made you want to drop a full-length project, considering you've had massive success with singles so far?
For this I was kind of listening to my fans, and my fans wanted to listen to a full-length album from me. They wanted to be taken on a journey; they didn't want just the singles. That was mainly the reason. It was a lot of fun to do and basically featured eight of the songs that people knew and eight new songs. While it was a lot of fun, it also took a lot of time and effort to do but I'm glad I did it, and I'm back focusing on singles and collaborations now!
Touring so extensively around the world, what are some of your secrets in order to keep healthy and fit? How many shows do you do per year, approximately?
I probably do about 250 shows a year, and a lot of my shows are radio shows as well. I have a lot of radio stations around the world that support my music, so I have to go to all these different countries and play all these massive radio shows. There's a lot of those, a lot of DJ gigs and then there's also these live shows that I do where I'll be paying piano and I'll have some singers perform with me. So yeah a lot of shows! In terms of being able to do all that, I think it's the love of music, and the love of seeing the reactions of fans singing and moving to your songs.
It's very, very hard to stay fit; the only way I do it with my schedule is that I have probably four or five photoshoots a year, and I'll prepare several weeks in advance for those, so having a goal like that is what enables me to keep fit. It's difficult, though, and sleeping is really difficult too. Straight after this show we have to drive an hour and a half back to Hamburg, and then catch a flight back to London and be in the Chinese embassy as soon as we land. It's difficult, but you do it because you do it for the love.
Anything else you'd like to add or say to your fans?
As always, the last four years have been an incredible journey, and I want to thank my fans, obviously EDM.com, all the festivals, and all the promoters. Thank you so much to everyone for your incredible support. I'm going to keep making music and I'm going to keep playing music. I love you. 
Follow Jonas Blue: 
Facebook: facebook.com/JonasBlueMusic/
Twitter: twitter.com/JonasBlue/
Instagram: instagram.com/jonasblue/
SoundCloud: soundcloud.com/jonasblue