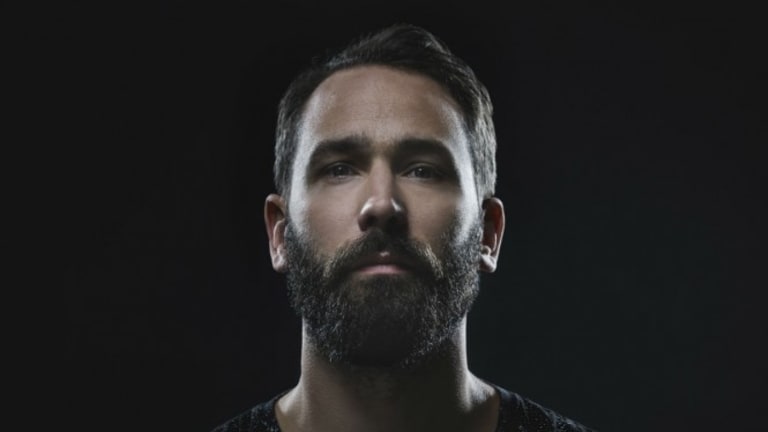 We Discussed the Important ELEMENTS That Make Up Jonas Rathsman
The Elements boss has had a stellar 2017, with no sign of stopping soon.
Jonas Rathsman has positioned himself in recent years as one of the most exciting artists to watch in the dance music community. The Swedish-based producer and DJ did not have an obvious route into music, but the innate drive to creatively interact with the world was. From a small village in Western Sweden, Rathsman's passions in art developed, eventually leading him to Gothenburg where he first got involved in music on a local level.

Although, like many of us that pursue our passion for music, Rathsman's journey wasn't always glittering with dollar signs. DJing and producing – which at one time was a part-time hobby – began to manifest itself into a full-blown career when Rathsman first began releasing on French Express. Building confidence and gaining support from some of the dance music community's most prolific name's – including BBC Essential Mix host Pete Tong – Rathsman began his meteoric rise.
Fast forward to today and Jonas Rathsman has had an unprecedented 2017. Launching his 'family-focused' ELEMENTS brand, Rathsman seeks to create an atmosphere with his events that channels fans through a fluid all-night journey. The ELEMENTS label allows Jonas to take over the role of A&R, giving a leg-up to talented (but perhaps overlooked) producers.
His new ELEMENTS radio show gives Rathsman the opportunity to connect with fans across the globe. Through his ELEMENTS mixes, he can intimately share a concept, an intention, and most importantly a soundscape that will resonate with listeners. Releasing his newest mix today, Jonas Rathsman invites you to emotionally float downriver as he guides you through new releases from Jooris Voorn, Tim Engelhardt, and Jonathan Kaspar.
We had the chance to dig deep into the ELEMENTS with Jonas Rathsman to gain greater insight into the vision of this talented artist.
EDM.COM: 2017 has certainly been a busy year for you with the launch of ELEMENTS and the release of your successful EP Within Borders. Knowing what you know now, what is something that you would tell your younger self? What is something that a young, doubtful, Jonas would have wanted to hear?
Jonas Rathsman: Growing up, I always knew that I would one day work with art in some way. Not necessarily music, but more art in a graphic sense - illustrations, painting or design which I actually did do for many years. Music was something that I kind of did on the side just for fun as a hobby. At one point a few years ago things changed and music took over my life gradually, it kind of snuck up on me! I'm actually a bit surprised myself that I'm doing this full time now because it wasn't really the plan.

I would tell young Jonas to roll with it, and trust your gut instinct - you don't always know what is around the corner, but you have to believe in what you do and be confident in your decisions.
Touring can get quite lonely so building a family element with the parties and the label is very important to me - I want to connect friends and other artists that I respect and believe in. 
What is one decision that you've made that has had the greatest positive impact on your career so far?
Getting to know Leon Oziel from French Express played a crucial role in the beginning of my career when I was releasing music on that label. Choosing to work with the right management team, booking agent and promoters are the most important decisions for me personally. I make decisions everyday and I can only hope that I'm making the right decisions each time, but I don't know if I have that one specific big decision that has changed my career. Other than deciding to make music full time.
This year you've debuted your ELEMENTS event brand, what atmosphere are you trying to curate with your events and line-ups?
We're going for a more intimate, family atmosphere - I want the artists to feel that they have had a special experience when playing, and most importantly I want the fans to feel welcomed and that they are part of something. Touring can get quite lonely so building a family element with the parties and the label is very important to me - I want to connect friends and other artists that I respect and believe in.
When curating the line-ups I am thinking about what fits into the ELEMENTS ethos sonically, and looking to support the acts who have been a part of the journey in the mix series and label. When I program the sets for an event, I try to build the energy over time and bring different sounds together so there is a clear progression through the night. It has to be about the journey together, always.
The name ELEMENTS can conjure up romanticized or abstract ideas, while also being grounded in the fundamental components that make up our world (earth, wind, fire, air)....how does the music released on the label relate to the name ELEMENTS?
I'm from Sweden and I grew up surrounded by the forest and I've always had that strong connection to nature from my childhood, so I wanted to keep that connection to the natural world within ELEMENTS. We touch on this in the artwork, it's kind of an abstract vision of remote places where I'd love to throw parties!

Like the events, each mix is about a journey, and musically I always try to grow it from a melodic introduction through to tougher, more club focused tracks. This is how I think about the music released on the label; I always ask, 'does it fit into the ELEMENTS ethos, does it take me on journey'?
So while it doesn't relate exactly to the elements, I have a clear vision and I want to make sure it all works within that.
Your melodic style of techno brings in a wide variety of global influences that can definitely create a groovy party dynamic. If given the freedom to choose, what's your favorite time-slot to select for? Do you like bringing up the sunrise or do you prefer the moody, dark, dance floor?
I actually really like playing sunset sets. When the day turns into night there's a special energy in the air and you can pretty much play whatever you want. If you want to take the night into an uptempo kind of vibe you can do that, or you can do the opposite. I also really like playing opening slots, or open-close sets. I like seeing people arriving and watching the venue fill up, there's always so much excitement and tension in the air. it's nice to be able to set the pace and vibe for a party.
You've received a lot of strong support from different DJs in the scene within the last few years, including everyone from Pete Tong to Damian Lazarus. How would you describe the community of DJs and their support of one another?
It's absolutely key! When you're releasing music it's always important to have those bigger DJs supporting you and pushing your music. I try to support up and coming artists as much as possible by playing a lot of their unreleased material I get sent. I remember when I started out it was really hard to get out there and be heard so I try to help as much as possible. Also when you release music, getting feedback (good OR bad) is always nice - it's good to hear what other people think of the record and how it's being received.
With my label ELEMENTS we are also trying to foster a lot of emerging talent - I think there needs to be more labels considering the up and comers. A lot of them focus a bit too much on the big artists who already have a career or a name and I think there's so much more to choose from. I also try to include my closest friends as much as possible; it's all about the family-feel with the label.
[G]et involved somehow, use your imagination and create something unique and your own thing. Start promoting parties, or start DJing wherever and whenever you get the chance to. Find like-minded people who want the same thing and can help.
If you had to choose one record or track that had the greatest influence on you musically, what would it be?
Ha, this is a hard question to answer, obviously there are thousands. I'm just going to go ahead and say "Time" by Pachanga Boys, which had a huge impact on me and the music I'm producing. I still play and listen to it all the time, it's timeless!
As you know, the EDM.com readers are largely based in the United States, and most are not located near the major hubs of New York and LA. Having come from a small town, do you have any advice for fans that want to get involved or create their own local scene?
The number one thing I can recommend is to get involved somehow, use your imagination and create something unique and your own thing. Start promoting parties, or start DJing wherever and whenever you get the chance to. Find like-minded people who want the same thing and can help. In my experience, collaborating with creative people who are eager and want to achieve a similar goal is the best way to get a local scene going. Also never give up, believe in yourself but most importantly, have fun along the way.
With all of the new projects that you've developed this year, including the ELEMENTS events, label, and new radio show, you've accomplished a lot so far in 2017. What are other big projects you're currently working on?
Apart from ELEMENTS which I'm focusing a lot of my energy on, I also have my studio which I'm building as a collective here in Gothenburg, beautifully located just by the seafront in the docks. The studio has six soundproofed and acoustically treated rooms across two floors. My friend and I who are working on it are planning on renting studio space to other artists or record labels to create a hub in Gothenburg where people can come and record their music - the project is very nearly completed!

I moved into my room at the studio two weeks ago though, so I am mostly spending a lot of time locked away in there there working on new music, finally! I got a boost of inspiration as soon as the setup was complete and I already have produced four new tracks. I had a few months where I was really down because I didn't have a creative space where I could produce and it was tough to get in the right mindset to finish off ideas. Finally though, I have all this energy that I want to get out and it feels so good to be making new music! You can expect a lot more of that to come over the next year.
Follow Jonas Rathsman:
Elements: elements-series.comFacebook: facebook.com/JonasRathsmanInstagram: instagram.com/JonasRathsmanTwitter: twitter.com/JonasRathsmanSoundcloud: soundcloud.com/JonasRathsman