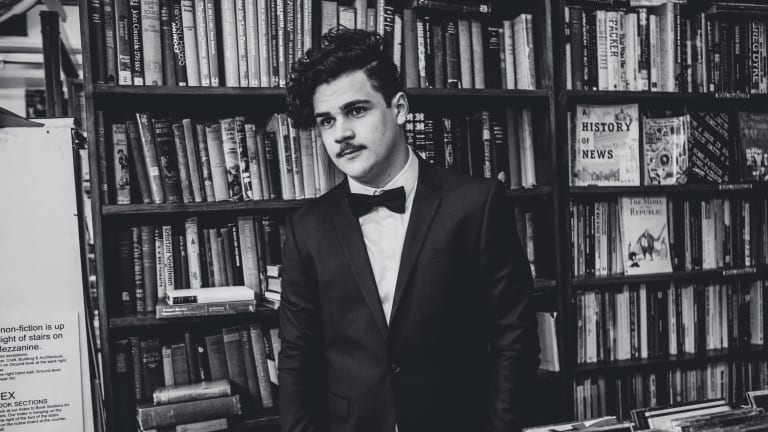 Just A Gent's "Space Odyssey" Is Sonic Experimental Bliss [INTERVIEW]
The young artist is here to stay!
Somehow, Just A Gent manages to hit the mark with every single release, no matter the genre and style. From the cinematic atmosphere of his Stories To Tell EP, to the bubbly "Leave It" with smle and Calica to this year's aggressive banger "404", the talented producer already seems to have figured it all out. And it's really impressive, since the Australian mastermind just turned 21, and started touring at the age of 16. 
His latest release is just another example of this; a showcase of raw talent. Recruiting singer Thandi Phoenix, "Space Odyssey" creates a futuristic landscape, combining melodies, otherworldly vocals and an eerie drop, sucking in all kinds of listeners. 
We has the pleasure of chatting with the producer, and have him elaborate on his idea behind the track, being a young musician in the music industry and his opinion on pineapple on pizza. 
EDM.com: "Space Odyssey" sounds like you really wanted to experiment, and the result is really interesting! Talk to us a bit about how the track came to be.
Just A Gent: Thank you! That was definitely the idea. I really wanted to bring something fresh and I think I Space Odyssey turned out very nicely. I originally made the beat a few years back, it was much more prog house/trance focused but when Thandi hopped on the track, I took it in a bit of different direction and we both loved it.
What would your advice be to a younger bedroom producer struggling to find his/her own sound?
Just keep making beats. It's easy to think of your own sound but, it takes a long time before you even know how to achieve it. I think one comes with the other. Your style is just your taste evolving and the more you produce the more you evolve.
What are some dream collaborations of yours?
JAG x Tame Impala would be amazing, JAG x Noisia? Honestly, I just love to work with anyone that I listen to, but I guess they are two of the dream collabs.
Your career took off super early and you began touring at the age of 16. How did it all start?
It all really started when I was like 13 and downloaded the FL Studio trial. I instantly became obsessed with getting better at making my own sounds and melodies. Ever since then I have just been making whatever feels right. The touring came shortly after blogs started listening and posting my tunes and then my management found me and it all just escalated from there.
Young producers taking the electronic music industry by storm seem to be more and more common. As a young artist with a year-long career behind you, why do you think that is?
I think it's because a lot of the younger producers have a lot more hustle and are really good at networking over the internet. I think that the internet is the main reason why young producers are sprouting up everywhere so easily. It doesn't cost a thing to post a track to Soundcloud and the whole world can find it there.
And what about all the pressure the industry, managers and touring puts on artists? Do you think it's harder for someone younger to make it through it all, and how did you cope with it back when you started?
Nah, if anything it was easier because I basically just grew up in the industry. It all happened gradually. There were definitely some rough spots but I feel being young helped if anything.
What would you have done for a living if your career in music hadn't worked out?
I have absolutely no idea. Build computers maybe? I'm a pretty big nerd and love my PCs. I build a lot of them for my friends and family on the side and know the perfect parts for people etc so maybe I would be doing that?
If you had to take a pet with you on tour, what pet would that be?
It would have to be my puppy, Ernie. He is an 8-month-old Cavoodle. I would love to take him on tour.
Writing mindless heavy bangers or emotional chill songs?
Well, that totally depends on what mood I'm in. It's a lot easier to make a mindless banger any time of the day, but then I have to be in the right mood to make some chilled stuff.
Pineapple on pizza. Yay or nay?
Honestly, it's not for me. However, I definitely think it should still be a thing because it's not THAT bad. It's just not the best lol.
How does the future look like for Just A Gent? Any last things you'd like to add or say to your fans?
Future is looking bright, I have a lot of ideas for the brand and a lot of new music in the works and I'm just excited to keep developing the Just A Gent persona. So watch this space! 
Follow Just A Gent: 
Facebook: https://www.facebook.com/JustaGent/
Instagram: https://www.instagram.com/justagent/
Twitter: https://twitter.com/JustAGent
Soundcloud: https://soundcloud.com/just-a-gent