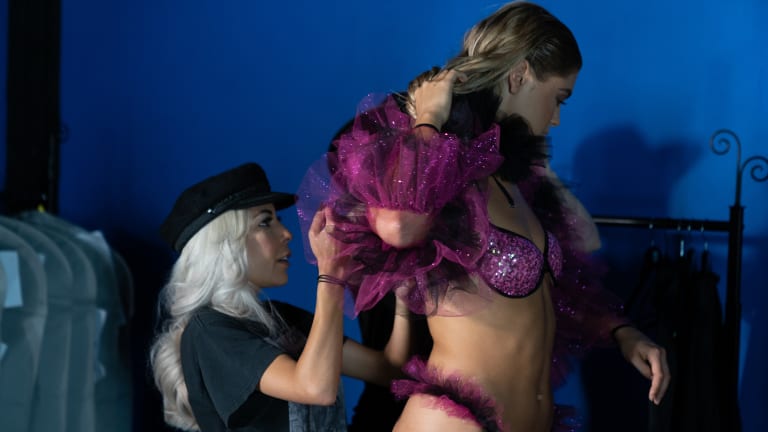 In Conversation with Kaila Methven on Her EDM-Inspired Haute Couture Line [Interview]
EDM.com caught up with the KFC heiress about her Madame Special K haute couture lingerie line inspired by dance music.
Powerhouse Haute couture lingerie designer Kaila Methven was raised and trained in the glamor capital of Paris. The mastermind behind Madame Methven, she's known for her carefully crafted and intimate pieces from her exquisite collections. 
Inspired by dance music and festival culture after attending a number of events herself, Methven felt the need to design a couture line for festivalgoers to sport at clubs and festivals. The result was Madame Special K - a playful, vivacious, vibrant and color-splashed collection of haute couture lingerie designed keeping the scene in mind. 
While her interests in haute couture were sparked from an early age, Methven went on to be formally trained in art of design at the elite institute ESMOD and further earned her master's degree from The International Fashion Academy of Paris. 
Methven's family-owned Rainbow Chicken Unlimited, which at one time supplied 90% of KFC's chicken, made her the heiress to an empire, but she chose her own path and found success. Her designs have been worn by a veritable who's who - from the Kardashians to Demi Lovato - as well as being featured in a number of publications from Harpers Bazaar to Elle. In addition to building her own high-end lingerie lines Madame Methven and Lactrodectus, she is also a model and influencer boasting over 1.7 million Instagram followers.  
We had the chance to chat with the talented entrepreneur about her latest dance music and festival-inspired line, Madame Special K, launching this December. Read on to see what she had to say. 
EDM.com: How did the journey for the heiress of KFC begin towards becoming the "Cartier of Lingerie"?
Kaila Methven: When I was a teenager in France growing up, I fell in love with a French man. I discovered the sensuality of a woman's body and I have always been very much in touch with that sensuality ever since. When I was studying fashion design I began to mentally combine the two worlds, and I started incorporating this sensuality with what I was learning at school in design. My designs are a reflection of that first love affair I had and how it made me feel. I found out what it was to not only wear lingerie but to own it fully, on your body as part of your identity and feel beautiful and confident. It's all-encompassing of spirit, mind, and body.  
How did your interests come to include the world of EDM? Have you always been an avid fan, or did something particular draw you in?
I've always been a fan of the European underground house music scene, but it was my eye as a designer that drew me in. My experience at Coachella was what first piqued my interest. I saw that people were spending lavishly to live lavishly for the weekend, but something was missing. It couldn't be a full celebration if their outfits didn't match the rest of their energy, so I wanted to introduce affordable fashion and couture to the dance festival community. That way, all festivalgoers have the opportunity to look as good as they feel while they're having fun and enjoying the music they love so much. 
Has there been anyone specifically in the music scene who's style has inspired yours? Who are your current favorites in the dance music scene?
Gwen Stefani always comes to mind when it comes to style in the music scene. She's always sexy and stylish. At the end of the day, there's style in music and then there's style in fashion. Black Coffee is one of my current favorites for music style. Also, Armin van Buuren - he's legendary. Fashion style wise... I mean... Diplo? What I love about him is that he's bold and not afraid to explore new things and new fashion, a trendsetter. Chantel Jeffries has great style, she's a cutie. 
To date, there haven't been many notable designers who have concentrated their efforts towards the ever-growing dance music community. While this seems odd, as it is a vast market, how did your thought process behind this line begin?
Like I mentioned before, I wanted to provide affordable couture for a community that society hasn't fully valued yet. They're all about peace, love, unity, and respect, and I truly believe that this line will help support those values. When designing the line I thought about all of the vibrant colors that I see at festivals and how the music seems to enhance those colors. All of my previous lines have been boudoir dark, so I wanted to break the mold and design a line that would be dynamic and more befitting of the wonderland that is festival culture. 
Your designs have been worn by a plethora of celebrities. Who would you like to see sporting your newest EDM inspired line Madame Special K from the world of music?
I would like to see the people sport the Madame Special K line. I didn't design this line for celebrities, but for the festival community. I would want nothing more than to see my line elevate festival fashion and bring the community together. But of course, I would also love to see ROSALIA or Yolandi Visser from Die Antwoord sporting this line too.
In addition to being a talented haute couture designer, you're also a model and influencer. Tell us how you don all these different hats and bring your worlds together.
It takes a big team, hard work, dedication, and most importantly faith in yourself to bring these different worlds together, but I feel it's only natural in today's world. All of these different industries are becoming more interconnected. Everything is art. I don't look at it like I'm wearing different hats, but simply wearing the same hat in different ways.
Do you see the Madame Special K line becoming a regular fixture for your brand and growing with time?
Absolutely. I believe in my fans and in the festival community to support a line that shares their passion and their values. This is just the beginning of EDM wear and this is just the next step for the EDM world. It's just going to keep evolving and I'm going to evolve with it. 
What is your message to festival attendees out there? What do they have to look forward to with this new haute couture lingerie line tailored for them?
If you're gonna go to a festival do it right. Have a good time and look great while doing it. Everything in the line is under $200 and detachable, so you can really customize each outfit to suit your own needs. The pieces also glow in the dark! Did I tell you that already? Oh my god, you're all going to look so beautiful in this lingerie and I can't wait to see people take the next step in festival fashion. 
Madame Special K will be available for pre-orders on December 1st, 2019, at  www.madamemethven.com. 
Follow Madame Methven:
Facebook: facebook.com/MadameMethven
Twitter: twitter.com/madamemethven
Instagram: instagram.com/madamemethven