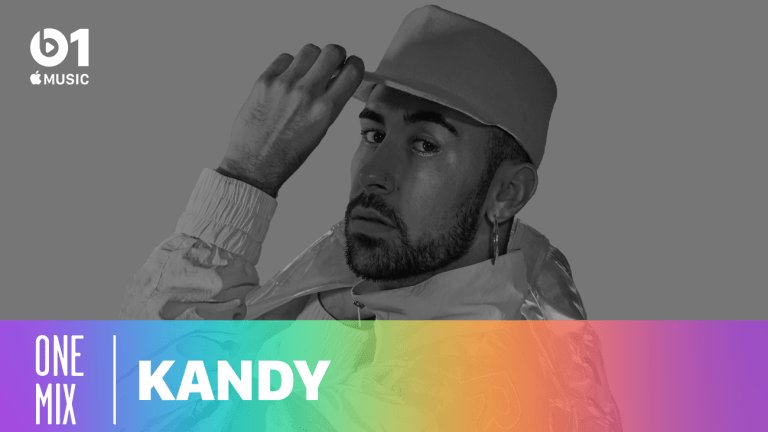 Beats 1 One Mix Rounds Off Pride Month Mixes With KANDY [INTERVIEW]
KANDY's come a long way from his days raving in Brooklyn warehouses.
Apple Music's weekly radio show One Mix is concluding it's Pride month festivities with another mix from the exclusive Celebrate Pride selection.
This weekend, KANDY is in the mix. The New York native's debut One Mix is an hour of bass-heavy electronic music coupled with impassioned songs. Cue tracks from Redlight, Anti Up, JOYRYDE, plus tunes from Jennifer Lopez, Ciara, and Missy Elliot.
Tune in here, exclusively on Apple Music.
Air Date: Friday 28th June 2019 - 21:00 L.A. / 00:00 N.Y. / 05:00 U.K.
Not too long ago, KANDY (real name Kevin Schuppel) was just a kid in the crowd - a youthful raver with kandi racked up till his shoulders exploring the wild warehouse parties of Brooklyn.
A performance by Laidback Luke inspired Schuppel to try his hand at music, and things have been turning out well for the wide-eyed EDM enthusiast ever since. In fact, Laidback Luke is now one of Schuppel's biggest supporters.
Between festival trap, high-octane bass house, and screeching dubstep, Schuppel's releases span all over the realm of bass music. From the Skrillex-endorsed remix of "Purple Lamborghini" to festival anthem "Initiator," Schuppel has been drawing the attention of artists and fans alike.
A couple of years ago, Schuppel took the bold step of publicly coming out. Though electronic music is rooted in gay culture, modern artists few and far between openly embrace it.
Schuppel, however, came out to the world fearlessly with a powerful song titled "Feelin' KNT." With vocals re-created from a RuPaul interview and a music video featuring an array of drag queens, he certainly let the dance music community know there is great pride in accepting your identity.
Ahead of his One Mix, Schuppel had plenty to share with us, including his hopes for more LGBTQ+ representation of dance music lineup and his thoughts on the biggest misconception about dance music. Read on for more from KANDY.
EDM.com: First show experience?
KANDY: Amazura in Queens, New York, back in 2015.
First time you brought your mom to one of your shows? 
Binghamton, New York, back in 2016.
The artist who inspired you to become a musician? 
Lady Gaga, Laidback Luke, Diplo, and Skrillex.
Go-to places for new music?
SoundCloud, Apple Music, Spotify, Sirius XM, and friends.
Guilty pleasure record?
"On A Roll" by Ashley O.
Desert-island dance record? 
"Sofi Needs A Ladder" by deadmau5.
Dream B2B partner?
Skrillex.
Favorite BPM? 
128.
Piece of gear you always need on the road? 
Dad hat.
All-time favorite festival?
Electric Daisy Carnival Las Vegas.
Biggest misconception about dance music?
Only people who do drugs like dance music.
How often do you get out and have fun, and where do you go?
I'm currently on the road which is always an amazing time if you're with the right people. When I'm not on the road I like to go out dancing, hiking, watch horror movies, and hang with friends.
City with the most underrated dance scene?
Orlando, Florida.
Industry prediction for the next year?
More POC and LGBTQ+ representation on the lineups.
Best piece of advice for new producers?
Don't compare your chapter A to someone else's chapter B. Consistency is key. Social media is your best friend. Be yourself!
Dead or alive, who would be your dream collaborator? 
Lady Gaga.
What is one of the unique experiences you've had backstage?
Standing next to my biggest inspirations.
A unique travel experience you've had?
Dragging a split-in-half suitcase with one wheel across four different cities.
What's your favorite throwback track? 
"Undah Yuh Skirt" by Zeds Dead.
What's one track that fans always lose their mind to? 
Throwdown's bootleg of "Move Back" by SLANDER and WAVEDASH.
What was the first album you ever bought? 
"Goodies" by Ciara.
Name one remix that you think is better than the original.
Porter Robinson's remix of "The Edge Of Glory" by Lady Gaga.
What song would you want (god forbid) played at your funeral? 
"Judas" by Lady Gaga.
What's the perfect sunset track? 
"Underwater" by RÜFÜS DU SOL.
What song do you listen to cheer yourself up?
The Game of Thrones soundtrack.
Follow KANDY
Facebook: facebook.com/thisisKANDY
Instagram: @thisisKANDY
Twitter: @thisisKANDY
SoundCloud: soundcloud.com/thisisKANDY