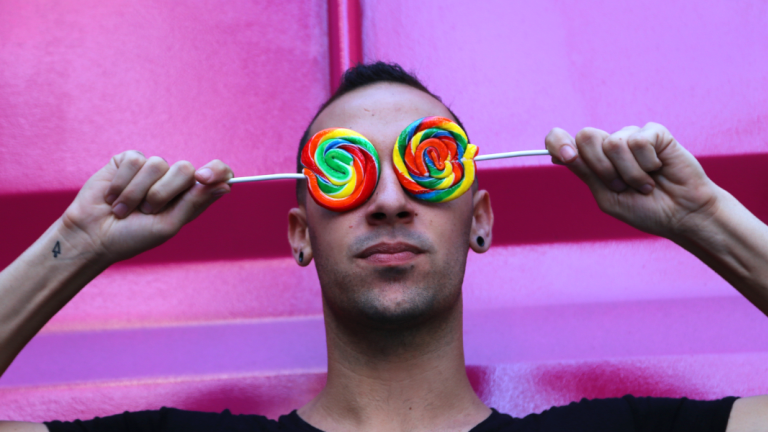 Kandy Gets Raw About His Deepest Struggles, Musical Visions and Life Coming Full Circle [Interview]
Kandy is the hero we all need.
Meet Kandy. If you want to get to know someone who is courageous, here he is. The Long Island DJ/Producer took a leap of faith, dropping out of school and losing friendships to follow his passion. The majority of the world's population cannot even take the first step towards a fearless move like that, which is why Kandy is such a rare and admirable individual. On top of that, he recently came out openly as gay. With a straight male dominant industry, that is bravery in its purest form. He gained major industry supporters such as Diplo, Ookay, and Marshmello, to name a few, making him a force to be reckoned with. I sat down with Kandy at EDC Las Vegas, talking about his EDM roots, future passion projects, and how to live our truths. 
EDM: What got you into the dance scene? What was the first song that made you think, "Yep this is what I want to make"?
Kandy: I think it was Laidback Luke's "Out Of The Blue" remix. I was a raver when I was younger, like 18 yrs old, and I was going to raves in Brooklyn and stuff. That was the first event I went to, and he's been my biggest inspiration for a really long time. That was definitely the turning point for me. I went home, got a laptop, and just started from there… with little shitty speakers and it's been crazy since. It's wild because he's one of my biggest supporters now. To be going to that show for the first time, to him to be one of the biggest supporters now, it's really cool.
There's a small LGBTQ community in dance music, but people like you and Griz are shifting the status quo. What was the turning point for you that gave you the courage to share who you are?
Kandy: I think it was just time for me. I was ready with myself, it was within myself, it was a fight with myself for my whole life to do it, and I have this platform… why not use it to inspire other people who are in the same exact position I was in, I know it's not the best position to be in. I want to be that voice to stand up and let people know it's okay to be yourself. I was backstage yesterday in a crop top and stuff (laughs) I just want to let people know it's okay to be yourself. The most important thing.
What positive things have changed for you in the music community since then?
Kandy: Just the support from everyone has been insane. Hundreds of messages from all over the world saying "What I'm doing is so inspiring to them, thank you" … its just been insane. I've been trying to respond to everyone you know. All of this feels right., and to have the support of artists like Diplo, Ookay, Marshmallo, and all these crazy people, its wild. I'm just looking forward to more projects I can do to help inspire kids.
So EDC is a pretty crazy festival, What's the craziest thing you've seen at a festival or show?
Kandy: (laughs) I've haven't played a lot of festivals yet this is my first EDC. I'm excited to see the reactions and what goes on. So nothing yet!
I'll ask you in a year then!
What can we look forward to in the upcoming months?
Kandy: I have a ton a music I'm gonna put out. I'm working on an EP that's about to be finished, but I'm trying to put more visually inclined things behind my music. I don't want to put just music out anymore, just because I put out this music video and the traction was really well, and the message in the music video, that's what is most important to me, having a full message behind it - not just with the music I put out but having a visual representation of it as well. It's more important to me than just putting out music. So yea I have a single I'm working on. As far as unreleased, I have a ton of it I just don't know where it's going yet. I have some collaborations with ETC!ETC! and other big-name artists and stuff.
What's one piece of advice you would give someone trying to make it in the music scene right now?
Just to lock yourself in a room. When I first started, I locked myself in a room, and I lost friendships with a lot of people. They just didn't understand it was so important to me and I love it so much. I dropped out of school and had to put everything I had into this. Just concentrate and work on making new music, be consistent, and most importantly be yourself.