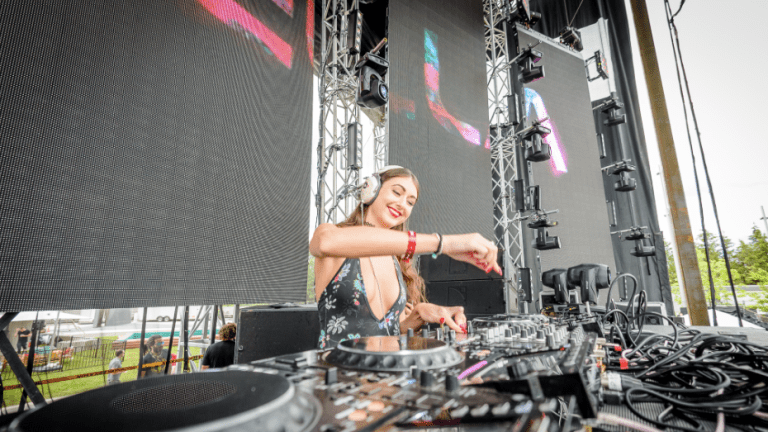 Gender Bias, Getting Booked & Social Media | A Fireside Chat With Katrella
Katrina Karyofyllis is a Canadian born DJ from Ottawa, Ontario. Now working under the name Katrella she is quickly becoming one of the most talked about, hottest, young female DJ's reining out of Canada today. Whilst in Miami, we hung out and spoke about her career within the music industry. You can listen to this episode on Spotify here.
EDM.com: First of all, thank you so much for talking to me. I appreciate it.
Katrella: You're welcome. Thank you for coming here & welcome to Miami.
Thank you. So for the people who don't know who you are, just say a little bit about you, and your origin story within the music industry.
My name is Katrina Karyofyllis (Katrella) and I'm from Ottawa, Canada. I started DJ'ing when I was 19 in Montreal. I went to a lot of shows & parties, and met a lot of DJs. I asked them to teach me. So I went home, bought some equipment & started learning. I graduated college around that time and spent a lot of time just working on music.
Wow. Did you always want to become a DJ? I can see some equipment here in the background.
I was playing around a little bit before you got here. No It was never even a thought for me. I just loved music. But we'd always end up in the DJ booth, and I'd try to see what they were doing. 
So you were interested.
Yeah, that's where it began for me. When I got my equipment, I did house parties, clubs etc.
You've obviously become quite successful so far. What are your ambitions for the future?
Bigger shows. More music releases. Bigger labels. Traveling more. That's the end goal for a lot of DJs. There's nothing specific. But big festivals for sure. I also love doing more underground clubs. I just wanna travel and do as many shows as possible.
Where are some places you wanna visit?
I wanna DJ more in Europe! The parties are crazy so I'd love to go over there. I've done a lot of South America & the USA, Canada etc. But I wanna go to that part of the world for sure.
As you know, within the music industry there's a bit of criticism towards females who DJ, or do whatever role they choose. What are your thoughts on that?
It's actually been a big issue for me before. I wrote an article about it but I never released it as it bothered me so much. People would ask what it's like being a female DJ, or wanted to book me because I was a girl. We're not female DJs. We're DJs & producers. We're not incapable of using computers. I don't know why that's a thing.
There's so many jobs which have male & female roles within them. To think that it's not generally accepted within the music industry is quite ridiculous.
Exactly. Artists are artists. It's nothing to do with being female or male. It's unprofessional.
That's the music industry in general though. Some people are just dickheads.
Hahaha exactly.
Social media is becoming important within the music industry. What platforms are you on right now?
I mostly use Instagram and Facebook. I feel Snapchat has gone downhill since they made those changes. Twitter I don't use much but I feel like it's making a comeback. 
I agree.
For music I use Spotify, Soundcloud, Apple Music etc. You can find me anywhere.
What advice do you have for people wanting to get multiple shows?
For me, it's mostly knowing people & proving yourself. I had to prove myself to get those shows. It wasn't easy at first. But once people start taking you seriously, you gain their respect & you get the shows. You gotta be good though.
You said that music is a passion of yours. Will that continue?
Music is the only option for me... I've always been into music and I feel like that will never change.
We're currently in Miami. What do you think is important when networking within a city?
Go to as many things as possible as there's often a lot going on. There's people everywhere. Go to different events & meet as many people as possible. 
This is  a question that I ask at the end of every single interview I do. If the world was to end tomorrow, what would you want future generations to remember you by?
By my music. Hopefully someone stumbles upon my music and says "Damn, that Katrella was good". Or if they had been to a show, I hope they liked it & had a good time. You don't realize how much you affect people when on stage or putting out music. It makes you feel so good. That's the best part for sure.
I totally agree with you. At EDM.com, I've written a few articles. We've got a couple million followers. I get tonnes of messages saying "you helped my career so much & now I'm doing music full-time". It's like Woahhh. 
When they make it personal, it's like "wow I did that". 
The impact you can have on people is pretty amazing. It was great talking to you. I appreciate it.
Thank you.