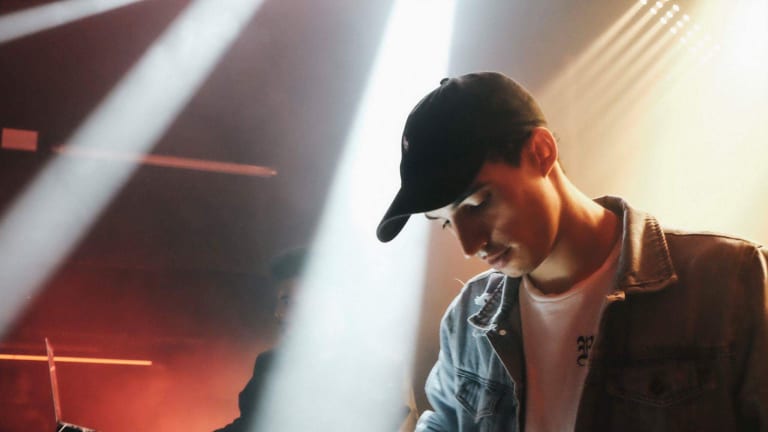 Underground Talent KAYLOO Is Crafting His Own Path with Epic Productions [INTERVIEW]
Keep an eye on this up-and-coming producer!
Oftentimes, we all discover new music that is just doing it for us in all aspects. Everything just sounds too right, and without knowing why that is, we keep having it on repeat. French producer KAYLOO's music definitely has the potential to hit that spot; it might get you in a mood where you just can't get enough of it.
The talented artist, real name Lucas Rousseau, got his start a couple years ago on Soundcloud, with instrumental releases blending epic synths and melodies with hard bass and crazy percussions. Although he released most of his work on his own, he quickly got the attention of eclectic Singapore-based collective DARKER THAN WAX, that acted as an outlet for him to further spread his addicting music on the internet.
And that's the thing with KAYLOO, you can't really categorize his music into one genre, as it draws influences from a lot of places, and most importantly it provokes mixed emotions. His unique combination of bass and melodic elements prevents you from categorizing most of his tracks into moody or bright, hard or chill, as the elements blend with each other into an epic sonic journey.
We had the pleasure of talking to KAYLOO and his manager Edouard about his progression to where he is now, touring and Soundcloud:
EDM.com: Who is KAYLOO? Give is a short intro and some info about yourself. 
KAYLOO: My name is Lucas, I'm 24 years old and I produce music under the name of KAYLOO. I live in a city called Chambery, it's near Lyon actually. I was born in La Rochelle, and ever since I was little I used to travel a lot, something that I have never stopped, so I naturally feel at home everywhere. And it's the same with my music, it's really eclectic and I feel at home in almost every genre of music. I'm eclectic in general with a lot of things and Iove a lot of things in life, and I think you can feel that with my music; not always happiness but a lot of hope and a lot of love (laughs). I can't really describe my music, but it has trappy drums, a lot of melodies and a lot of good bass; it's chill but sometimes it's also kind of hard.
Edouard, how/when did you and KAYLOO meet? How did you make the decision to work with him in order to step up his career? 
Edouard: Lucas and I met at the end of 2014, I was working in a booking agency in the South of France, and I discovered his music through Soundcloud; he had only 2 tracks released at this time. As I was evolving in the agency I decided to develop my own roster of artists which is why I contacted him. I started building European tours for artists like Da-P (Soulection) and High Klassified and made Kayloo tour in several countries like Italy, Germany, France, Belgium... At the beginning, our relationship was strictly professional but we fast became very good friends so I was naturally interested in his project and wanted to help him push his music further.
What inspired you and led you to start producing Lucas? 
KAYLOO: It first happened when I was 17, I came back from school and was just chilling and watching videos on Youtube as I stumbled upon a tutorial of a guy that was explaining how he made a song on a software. That was actually the first time I got interested in it, and I was like "fuck, I wasted like half my life not knowing this" because I was sure I'd be good at it. Then I just ran to the only music store in my town and got myself a MIDI and a synth, cracked a software and just started to mess with it. I wrote some awful tracks I was really happy with and then I started learning a lot of tricks about composition and mixing and mastering etc. I've only been taking music seriously since I was 20 though.
How do you feel your style has changed and progressed throughout the years? 
KAYLOO: That's a super tough question to answer actually (laughs). I guess I've become better in general, in terms of mixing, mastering, and composition. I have a ton of ideas and production techniques, and what I've done throughout the years is keep the best and try to perfect them, and they have basically led me to my style. What I've come to notice is that my best songs are the ones that are pretty simple and don't have many things happening at the same time.
Talk to us a bit about your touring experience. What were some of your favorite shows? What did you learn on your time touring? 
KAYLOO: Thanks to my manager Edward and the label DARKER THAN WAX, I've played pretty much all around Europe. A city I really liked was Berlin; the people are super open to new stuff there, and it's the same in the Netherlands as well. Tthe best show I've ever had however was in Montpelier; there were a lot of people, the vibes were great and I was with my manager and all my friends as well. The main thing I've learned from touring is just to stay humble and really appreciate the moment; not every artist really realizes the fact that you have people welcoming you to their show and taking care of you. I've learned to really appreciate that, and every show I've had abroad has been an amazing experience; never had a bad experience at all.
What's your biggest goal when it comes to your career in music? 
KAYLOO: Depends on what you really mean by "goal". My goal right now is to just be able to live well off of music because honestly I'm still kinda hustling. My ultimate goal, however, is to not only be seen as a producer, a guy sitting behind his computer making beats but as an artist as well; I don't really feel like I make beats, I feel like I make songs. So I basically want to live off of music, work on it every day and get the chance to collaborate and work with a ton of people that I admire. 
What are some things that you couldn't even have imagined, but have accomplished so far in your music journey? 
KAYLOO: It's funny, because back when I started making music I was really hard on myself. It was just a hobby and it took me a lot of time to really accept myself and put me in a position where I'm able to make music full time. It was really hard for me, so the answer to this question is pretty much everything. Even to this day, I'm surprised all the time with the things that are happening to me; shows, crazy opportunities and working with people I used to listen to back in the day.
What are some secret talents you have outside of music that everyone should know about? 
KAYLOO: Uummm, I don't know... I'm really good at climbing stuff and I'm a really good video game player as well (laughs). I know that doesn't sound exciting or epic at all but yeah, there are not that many talents I have outside of music.
Any super talented Soundcloud producer friends? Shout them out also stating why. 
KAYLOO: Definitely, there's KA-YU, he's a really good producer. There's my brother silo from DARKER THAN WAX, he's a really dope producer from Belgium. There's also this guy be.dar, he's from France as well and he's a really talented dude. I know all these guys personally, and they are the coolest dudes. Some more of my favorite artists are High Klassified, TEK.LUN and definitely Medasin. 
As a producer that has mainly relied on Soundcloud to build his career and expand his network, how do you feel the platform has changed over the last years, and how have these changes affected you? 
KAYLOO: I think we can all agree that a lot of people left Soundcloud like 1,5-2 years ago, and even I kind of stopped using Soundcloud for a year, and when I came back to it I found it was really hard to get exposure. In my opinion, one of the main reasons is that a lot of people have changed the way they listen to music, myself included. A lot of people who were using Soundcloud for just discovering music left and these people were pretty much the majority of the platform. All you're left with is still a strong community, but that's just the veterans; Soundcloud's casual listeners have moved to Spotify and Youtube.
Follow KAYLOO:
Facebook: https://www.facebook.com/kayloomusic
Instagram: https://www.instagram.com/kayloo.music
Twitter: https://twitter.com/kayloomusic
Soundcloud: https://soundcloud.com/kayloo-sound