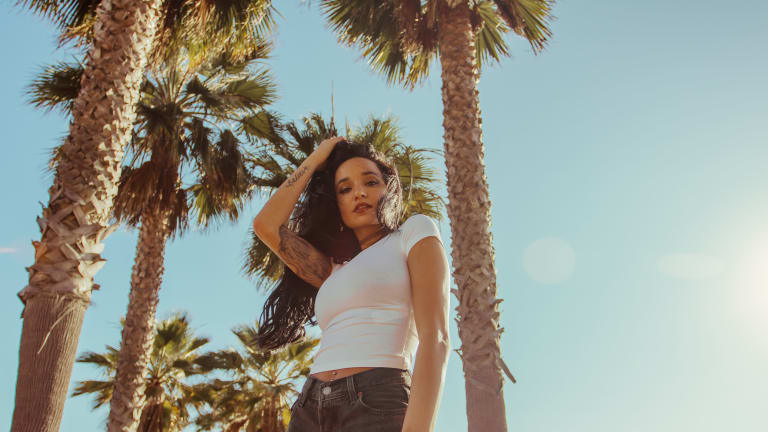 KENZI SWAY is on a Mission to "Annihilate" with Bass
KENZI SWAY talked about "Annihilate," her radio show and more in her exclusive interview with EDM.com.
Straight out of Dallas, Texas, KENZI SWAY (real name Kenzie Julia Suarez) is a former cheerleader and nursing student who was struck by a genuine musical epiphany and switched gears into crafting some of the most fearsome and malevolent dubstep heard this side of Hades. 
Her newest release, the menacing and darkly cinematic "Annihilate," builds frantically until it explodes in a melancholy fury of blazing synths and lurching chords. Just when you think it's safe to open your eyes KENZI SWAY swoops in for the kill, leaving bass music lovers screaming for more.
In an exclusive interview with EDM.com, KENZI SWAY talked about "Annihilate," her radio show Beauty & the Bass with DASH Radio and JACK'D UP Radio, and her upcoming show in Brooklyn with Holy Goof and Proper Villains. To hear more from Kenzie herself, check out the full interview below.
Exclusive KENZI SWAY interview with EDM.com:
We're really digging "Dooms Day!" How did you come up with this track? We know it's not your latest release, but is it one of your favorites?
KENZI SWAY: Thank you! "Dooms Day" is the fan-favorite so far. Yes, it is one of my favorites because it was the first track that people started to catch on to my style and understanding and respecting me as a producer.

Tell us about "Annihilate," your new release. How did you create/write this one?
Annihilate," and sort of like "Dooms Day," both represent evolving artists trying to express themselves and trying to make their mark in this world. "Dooms Day" was my portal into producing. "Annihilate" is sort of like, " Now that I've got your attention, let me show you what I can do!" It's a very aggressive track that I think speaks for itself.
You're a very attractive young woman, obviously, yet your music and even track titles have an apocalyptic nature to them. What's that about?
Am I supposed to like flowers and unicorns and hearts and "top 40" love songs because I'm a female? Maybe. But do I like those things? Hell no! [laughs] Fun fact: I hate the color pink. To address the apocalyptic part, I find beauty in darkness. I love how something so dark can also be so beautiful. It speaks volumes when someone is able to express themselves through their art form whether it be music or painting or whatever. I'm an edgy girl who loves wearing black, riding motorcycles, speaking her mind (through my music and track titles sometimes) and listening to dubstep.

Do you agree that it shows an artist's wide range of skills when he/she produces music of different genres? Do you think that sticking to one genre pigeonholes an artist into one narrow category without letting people see the full range of that artist's skills? 
I respect artists who play multiple genres. I do not feel I am any less skilled because I choose to play the genre I'm passionate about. While I have the ability to play multiple genres, dubstep is my passion and at this point in my life, that is what I choose to play! It's like telling a musician that has the ability to play every instrument that he is not as skilled because he only chooses to perform the guitar when he is proficient in every instrument.
You have a show coming up at Schimanski in Brooklyn with Holy Goof and Proper Villains on August 2nd, 2019! We love Schimaski, great room. Is this your first NYC show? What can fans expect to hear?
Yes, this is my first show on the East Coast! I'm really excited although I know Brooklyn is a bass house sort of city, so I hear. I'm supporting Holy Goof so I have to respect his fans and play some bass house, but I'm really thankful to have the opportunity! Definitely, expect to hear some newly released KENZI SWAY tracks for sure.

You have a weekly radio show on DASH RADIO's ElectroCity and JACK'D UP RADIO called KENZI SWAY's "Beauty & The Bass." Cute name! How do you go about programming your radio show each week? 
I honestly don't plan out those sets. I play what I feel at the time. I play things I like, things that are hot right now, and I always incorporate my own music into those mixes. Those are meant to be fun and upbeat and hopefully get those listeners to come back for more!
Do you produce all your own music? Do you work with anyone in the recording studio? 
Yes, I produce all of my own tracks, is there even another answer? I think I get asked that question more than any other when I say I produce. I do not have ghost producers or someone writing for me. I write, record, create, release, engineer, master and mix all of my own tracks.
Holy Goof's latest release is a remix of NGHTMRE featuring A$AP Ferg's "Redlight" via Ultra Music. What's your take on it?
I love it! Duh! I eat sleep and breathe trap music and I love that he has taken one of my favorite songs and created a bass house version. It slaps for sure.
Proper Villains' latest release is: Proper Villians, Nuff Gal E.P. (Holy Mole). How do you like that one?
Super catchy. I actually added it to my Spotify playlist the other day and my mom and I were jamming out next to the pool. It got our hips moving. I love that. Well done!
Get tickets to see KENZI SWAY with Holy Goof and Proper Villians on 2nd.
Don't forget to catch KENZI SWAY's Beauty & The Bass weekly radio show on DASH Radio's ElectroCity and JACK'D UP Radio.
FOLLOW KENZI SWAY:
Facebook: facebook.com/pg/kenzisway
Instagram: instagram.com/kenzisway
Twitter: twitter.com/kenzisway
Soundcloud: soundcloud.com/kenzisway