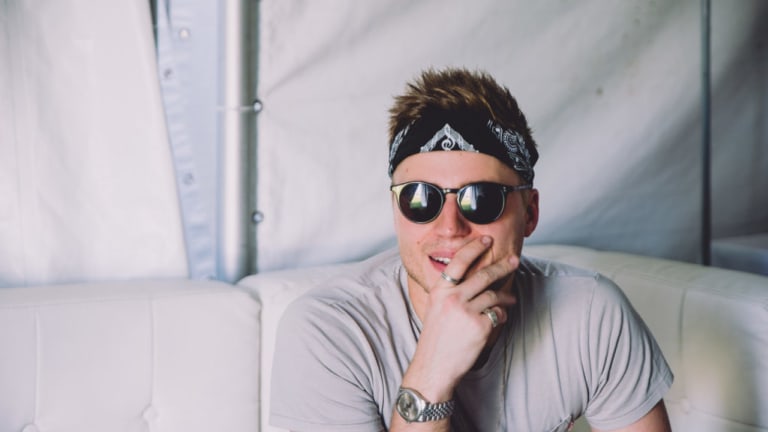 Tropical House Pioneer Klingande Takes Us Behind His Music and Live Shows [Interview]
Klingande still makes waves with his largely instrumental brand of tropical and melodic house.
Dedicated to producing unusual and mesmerizing soundscapes, Cedric Steinmyller - better known as French DJ Klingande - continues to set himself apart from those in the tropical house genre.
Big names like Robin Schulz, Kygo and Sam Feldt have obviously dominated, but live performances are where Steinmyller truly shines. At each and every show at least one musician plays alongside him, without a doubt, enhancing the whole concert experience. 
Currently on his North American fall tour, Klingande is bringing these musically epic performances to his fans. In our interview, he tells us what goes into these shows, and how he got into the genre, and how he became one of its pioneers.
EDM.com: One of your most recent stops was BangOn! NYC's Warehouse of Horrors. What was it like playing at one of the most epic Halloween parties in the city and was there one part of the night that really stuck out for you?
Klingande: I always come to North America around Halloween. I love those parties, so I was really happy to be a part of this year's Warehouse of Horrors edition. There was fire FX around me on stage, so what stuck out for me was all the fire. It was a really great night!
Since it was Halloween, did you dress up as anything for the show? 
I have to admit, I didn't dress up. I did it once for Laidback Luke's party. It was in Vegas I think, and I dressed in a Jedi costume. That's the only time I dressed up for a party that I was playing.
Growing up did you always want to be a DJ/producer or did you pursue another career?
I was studying marketing when my career really began, but I've always been passionate about music since I was young. I learned piano, DJing and production - and I'm still learning! I was dreaming about being a musician in some way. I didn't know it was going to be a DJ/Producer, but all of the steps I followed brought me to this.
What was the first EDM song you've ever listened to, and what made you decide to pursue a career in music instead?
I can't remember the first song, but what brought me into EDM was definitely all the vibes from Swedish House Mafia, Avicii and Eric Prydz. All of their music really made me want to DJ and learn more about production. It was after I spent one year in London studying production that my music spectrum really exploded and I discovered deep house, though. I remember especially Klangkarussell really touched me back in the day. I mixed all these influences and inspirations in my music.
Some people actually mistake you as being Swedish because of how big of a fan you are of Swedish things. Do you get a kick out of that and do you secretly wish you were Swedish instead of French?
Ahah no I'm French and proud to be. It's true I'm a fan of everything Sweden has to offer. They have amazing artists like I mentioned and I'm very inspired by their society, their culture, and their environment.
You're one of the pioneers of the tropical house subgenre. When you were making your first track, "Jubel," what kind of sound were you going for initially? How'd you fall into this melodic and tropical sound?
It's true, I was at the very beginning of all of this with a few artists like Bakermat. It was still very new when I released "Punga" and "Jubel." It was a very exciting period in electronic music and the deep house subgenre.
I was actually really inspired by the sax Bakermat put in his song, and I was trying to mix my melodic influences with progressive and deep house influences like Klangkarussell ("Sonnentanz" was and still is one of my favorite songs). I then followed my tastes and intuition. 
When you set out to make new music like your recent Broken Back collaboration, "Wonders," do you naturally start off making something tropical sounding? How does the creative process go?
It really depends. For "Wonders," Broken Back sent me the song. We've stayed in touch since "Riva," and he came back to me with a few songs. I really loved "Wonders" because of its vibe and message, so I said "let's do it together."
I also work a lot during in-studio writing sessions – that's what I'm doing for my album coming out next year. Most of the album will be songs we wrote and produced with different writers, producers and singers in sessions I've done since April. So, sometimes people send me songs that I really click with and sometimes I write and produce it from scratch!
How different was it working with Broken Back on "Riva (Restart The Game)" in 2015 as compared to now?
We grew up and learned a lot. I think we worked on "Wonders" much faster than we did on "Riva" because we have a much better understanding of how the other person works creatively.
We hear you like to experiment with and use a lot of plugins. What are some of your favorite ones and why? Is there one you tend to use in every song?
Yes, that's true. I like to discover new plugins; same with hardware. I'm always looking for new things to learn. I'm a huge fan of UAD plugin for mixing my tracks and my favorite synths are Sylenth1, Spire and Omnisphere.
When tropical house was starting out, what really set you apart from some other DJs was your use of saxophones, pianos and guitars. What drew you to those instruments?
I think that's my pop, folk and blues influences. I always loved melodies and acoustic sounds and I wanted to add this warm feeling of acoustic instruments in my music. So I looked for saxophones, harmonicas, violins, pianos and guitars. That's something I really care about in all my music. 
Is there an instrument you always wanted to learn or would like to learn next?
I'd love to learn guitar. I bought one and I have to start working on it now!
You really do a great job of enhancing your shows with live saxophone, violin and guitar performances. How do you go about preparing for those kinds of shows as opposed to a DJ set? Which do you prefer more?
Yes, of course. We had rehearsals at the beginning of the year in San Francisco with the team. We worked on the track selection, looked for arrangements we could do with my musicians, and built the show. It was tricky because not all of the music fit with live instruments and we were really looking for additional arrangements that would bring something more. That's why the core of the show is the same all season and we can't change it all the time. But thanks to my great musicians, Arnold Pol and Renato Marquez, we can always add new songs to the show. They can learn parts and create some really quickly. My rule is to never do DJ sets alone, I always have at least one musician with me.
So what's next for Klingande after this tour? Any new tracks coming out that you can tell us about?
After this tour I'll be back home and stopping everything to focus on finalizing my album. The first single comes out early 2019.
Follow Klingande:
Website: klingandemusic.com
Facebook: facebook.com/Klingande
Twitter: twitter.com/KlingandeMusic
Instagram: @klingandemusic
Soundcloud: soundcloud.com/klingande