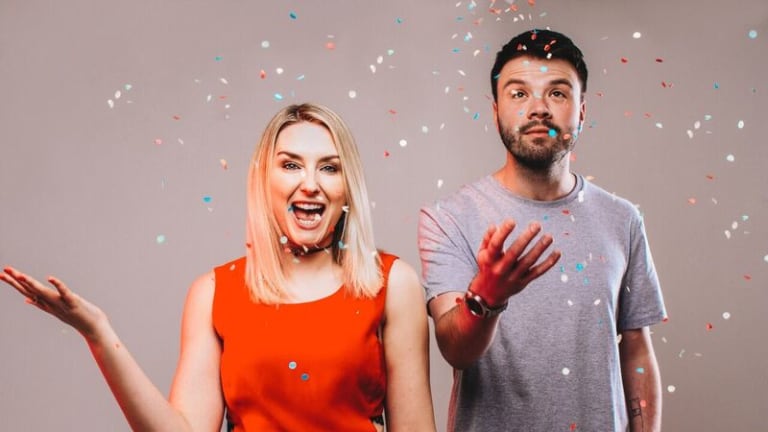 We Get Up Close and Personal With KOVEN [Interview]
We hear the 'Voices' behind the duo
We had the pleasure to chat with UK duo Koven for an interview in lew of their upcoming release 'Voices', in which they took to the internet to give fans the opportunity to record their vocals and send them in to be featured on the track! They're flying high of the success of their latest track 'Board Game' so we thought no better time than the present then to pick their brains and see what Koven is all about.
Check out the interview here:
EDM.com: Your song "Board Game" has almost a 100,000 plays on Soundcloud in only 20 days! How long did it take you to make this hit?
Koven: "This was actually one of our longest records to make actually, but only because we had the demo version for so long and new our situation and timing wasn't right for it to be a single. We sat on it for awhile and then went back to it once we knew we began writing the EP for Monstercat because we knew it would be a good fit. It's probably over 2 years old now - but we are so happy with how it's being received!"
You're known for your transcendent melodies and powerhouse vocals, and "Board Game" delivers that with powerhouse bass. When developing your style, how do you think you landed where you are today?
"I think its just a combination of the music both myself and Max like to make and listen to. I personally have such a range of taste in music, I love going to drum and bass events and raving my butt off on the dance floor, but I also like to listen to real emotional music and have a good cry, haha. I love dramatic music, with strings but also love a heavy drop, so we enjoy mixing the two."
With a song like 'Board Game' do you tend to create the lyrics or the beat first?
"This was an instrumental first track. Some of our songs work that way round where we might write lyrics or I might send awful piano chords with vocals over to Max as a real early demo that somehow turns into something amazing, but sometimes Max starts a really cool instrumental track and we'll fit the vocals in somewhere - board game is the latter"
The idea of doing a group harmony for your new track 'Voices' is so creative! Where did you get the idea?
"I believe it was our manager's suggestion, he sent over an example of a track that had a really cool group singing section, but then I think it was Max's idea to reach out to eh Monstercat fans to get involved. Basically, I had nothing to do with it - but I will gladly take full credit."
Meshing together all these voices from around the world seems like it's going to be no easy feat. What is the process to make everything sound cohesive?
"We were concerned it would be a really long and difficult process and there would be lots of autotuning required but we were so pleased with the amount of really strong vocals that it hasn't been that bad at all"
Looking forward to 2018 and on, what are you most excited about moving forward?
"We've got some awesome shows coming up, playing one of our absolute favorite festivals in Holland - Liquicity and also Supporting Seven Lions in our hometown London, but most importantly we are already in the process of making our first official artist album, which is already coming together really nicely. So excited for that!"
Since we're on the topic of 'Board Game', what is your favorite board game? Who is more competitive between the two of you?
"I have a love-hate relationship with Monopoly, I love it but only when I win. I'm not an overly competitive person but I've gone through my whole life winning almost every game of monopoly I play so when I lose on the rare occasion I hate it! I don't think either myself or Max are competitive but if I had to say who was more so it would probably be me because Max is just super chilled out with that sort of thing."

If you were a pizza, what flavor would you be and why?
"Well I'm currently trying to cut down/cut out meat, its a long and hard process but for this reason, I'd be a plain cheese and tomato pizza"

Well, there you have it ladies and gents!
Check out the duo's latest track 'Board Game' here and make sure to be on the lookout for when 'Voices' is released: