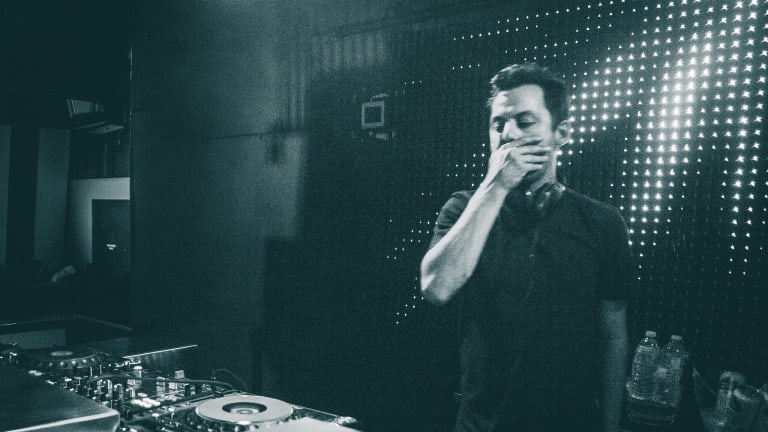 KRANE Releases Stellar Debut Album 'Fallout' and Talks About His Story, Aesthetics & More [INTERVIEW]
This album is proof of why KRANE is one of bass music's finest.
KRANE as an artist and producer has always earned my respect. Ever since I discovered his music a couple years ago, he has blown me away with his colorful productions, combining electronic elements with his own Jazz and Hip-Hop influences. His diversity lets him create playful textures that never sound the same - as he's continuously jumping from club-destroying bangers to melodic and emotional hits - but always maintain the classic KRANE touch all throughout.
The thing however that allows KRANE to truly stand out is his constant involvement with the producer community. His Sessions project serves as his own imprint and a way for him to collaborate with a handful of up-and-coming producers at a time, releasing EP's that help put their name into the spotlight.

He is also a frequent collaborator to the innovative producer platform Splice, where he runs remix competitions, gives out project files for free and releases his famous KRANE Samples.
The 27th of October was one of the most important days of KRANE's career, as it marks the release of his debut album Fallout, a collection of 10 tracks that truly have him showcase his full potential as a producer.
The central feel of the album is epic and grandiose yet apocalyptic, but diving in track by track one can truly feel the diversity of the project.

Melodic tracks such as "Feel It" featuring CXLOE & Khamsin and "Titan" featuring Noah van Lith utilize vocals or gorgeous atmospheres to build up the tension, before exploding into breathtaking synth works. "Hollow" with bass heavy duo Slumberjack and "Monarch" with MYRNE lean towards the heavier side, bringing in the middle eastern melodies, while "PCP" feat. Nick Row and "Forgotten" with graves are straight up club-destroying bangers.
This is what KRANE had to say about the album:
So FALLOUT is finished, done and out. But as I step back, I am naturally ambivalent: proud and insecure, excited and apprehensive, like a proud parent watching his baby all grown up, but leaving the nest and protection of home.
Much of my personal sound and background, developed over the years of listening to and creating music, is represented in this album. It also draws widely from not only music, but also the aesthetics of movies, television and literature I love. But FALLOUT is as much a celebration of where my sound is today as it is a recognition that I will leave part of it behind now that this album is in the wild. After putting together this collection, I know I cannot repeat it, and I have to say good bye to part of myself as a producer in pursuit of newness. That is a source of ambivalence- the pride in sharing something I've put so much into, and the recognition that by putting these parts of myself out into the world, I have to let them go now.
But this is the welcomed aftereffect of pouring so much time and energy into this music. I know that by sharing this body of music with you, I am demolishing part of myself as a producer so I can reinvent myself again, and again.
Overall, Fallout is everything a fan could expect from a full-length KRANE project; just bigger, better and more mature than ever.

We got the chance to connect with KRANE and talk about the story behind the album, his involvement with the producer community and future plans among other things.
EDM.com: Even though it has your signature sound on it, Fallout doesn't bear a large resemblance to your previous works in terms of aesthetic. What was the thought process behind the progression to this cinematic and epic audio soundscape, and since every album has a story, what's the story behind this album?

KRANE: As far as the sound of it, I'm always writing music and sketching out ideas, so I have like hundreds of rough ideas laying around. It first started as an EP and came about pretty organically, as I started flagging out just some songs that stood out to me in terms of the mood I was going for: something a little more cinematic, and something that would draw people in not just on their headphones, but for the live show as well, where I love to create more of a narrative. So putting together the album was also about this; creating some peaks and valleys in the live show.
The EP started as just a few tracks, and it just kept growing as I glomped onto this aesthetic to the point where I had enough tracks to be like: "well, I guess this is an album". So there wasn't a lot of intent on my part, and I don't really work that way, I rarely sit down and say: "ok this is the kind of song I wanna make and then execute it", for me it's more about control and chaos of just making lots of different ideas and then taking a step back and pulling out the songs, the parts or even the little stems that really grab me. In the process a lot of content gets made; I was working on two different albums and sounds at the same time, and I had to kind of set the other one down to finish this one. The story behind it is that I've never put out so much music at once, and I think people know me as a producer that works quickly and is always putting out new singles. I wanted to really pull together one sound so I can put it out, and then doing so also say goodbye to it; cause when I drop an album like this, I cant come back after 6 months and drop another collection of songs that sound like they should have been on it.
It's a little stressful because you work hard in developing a certain sound, but by putting together an album using that sound, you then have to let it go; which is also exciting. So that was the general theme behind Fallout; thinking about the consequences of putting together this album by taking a lot of elements from previous songs and things people have come to know me by.
Fallout is stacked with collaborations; producers such as MYRNE, graves, Slumberjack and QUIX, as well as many singers. As a producer who has released a large number of collabs in general, what is your usual approach to them? Is it all about the musical chemistry, or do you need to have a personal connection with the artist?

Having a personal connection is nice, but I definitely don't need it. Some of these collaborations were made having very little personal communication, for example, Slumberjack; I got to chat with them a little bit, but I've never really hung out with them as we started talking a week before "Hollow" was done. When it came time to work, it was just sending the project back and forth and providing input, it was really just about seeing how quickly we can work and get the song to a place where we were really proud of it.
There are completely opposite scenarios too, but I think for me what's important in a collaboration - most and foremost - has to do with 1: the person being passionate about the song and about their craft and 2: being open and flexible; a really good collaborator comes into the process with an openness and knowledge that the song is gonna go somewhere you couldn't take it by yourself. It's important to realize that if you put a big amount of work into a certain idea and the other person deletes half of it if those were really important ideas for you, take them and start a new song. It's all about being open to what the other person brings to take the song somewhere you wouldn't have expected, otherwise, you should have just made it on your own.
And how do you work things out from the first idea up to the eventual release?

All the songs that were collaborations, for the most part, started with an idea that I had, or maybe I have a few ideas with a specific producer in mind that I then sent over. I find it really effective to be able to just send something, and it's possible that the collaborator will hear what you send them, and the only thing that they'll want to keep are the drums or the specific lead sound, but that's ok, because having something - even if that's something to delete - is 1000 times better than having nothing.
Some tracks on this album were less collaborative, they were like: I have pretty much created the whole song and there might be some parts that were a little bit empty that I was looking for input on. That's when the producers provided ideas that I then took and used in the song, but these were things that I wouldn't have done by myself, so I'm not taking credit for most of the song by no means. I think the value of the collaboration and the collaborator's input is not how much time or how many samples they stick into your song; sometimes it's actually just what they delete and it's that one melodic idea or that sample that's really special and that people are gonna remember afterward. I'm super grateful for all the parts and all the time that people have contributed to this album, and that's also very me: someone who likes to work collaboratively a lot, and then likes to show that off instead of trying to hide it and create this illusion that I did it all by myself. I want to be known as a producer, but also someone who always brought people together to create something.
I read somewhere that you were working a 9 to 5 job, and resigned in order to pursue music full time. How did you manage to make that decision?

Well, this was a hard decision to figure out: when to do the investments and when to take the hits financially to then being able to do this full time, and that was just for me because it did involve a sacrifice. I was doing it on the side; producing and playing shows, and I had to think very carefully about when I had saved up enough and felt comfortable investing my time and money into doing this full time, as well as the time limit. I gave myself a year, and if in a year I was not confident that I was not making the amount of money to subsist, then I would go back to work or figure out something else. I'm super grateful that I haven't had to yet, and it's ok to not know what the future is going to be like.
Many people are in a similar position where they are pressured by society to follow a conventional career path, so what would be your advice to someone struggling to decide between a conventional and a creative career?

What I would advise other people is that it's a very personal decision, and it will almost always involve some degree of sacrifice. So I've always said that you won't regret trying and failing, and you can set up some boundaries to know when your limit is; when you should go back and start working again or find some other income source. You'll feel that "well now I know", and there's a lot of calm you can get from at least knowing. For me the most stressful time was not when I quit my job, it was going to my job knowing there was something else I wanted to do more, but I wasn't certain if I could do it or if I had the courage to go try, and that feels 100 times worse. It's still stressful when thinking about what the future will be like anytime you're self-employed, but at least I have this confidence that I'm trying it and if it doesn't work out it won't be because I didn't give it my best shot.
And, you know, when you decide to turn your hobby and your passion into your job, you are now part of the 1 percenters, and even when it's hard, even when I'm just tired of all the flights or things aren't going my way and I'm frustrated; these are some 1 percenter problems, as 99% of the world does not get to take their hobby and turn it into a job. For most people, their hobbies are not even something someone would pay them to do. Being able to take something you wanna do in your free time and make it your job is a very privileged place to be, so that is something I always remind myself, because there are parts of this job that are very much work, and there are times where I've just hit my personal limit. However that happened in my last career too; it's just that with this one I can take a step back and be like: "you know, I really did choose this, I don't do this just to get a paycheck, I didn't get pressured into this by my family or because society expects me to do something like this." So even when it's hard, just knowing that it's 100% your choice is a very liberating feeling and it makes all those hard times half as hard. 
Since your career started taking off you've been touring heavily, playing shows with the likes of NGHTMRE and Slander, as well as festivals such as Coachella. How do you cope with finding time to write music on the road?

Well, it's not coping to me at all, it all comes down to your process. I know some people that really need to have their gear to be able to produce, and that's great for them; it's just that they need to set aside as much time as possible for them to be in that context. I personally started doing this when I had a job, so I felt really comfortable with my headphones and my laptop working on the bus, or hopping into a cafe on my lunch break. That's just my process though, gear is great and always nice to have; it's just not a requirement for me, as I believe it's all about your workflow. The way I work is like having a sketchbook vs making a really nice and complex painting of someone that's sitting there still for you. I'll hop into a cafe and just start dropping samples and doing random shit; I have no expectation that this is going to be the best song I've ever made. I just start sketching, and after I've made 10 or 20 of those sketches, I have at least one thing where I'm like "oh there's something there", so I come back to that later and elevate it.
And where do you find all that inspiration that allows you to be constantly creating so much music?

I listen to all kinds of music and I guess that's inspiring in its own ways, but most of the time I just find inspiration in the creation process. Half the time I don't really have an idea of what I want to make when I start producing, so the process itself becomes inspiring. As you start designing some sounds or dropping samples in, ideas just come up, and I think in those moments it's all about being open, and not getting attached to anything while you're in that sketching phase, If you're just open, unexpected things happen and then suddenly you're super inspired. I know it can be hard for people to delete stuff, I know it can be hard to make a song and then quickly move on to the next idea, but I try to force myself to do that a lot. The more you practice creating an idea and then moving on completely without completing it, the more you are going to learn how to not be precious about things, cause when you're precious about something, you might chase down and try to finish a song that in the end might not even be that good.
Your release covers have always been stunning and have had an interesting aesthetic. I know you've been doing them yourself, and teamed up with some more visual artists for the covers of Fallout. Why do you think a music piece cover is so important? A number of people believe that in terms of marketing, the cover is even more important than the actual music. What are your thoughts?

Well, there's no way to say if it's more important or not, but it definitely is important not only stressing out about the cover but also about the whole brand identity and the impression that it makes. You have to remember that when there's someone ingesting your music, there are all these subconscious cues that you're giving them about what your music and brand are and you can never really know how they're reading your brand and how they are receiving your art, but I just try to take time and consider it really thoroughly and to do something that just feels right for me. It's really hard to let someone else to really create that visual identity, and this was the first time that I worked with some visual artists that weren't me. I was still very involved in the art direction, but I wanted to try that out because some of the scenes that I had in my mind weren't things I could easily do myself because I'm a 2D artist and not a 3D artist. Part of me still wishes I did it all by myself, but I appreciate the work that these people put in and it was also a big learning experience.
Ever since you started out, you have been super supportive to the producer community – putting out all these sample packs, teaming up with Splice to give out the project of "Spells" w/ graves and doing a remix competition of "Right Here" with Keys N Krates. And most importantly, running your collaborative Sessions project. Why do you feel it's so important for a producer to give back to the producer community, and how do you plan on continuing to do that?

I don't think it's important to do it, for me it's just what I want to do and it makes me happy. If it didn't I probably wouldn't do it just out of obligation. The Sessions thing is really fun; in this last round I had like 1000 people submit, and I get to listen to some amazing music from some people that barely anyone's heard of, I get to listen to some not so awesome music that is also really interesting to listen to, and then I get to work on a selection of amazing songs that these people are excited to donate in a way. I know they get stuff in return like seeing how I work and getting some more exposure, and I try to make sure it's a worthwhile trade, but I get to work on their music and that's a privilege to me, it doesn't matter if you have half a million followers or 5 followers, a good song is a good song. As a producer, you're lucky when someone sends you a cool song and you get to work on it.
In terms of giving away project files on Splice, that's really no big deal. I don't have any secrets about how I make music, and if the quality of my music relied on me not showing people how I made it, I wouldn't last very long as a producer. I hope my music is enjoyed by people based on the songwriting and the composition more so than how I did this one thing with my synth that you don't know how to do. People will always figure production stuff out, so there's no need for me to hide it; and if people appreciate me giving it out, then why shouldn't I. So I don't think showing people how I do things takes away from what I do by any means, but a lot of producers are afraid of that for sure. My music is gonna sound like me because it's me, and no matter how much I show you my patches and my samples etc, you'll never make music like me, and I'll never make music like any other producer, and that's cool.
And with Sessions, how do you manage to narrow 1000 songs down to the 5 best?

I really have to go with just my gut because I want to work quickly and not have all these producers sit around for months waiting for me. I want to have finished all the tracks within 2 or 3 weeks, so I have to go with not what's the best song, but what's a great song that I know straight away what I want to do with. That's just a personal thing; no one should assume that just because their song wasn't chosen, it wasn't as good as the others. The key is not to overthink it too, I hear a song that I like and I wanna work on it, so I just do it.
What hurts me however is when I see a tweet saying "oh well I didn't get chosen, but I'll make a better song next time"; and I wanna be like "no, your music is great, don't get discouraged; it's just that there's a certain amount of randomness in selecting the songs that no one can account for".
Releasing a debut album is a huge milestone for any artist. Where do you think you can move on from here? (ie. what can you tell us about your future plans in terms of sound, releases, shows, merch, new projects and anything else we should know about?)

There are a ton of things on my mind. I've already started conceptualizing the next collection of work, for which I'm going to be doing something different. It could sound a million different ways, and I have somewhat of an idea of what I wanna do with it. Ιf anything, I would describe it as more of an emphasis on overall songmanship and less songs that are arranged and composed to fit nicely with how people DJ, but I could also totally change that in like a month. I don't wanna say anything that in a month I actually disagree with, except that I'm gonna keep doing my process; I'm gonna keep trying to come up with things that are new and different and then I'm gonna sit back and see what all this means. You see, when I produce I just turn off my head, let it flow, and then I just turn it back on and look at the bigger picture; and decide on where I can take this whole thing, this whole vision.
Do you have anything else to say to your fans and anyone else reading this?

It's just a big thank you, I feel really lucky to be supported by specifically the people that listen to my music, and are open to things that might sound a little weird sometimes. If anything, I'm just grateful and I'm gonna keep trying to create more, and keep giving people more music if they enjoy it. Again, like we were talking about earlier, turning a hobby into a job is something that I'm really lucky to be able to even just try to do, so I know that the thing that enables me to do this are the people listening to my music, so, once again, I'm super grateful.
Follow KRANE
Facebook: https://www.facebook.com/krane...
Instagram: https://www.instagram.com/kran...
Soundcloud: https://soundcloud.com/krane
Twitter: https://twitter.com/KRNEmusic