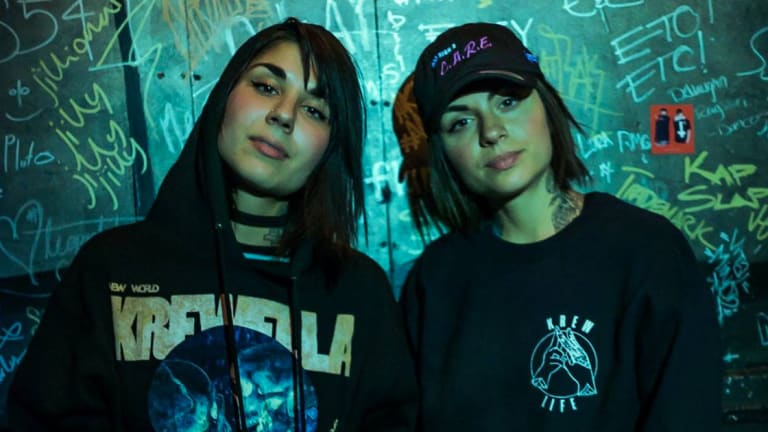 Get to Know the Sister Duo Behind Krewella in This Exclusive Video Interview [WATCH]
Krewella talk in depth about what it's like to make music and reveal their all-time favorite bands.
Stopping off in New York City on their spring tour, we got the chance to catch up with the incredibly talented sisters behind Krewella, Jahan and Yasmine, and learned more about the passion that goes into making their music, what it means to them and how they connect with their fans.
Now you can imagine how busy one would be with a nonstop cycle of being in the studio and touring (and barely sleeping), but that doesn't stop Krewella from making time for both their fans and doing various community service around the country. On this particular tour they had the opportunity to set up what they call, "KREWmmunity service events," where in certain tour locations they would volunteer together with their fans in giving back to the community, whether it was handing out food at a soup kitchen, organizing donated clothes or beautifying an area by picking up trash. 
Jahan says, "It's been really cool to see the force of our Krew. It's so strong that people would drive hours just to come to the community service even if they're not coming to the show. I think we have something really magical in that way."
Having a super dedicated and helpful fan base like that, it's no doubt that the sisters are not only great music artists, but also wonderful and inspiring people. They even set up a fan phone line where fans can text them and have an ongoing conversation about their music or whatever it is they want to tell them. Besides blasting you if you ask for nudes, the girls are very invested in helping and connecting with their fans. For example, in an effort to inspire fans to keep pursuing their dreams, Yasmine imparts:
"To make our time on this earth really matter to ourselves, in the good kind of selfish ways, I think finding those things that give you purpose and make you want to wake up every day, not make you wonder, 'What's the point of even waking up,' to actually drive you to wake up, if you find that thing hold onto that and pursue that and milk it as much as you possibly can because otherwise what's the point?"
To hear more great life advice and some behind the scenes with working on songs like "Gold Wings" and coming up with a cool sci-fi inspired "Runaway" music video, check out the full interview with Krewella below. Also be sure to keep your eyes peeled for some new releases and for their upcoming album, New World Part 2!
Special thanks to Jahan and Yasmine for taking the time to chat with me! It was a pleasure learning more about the artists behind such incredible music and we can't wait to see what you'll have in store for us next!
Follow Krewella: