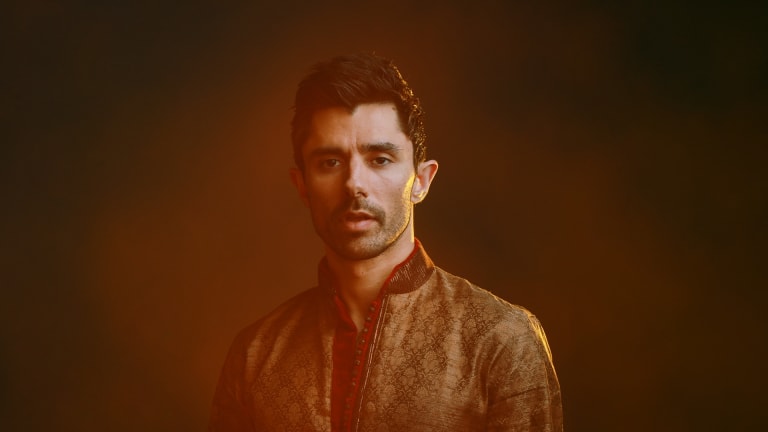 KSHMR On "Devil Inside Me," Storytelling Through Music, and More [Interview]
We caught up with superstar KSHMR ahead of his performance at Airbeat One Festival in Germany.
Over the past several years, KSHMR has established himself as a dominant force in modern EDM. Keeping a tight release schedule paired with countless performances all year round, as well as giving back to the producer community with his massive Sounds of KSHMR sample packs, the producer (real name Niles Hollowell-Dhar) definitely knows to keep busy. 
KSHMR recently announced the launch of his Dharma website, which will give his homonymous record label a brand new direction: creating an online space with tutorials, sample packs and other resources where producers can benefit, learn and improve on their productions. 
"This is gonna be a place for producers to come and learn, open up tutorials, open up templates to learn from and have small sample packs from me and from the other artists who release on Dharma," said KSHMR in an announcement for the new website. "I think you're really gonna love it, and I think it's much needed on the internet to have this level of education around music production."
In 2019, he has also collaborated with the likes of Krewella, Timmy Trumpet, Luciana and more. One of his most exciting releases arrived in the form of "Devil Inside Me" with KAAZE featuring vocals from KARRA. The single encapsulated everything KSHMR's sound is about: epic vocals, haunting, dreamlike melodies, and energetic drops. 
KSHMR's fans will experience his next performance at Airbeat One in Germany, a festival that revamps itself with a different theme every year. As India marks this year's thematic, it's only natural that we would catch up with the producer before the festival and talk about it - as well as his recent releases, the way he uses storytelling, and more.  
EDM.com: You just released your new single with KAAZE, "Devil Inside Me" featuring vocals from Karra. Talk to us about the song and how it came to be. 
KSHMR: I have to thank KAAZE for sending the original idea; I was already a fan of his and excited to collaborate. After developing the production I felt a vocal would really complete it and KARRA was the first and only person who came to mind. She nailed it on the first try - she is the best rising songwriter I know.
As a creator, how do you incorporate cohesive narratives into your art in relation to the actual music, and how do you want your audience to interpret them?
For me, story and music go hand in hand. I see a story in my mind when I listen to great songs. Whenever I'm making a song, I'm trying to break through to that moment when a story begins to appear. For my live show, I can actually show people a story, fully animated with an original score that weaves in and out of the music. It's special and important to me.
When playing shows, do you find it challenging to mix the more ethnic and experimental side of your music with more contemporary sounds that the audience are more likely to enjoy?
I think the mix of ethnic and dance works quite well if you structure it correctly. You can take people on a unique journey, but must also remember they came to dance and want to hear hard shit.
On the 12th of July, you will be performing for the fourth time in a row at the main stage of Airbeat One in Germany, where after American and Great Britain themes, it's time for the festival to travel to India. What are your thoughts on this special performance and do you have any expectations on how it will be?
I love Airbeat One and I was beyond excited to hear about the India theme this year. I find it unlikely I contributed to this decision but I plan to make it a special show nonetheless.
There are things to look forward to both in club and festival shows. Do you prefer one over the other?
Generally, I prefer festivals because the setting is more appropriate for the cinematic storytelling at the heart of show. 
What is your favorite, and also least favorite release as KSHMR?
My favorite release is probably "Jammu" - one of my first forays into mixing Indian elements with dance, which people received well and gave me the confidence to do more, and ultimately shaped my career. And the video is very special to me, the best I've ever done thanks to director Tyler Yee. My least favorite release is probably "Baila."
How do things look for KSHMR in the future? Do you have any big plans for the rest of 2019 that your fans should know about? 
I'm currently working on an EP that's more experimental, ranging in tempos. More immediately the website of my label Dharma Worldwide is launching and will have a wealth of resources for young producers. The site will feature tutorials, templates, samples - really everything a new producer needs to get started. 
Follow KSHMR
Facebook: facebook.com/KSHMRmusic
Instagram: instagram.com/kshmr
Twitter: twitter.com/KSHMRmusic
SoundCloud: soundcloud.com/kshmr