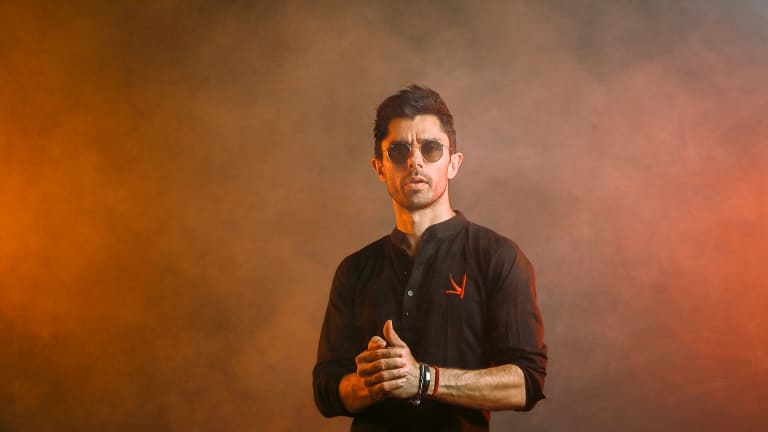 KSHMR Talks Music Career, Early Aspirations, and Writing A Children's Book [Interview]
From dreaming of being NFL player and working as a busser to touring as a DJ/producer, KSHMR opens up.
The forever achieving record producer Niles Hollowell-Dhar A.K.A KSHMR is a world-renowned artist hailing from Berkely, California. He is notable music maker always seen at the top of the music charts worldwide and is the #18 DJ according to DJ Mag Top 100.
In 2014, Hollowell-Dhar's talent arose and he saw collaborations with artists like R3hab, Timmy Trumpet, Carnage, and Tiësto. He charted on Beatport Top 40 once his collaboration with DallasK titled "Burn" gained significant attention. Eventually, he earned the No. 1 Spot with the same release on labels like Ultra Records, Spinnin' Records, and Revealed Recordings.  
Tiësto personally debuted Hollowell-Dhar at Ultra Music Festival 2015, and since then, he's been a game changer. The two joined forces for a collaboration titled "Secrets," which became a stapled festival anthem. That release alone retrieved over 200 million streams via Spotify and earned multiple spots on the Billboard charts.
Spreading his creative wings, Hollowell-Dhar curated Indian music-infused singles that still embodied electronic elements like "Bazaar," "Delhi," and "Kashmir." He has continued to push his creative limitations by having impressive stage presence. 
Music festivals at which people have witnessed these kinds of performances include EDC Las Vegas, Tomorrowland, and Coachella. In the interview to follow, Hollowell-Dhar confirms how these are the moments he connects with audiences by storytelling through visuals. 
Recently, Hollowell-Dhar discussed his past accomplishments with EDM.com. We touched on what's behind the producer's creative process when incorporating his ethnic background to music production, and his intense passion for being a storyteller. While you read, take a moment to stream his latest release, "Magic," that exhibits his older producing style.
EDM.com: Thanks for taking the time to chat with us. I understand you're from Berkeley, California originally, but do you recall when your family first introduced you to Indian music? 
KSHMR: I remember my dad would watch Bollywood movies that came on the local network in the Bay Area and that was my first experience with Bollywood movies. I remember thinking that they were too long but my mom would go to church on Sundays, so it was my way out of going and stay home with my dad and watch them. 
Speaking of heritage, at Sunburn Festival your grandfather joined the stage with you. Tell us about that experience. 
My grandpa was excited to come up onstage. He was more excited about it than I had anticipated and basked in the spotlight. He also took a lot of pride in the music and that I named my project KSHMR because Kashmir is where he is from, and it's important to him. It was an amazing experience, probably the most memorable experience of my entire career and certainly the most magical show I've ever had. 
What was your initial journey like before becoming a world-renowned artist? 
Well if you go back, I was a busser at a Mexican restaurant, and I was a tutor for underprivileged kids. After that, I started The Cataracs with my friend David, and we enjoyed some success as pop producers and writers. We made "Like A G6" and helped DEV's career find success for the time it did. I had quite a history with music before I started KSHMR. 
Now, is it true you wrote a children's book?
I wrote this story when I was 19 or 20 years old, and I didn't know what to do with it. I drank a bunch of coffee, wrote it down, and then it sat for about six or seven  years. After creating KSHMR and involving a story which is such a significant aspect of my artist project, I decided to build an EP around that story. It's dedicated to my little brother and it's a story about finding yourself and maybe not always listening to adults - or knowing adults don't always have the answer. 
On top of this, you also came in at #18 on the 2018 DJ Mag Top 100. Did you ever envision your career skyrocket  the way it has? 
When I first started, I felt like I could add something to the dance music world. I would never have quantified it in that way. I was passionate, and that passion yielded the opportunity to make a lot of music because I didn't tour at first. I didn't envision anything other than something cool I could add to the dance music scene. Looking back, though, I think that's a really powerful place to start, and it's what I would recommend to anyone who is beginning themselves. What is your vision or what will you add to this space that doesn't already exist?
Your performances are incredibly memorable. You've used snow machines, fire bowls, and 4D special effects. What's the inspiration behind this?
Since storytelling is a big part of KSHMR, my team and I have put a tremendous amount of effort into implementing this story that's told through the animation that interweaves with the music. To make that story even more compelling, we've at times used elements like snow machines and fire to immerse the audience in the story.
Your latest single, "Magic," conveys similar feelings like your past release, "Secrets." What made you want to rewind time with this latest track?
It's funny, when you're a touring DJ you're in a time warp because you're playing a lot of your older songs and seeing a great reaction every night when you go out. I still love songs like "Secrets" - and after having experimented and having done a lot of songs that don't sound anything like it - it was fun to go back and do something similar.
You're currently on a North American tour with new animation. What could fans expect differently during these performances compared to your past shows? 
The biggest difference has been that for the first time we have a fully animated story. It was always a dream, however we didn't have the money. So, we used a comic book style where you see still images that move subtly with a narrator that told the story. Now, it's fully animated, more gripping, and more action based. And of course, on the music side, I've updated all the music to intertwine with this new story and reflect all the new music I've been making. 
Is there anything exclusive you can tell your readers and us that you haven't told anyone else? Music or non-music related?
When I was a kid, I wanted to be an American football player, and I was obsessed with the NFL. 
What does 2019 look like for KSHMR?
In 2019 I'm going to take some time and focus on new music. I've gotten passionate again about the songs I've been making recently, and I want to make another project like the Lion Across The Field EP or the Paradesi EP that isn't so single driven - a more cohesive piece of work. 
FOLLOW KSHMR:
Website: https://welcometokshmr.com/
Facebook: https://welcometokshmr.com/
Instagram: https://www.instagram.com/kshmr/
Twitter: https://twitter.com/KSHMRmusic
Soundcloud: https://soundcloud.com/kshmr