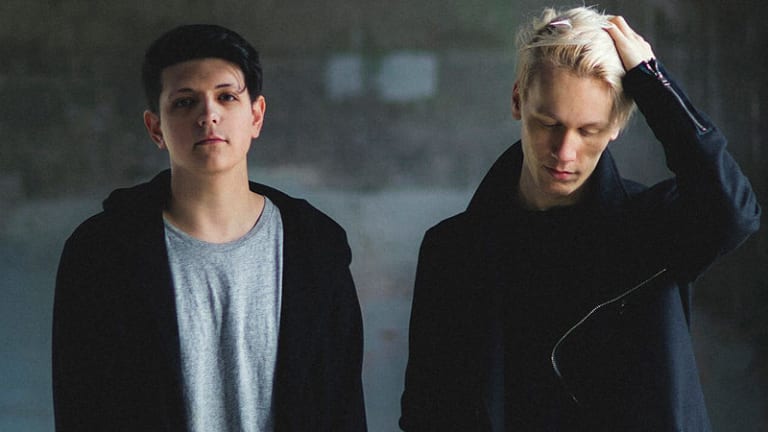 We Speak With KUURO About Playing Festivals & Future Ambitions
One of the best upcoming duos in the industry...
KUURO are undoubtedly one of my favorite upcoming duos within the entire music industry. Having released on Monstercat, and played some of the biggest festivals in North America, it was great having the opportunity to hang out whilst in Calgary, Canada. 
After attending their set during Chasing Summer, we spent some time together backstage to discuss the music industry, their future ambitions, and so much more. Enjoy!
EDM.com: Thank you so much for taking the time to chat. I really appreciate it.
Luke: No worries. Of course man.
So tell a little bit about how you originally got into the music industry.
Luke: Heard a remix by Junkie XL of Coldplay's Talk. It was one of the first electronic crossover tracks that went to FM Radio. I remember hearing it & thinking it was really cool. Shoutout to LimeWire. 
I was interested in how to make music so I downloaded FL Studio. It was FL 4 or 5. Something like that. I taught myself how to do everything. The advent of YouTube came up & people were posting tutorials on how to do things.  
That must have been useful.
Luke: Yeah. I had a classical piano background which helped. I was really big into Trance music. Made a collaborative group with some people from the Netherlands. Dutch people basically own the dance music industry. It evolved out of that into where we are now.
Jordin: I remember the moment quite specifically. It was a DVD from Tiesto in concert back in 2003. I thought it was really cool music. I thought how do I do this myself? Messed around with a variety of music production software, and worked my way up until I had my first release on a small dutch label. The first time Armin Van Burren played my song made me lose my mind. 
That must have been an amazing moment.
Jordin: For sure. My parents were incredibly proud. It continued down that path. I started in uplifting trance & made my way into progressive. We met in person 4 years ago at a show in Seattle. 
The past 2 years have gone a lot faster than we could have imagined: it's been a rollercoaster. 
You've had some pretty successful releases already.
Jordin: I was super nervous to see how people would react to our first bass music song. It was our first attempt at the genre. It got a good reception. That was nice to see. As we don't have a bass music background, we don't conform too hard to the tropes of the genre.
Obviously your career has been pretty successful so far. Where do you see it going during the next 2-3 years? 
Luke: Hopefully continuing haha. It's crazy having music played by DJs you look up to. And then you say you wanna play a big festival, and you do. You keep moving the bar forward. We're always appreciative & humble. 
You were a new act that became successful & is now on the rise. Are there any acts that you're paying attention to right now?
Jordin: So much. Someone who recently caught our attention was 1788-L. He's doing really cool stuff. 
Luke: Grant on Monstercat is really good. He is a nutty producer. He's got a mastery of music theory.
That helps.
Luke: It helps so much. He sends something and I'm like "it's great!". 
Jordin: It would be really cool if we can collaborate with our idols. Doing something with Anton could be cool. Next 2-3 years collab with Zedd.
He's an inspiration to tonnes of people in the music scene. He's respected in EDM & other genres. 
Luke: He's borderline one of the nicest people I've ever met. Also Skrillex, Baauer. 
What's your creative process like when creating a track?
Jordin: Normally one of us creates a core idea. It's been my strength & my weakness to evaluate what I make constantly. I'm always comparing myself to the people I'd like to get to. Maybe in a way that's unfair. But I have Luke to help me out & we create the next banger.
Totally. If you're focusing on big artists, that'll just make the quality of your music increase. 
Luke: During the production process, we have to listen a couple hundred times. We feel like every new track is our favorite. 
You only had to take a look at the crowd reaction out there today in order to know you're doing a great job. 
Jordin: That's a cool thing. Getting to see how people respond to our music. When working on a track, you imagine how people react. But that's nothing in comparison to being on stage. 
Luke: There isn't a producer alive who makes a sick beat, and doesn't get out of his chair, and pretend to play it in front of an imaginary crowd. That's the first test. 
That's awesome. Did you want to be DJs growing up?
Jordin: I've gone through a few. I used to wanna be a formula one driver. But I think that music caught my attention pretty early on. I may not be able to do a Carl Cox & tour until I'm 50, but I'll always be involved in music somehow.
Luke: Likewise, I've always had a fear of not being successful. I went to university & got a degree in economics. Music started paying the bills and I realized I gotta do that. It's great hearing how your music has affected fans when they speak to us. 
That's gotta be amazing. How do you overcome writers block or demotivating thoughts?
Jordin: You don't haha. I have moments that I try to take my mind off music. But even a week later, I'm like "I can't finish this". Being a duo helps as we have each other for support. But there's times when we're both stuck. 
Luke: I don't think either of us listen to EDM regularly. 
What other genres do you listen to then?
Luke: Everything but country.
That makes sense. 
Luke: I'm huge into pop music. 
Jordin: It falls back on our melodic background. We've gone out to Korea to do some k-pop writers camps etc. It's so much fun to do. 
Let's say that the world was ending tomorrow, and people could only remember you guys by one thing. What would it be?
Luke: I've worked on a lot of music in which my name isn't on it. I just hope that my music would have affected people. I don't need people to remember me. I just want it to affect people when they listen to it. 
Jordin: It would be really cool if one our songs was the soundtrack to somebody's "end of the world" playlist. I'll be ready to go. 
Thank you for talking to me - I appreciate it a lot.