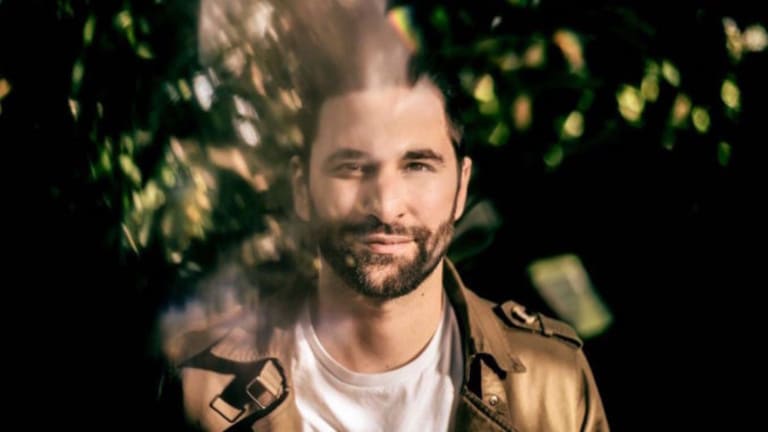 Lane 8 Wants You to Live in the Moment with This Never Happened
"I can't quite reconcile what I see now with my early clubbing experiences before people were as caught up in their phones."
You're seeing your favorite DJ perform. They play one of their greatest hits. The crowd goes wild. Screams erupt, hands fly into the air, and phones whip out in a frenzy. Eyes are glued to the stage but visions warped through the lenses of bright LED screens.
Is capturing the moment better than living in it? Lane 8 (real name Daniel Goldstein) doesn't think so.
The San Francisco-based producer has been busy developing his This Never Happened shows over the past couple of years. The events are grounded in the ethos of living in the moment, with attendees' phone cameras taped over at the start of the night. Goldstein carefully curates these special summertime shows by ensuring the venues are open-air, playing a two-hour opening set and a three-hour closing set, and bringing on some of his favorite DJs for a performance in between.
This Never Happened has grown into a music label as well, home to exciting up-and-coming melodic house music producers like Avoure and Ocula.
Recently, we caught Goldstein's This Never Happened show in New York at the gorgeous Brooklyn Mirage, a sprawling open-air venue lined with palm trees that's powered by a stellar sound system complete with soaring rooftop views of the NYC skyline. Goldstein was accompanied by German deep and progressive house producer Ben Böhmer, and both artists played wonderful sets to a receptive, spirited crowd.
Before his three-hour closing set, Goldstein sat down with us to share the inspiration behind the This Never Happened show concept and label. He also delved into his own musical origins and trajectory. Read on for our conversation with Lane 8.
EDM.com: What's the story behind the name Lane 8?
Lane 8: When I was a kid, I was a swimmer. In a swim race, the slowest people get put in the outside lanes, either lane 1 or lane 8. So, I had this shitty little garage band with my sister and another guy that was on our swim team, and we called it Lane 8. It's just stuck with me since then.
What inspired the This Never Happened show concept?
I'm just old enough to know what it was like going out before people had smartphones with really good cameras. Once I started DJing more often and building a name for myself, I noticed how much phones had taken over live music. Really, live anything - sports, music, any kind of entertainment. I can't quite reconcile what I see now with my early clubbing experiences before people were as caught up in their phones.
The whole idea behind This Never Happened is to get back to being surrounded by your friends and great music that you really love, nothing really mattering besides that.
Is there anything else about the current state of dance music that you'd want to change?
I'm not sure if I would change much else. A lot of things have gotten better in dance music. Promoters and festivals have gotten a lot more professional. People were just winging it when I first started to go out. There were a lot of parties you could tell were put together by people who didn't really know what they were doing. Anybody who has been to a party like that can appreciate when people are more professional about it.
The whole scene of dance music has grown a lot, and especially as an artist and a performer, you can only be thankful that it's turned into such an opportunity to make a living doing what you love.
You posted that you've "been searching tirelessly to uncover the right locations" for your This Never Happened summer shows. What are you looking for in the venues?
They're all tied together about being outdoors. That's a big part of it. It's quite tricky because there aren't that many outdoor venues. Secondly, they're often football stadiums which we're not quite at yet! It's challenging; with open venues there are always factors like weather, sound, and neighbors. You need a pro team to handle that.
You're playing a two-hour opening set and a three-hour closing set at all of the This Never Happened summer shows. Musically, how do you approach them differently?
I look at the opening set as a chance to play old fan favorites and stuff that doesn't really fit into my main sets. More chilled out. It's a nice chance to get some of that music played for people who want to hear it, and I also play a lot of upcoming and new label stuff because it fits into more of a chill atmosphere.
For my main sets, I do play a bit heavier now than I did three or four years ago. It's not that I don't love the old music anymore, it can just be quite tricky when you've changed artistically to fit old stuff in.
What made you decide to start the This Never Happened label?
I think every artist at a certain point just wants to stand on their own two feet, have a strong identity, and do things on their own terms. In a lot of ways, it's very hard to release your own music. Especially when I had been working with Anjunadeep which is such a great label and a team of real professionals who know what they're doing. So I think it can be quite tricky, but at the same time, it's a lot easier now than it ever has been to release your own music just because the internet has allowed you to capture and hold the attention of your fanbase. We've also been able to put a good team behind the label.
For me, it's always what I wanted to do. I appreciate what Anjunadeep did for me, I even still work with them - I just had a release a few weeks ago - but want to kind of do my own thing.
What type of music are you hoping to promote with the label?
Sometimes I struggle to explain this to people sending me demos! I think the main thing is having a really strong core idea. Easy to identify. Like taking a riff on a synth or a vocal sample, making that the center of the track, building everything else around it, and not being afraid to do that. It's one thing that I've always tried to do with my music, and I try to push our artists to do the same. I personally think that's how you make people remember music and make them want to listen again. Sort of like a pop mentality brought to a different genre of music.
We started the label with a track of mine called "Fingerprint" which is the best example I can give of this idea. I haven't always nailed it, but I always attempt to make that idea the focus of the tracks.
You've put a bunch of Root To Branch compilations on the label. What do they represent?
I've been inundated with music because of the seasonal mixtapes that I do, I get so much great music. One of the long term goals with the label is to make it a home for up-coming artists, give them a platform where they can reach more people. There have been times where there's been so much great music, and it's been a struggle to see how we can get it all out. So just packaging three artists together on those Root To Branch compilations is a great way to do that. It's also good for fans. Six tracks, a mix of different stuff; it's easier to get people to pay attention to rather than trying to shove a brand new artist they've never heard of down their throats.
How did you go from producing hip-hop beats at the age of 13 to eventually making electronic music?
I was always aware of techno and trance and had a couple of friends who were into it. Just never my personal favorite sounds until I went to college, started going to clubs, and fell in love. Ed Banger was the big thing back then, and I got really into Ratatat, Justice, Simian Mobile Disco and Daft Punk. It grew from there. Most of my free time in college was spent either listening to music, trying and failing miserably to make music, or going out to shows.
You were a geologist before taking up music full time. It's always a bold decision to give up a stable profession for the rocky world of music. What inspired that leap of faith?
When I quit my job, it was driven by what was happening in my personal life. My wife is from Germany. We met in America and we were moving to Germany at the time, which allowed me to quit my job and do music full time. It was the perfect timing of my wife and I living in Europe where I could afford to not make a huge amount of money for at least a little bit and try to do music full time. Luckily, it worked out.
How did your time living in Germany affect your music, if at all?
The main difference is that in Germany is that I would play with very different performers compared to America. Here in America, I was involved with Anjunadeep, playing a lot of support shows for Above & Beyond. In Europe, it was completely different. I played alongside Jacques Renault and a lot of other amazing underground house and techno artists. They never would've put me on lineups like those in America! That was cool because I got more exposed to those type of DJs and that kind of music.
How did you get involved with Anjunadeep?
I became SoundCloud buddies with Jody Wisternoff and started sending him stuff. It was really just that. I only had a few tracks out at the time but I was lucky enough to start off with a few pretty big DJs playing my music. The whole Lane 8 project got kickstarted when The Magician played one of my tracks in his mixtape.
You go back and forth between instrumental tracks and vocal-driven songs. Do you prefer one style over the other?
I do feel quite proud of the instrumental tracks that have done well. It's hard to do without relying on a vocal to support the song, and you feel proud if you can put something together entirely on your own that works just as well as any other song. But, I definitely enjoy collaborating. Just the social aspect of things, having someone to go through the struggle of making something and all the failures that come with it, versus just doing all that stuff alone and going crazy.
Do you have new music in the works?
There's a lot of music saved up! We've got a couple more singles this summer. Did a bunch of collaborations with some of the This Never Happened artists at the start of the year, so we'll try to get some of those out too.
You've often mentioned you'd love to do a live show, is that going to become a reality anytime soon?
As I've DJed more and more, I've fallen more and more in love with it. It's not that I would never do a live show; I'd actually love to do a live show. But, I just love DJing. It's such a great way to get the message across to people. I'm sure the live show will happen at some point, but right now I'm pretty focused on DJing.
With the success of your seasonal mixtapes, have you ever thought of launching a radio show?
I like the format that we have now: four mixes a year, make them really special, something that people can listen to for a while. Not just listen to once, forget about and the next week's radio show is already there.
You've previously mentioned that "people often confuse the artist with the real human behind the music, as those are two very separate things." Do you still contend with that distinction?
Totally. It's quite tricky. We've seen a lot of celebrated artists, especially in the last couple of years, have their personal lives made very public. The main thing is that there are people behind every piece of art. At the time I said that I was coming to grips with the fact that people knew me and knew my music, which was hard to deal with. It can be quite off putting when people think that they know you on a personal level because they've heard your music. It's amazing that people love my music, so you take the bad with the good - though it's become easier over time.
This interview has been condensed for clarity.
Follow Lane 8
Facebook: facebook.com/lane8music
Instagram: @lane8music
Twitter: @Lane8music
SoundCloud: soundcloud.com/lane8music